A father who still blames Israel for the death of his son amid the conflicting accusations
Hamas blamed Israel for the Shati attack; the Israelis claimed Hamas rockets were responsible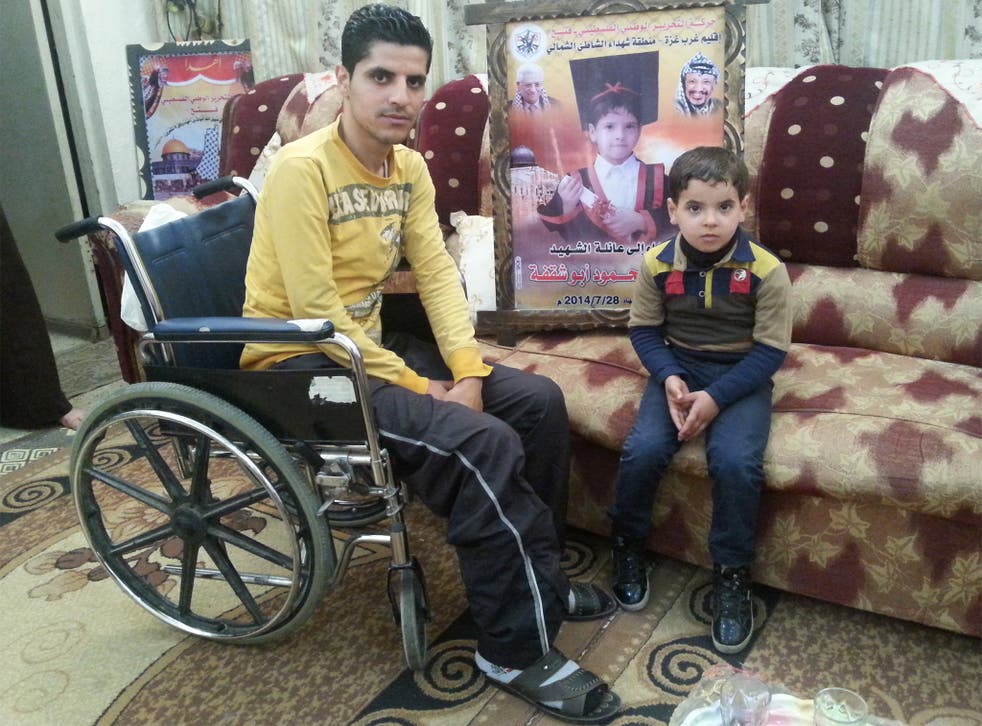 Children played in the hazy spring sunshine at al-Shaqiri Street in al-Shati camp yesterday, as people drifted into shops or stopped to chat.
It was a scene of calm, but all around were reminders of the terrible calamity of eight months ago: buildings pitted with shrapnel, their walls scorched and broken.
On that day, too, children were playing, some dressed in new clothes bought by their parents, despite the war, for the advent of Eid. Then the missile had struck. Drawn by the deafening noise of the blast, we arrived to a scene of carnage – smoke, fire, bodies.
Most of the 13 killed were very young, the latest casualties of a series of explosions, some of which had wiped out entire families. Hamas blamed Israel for the Shati attack; the Israelis claimed Hamas rockets were responsible. We reporters, trying to chart the relentless violence of the conflict, day after day, had little time for examining the evidence. Today, Amnesty International blames the deaths of 11 children and two others on a Hamas rocket that misfired after it was launched against Israel.
Mahmoud Abu-Shaqfa has had a long time to think over the conflicting accusations. The injuries he suffered that day have confined him to a wheelchair. One of his sons, six-year-old Khaled, still has shrapnel in his head and arm, and will need further operations. Another, Mohammed, aged eight, was killed.
"I remember lying on the road," recalled Mahmoud, 30. "Mohammed tried to get me up, saying we must go somewhere safe. 'Dad, get up! Get up!' he was shouting. I didn't know he had already started really bad internal bleeding. He was taken to hospital, where he died. That's what I think about all the time, not who was responsible. I have heard that it might have been Hamas, but I don't think they have rockets that big. I think it was the Israelis."
The debris from the wreckage was removed remarkably quickly on the day and some photographers complained that they were prevented from filming. "That does not prove anything," declared Yasser Abu-Shaqfa, 46, a cousin of Mohammed. "The Israelis were bombing every day; all ages were getting killed. Why should this place be any different? We would like to see proof if we are to decide whether Hamas was involved."
Five of the 11 children to die were buying sweets in his shop that day. We had seen the bodies laid out, mixed up with the injured. "There was blood everywhere. Then I realised that two of those wounded were my sons," he said.
Yasser himself was hurt, along with Wissam, 12, and Shabaan, 14. "My main worry," he said, "is what would happen to the children if there's another war. But I have had to borrow $5,000 at high interest to rebuild this shop... I worry what would happen if it gets destroyed again. I hope that does not happen, but I hear violence in the speeches of the Israelis."
Hamas denies putting civilians at risk. "The resistance has not got high-tech weapons: they haven't got F-16s; they only have home-made rockets," said Sheikh Ahmad Youssef, a senior leader.
"But they take what precautions they can, using GPS to target the Israeli military, not ordinary people. The Israelis have precision weapons, but just look at how many they killed here – so many women and children."
Register for free to continue reading
Registration is a free and easy way to support our truly independent journalism
By registering, you will also enjoy limited access to Premium articles, exclusive newsletters, commenting, and virtual events with our leading journalists
Already have an account? sign in
Register for free to continue reading
Registration is a free and easy way to support our truly independent journalism
By registering, you will also enjoy limited access to Premium articles, exclusive newsletters, commenting, and virtual events with our leading journalists
Already have an account? sign in
Join our new commenting forum
Join thought-provoking conversations, follow other Independent readers and see their replies