Afghanistan war: British troops return to Helmand province in 'advisory role' as Taliban advance continues
They are being sent to a camp to advice Afghan forces still fighting the insurgency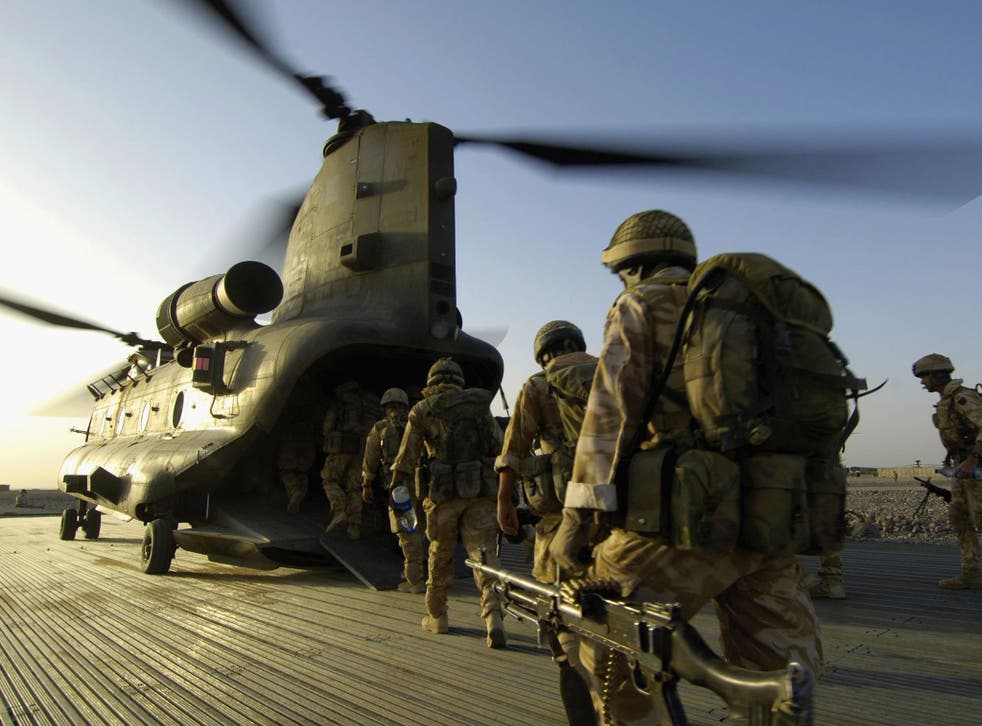 British troops are being sent back into Afghanistan's Helmand province little over a year after David Cameron hailed the end of the 13-year intervention.
Soldiers are being mobilised to help Nato and Afghan forces as the Taliban continue to advance, overrunning the key town of Sangin.
The Ministry of Defence (Mod) emphasised that British troops would not be going into combat and would be providing only an "advisory role" from within a military base.
UK troops leave Camp Bastion
It would not confirm a report by The Times that said at least one 30-strong SAS unit was being deployed to back American special forces and the Afghan National Army as they try to retake territory.
Sangin, a former Taliban stronghold central to the terrorist group's opium trade, was the scene of fierce fighting during the Afghan campaign, with more than 100 British troops dying in and around the town.
Helmand has proved to be the deadliest province for Nato troops fighting in the country and the toll rose on Monday with the death of six US troops in a suicide attack near Bagram airport.
A spokesperson for the MoD said: "As part of the UK's ongoing contribution to Nato's Resolute Support Mission, a small number of UK personnel have deployed to Camp Shorabak in Helmand province in an advisory role.
"These personnel are part of a larger Nato team which is providing advice to the Afghan National Army. They are not deployed in a combat role and will not deploy outside the camp."
The Helmand handover in numbers

Show all 6
Although British combat operations officially ended in Afghanistan in October last year, around 450 personnel remain working with the Afghan National Defence and Security Forces and security ministry.
From the start of operations in October 2001, 456 British forces personnel or MoD civilians have been killed while serving in Afghanistan.
The Taliban insurgency has intensified since the withdrawal of Nato troops at the end of 2014, despite efforts by Afghan forces supported by almost 10,000 US and 4,000 Nato soldiers.
Monday's suicide bombing came as the battle for Sangin continued, when a Taliban bomber riding a motorbike laden with explosives rammed into a joint Nato-Afghan patrol moving through a village near Bagram Airfield, the largest US military facility in Afghanistan.
The head of Helmand's provincial council, Muhammad Kareem Atal, said around 65 per cent of Helmand is under Taliban control and warned that "every district" is seeing the government lose ground.
Mohammad Jan Rasulyar, Helmand's deputy governor, took the unusual step of alerting Afghan President Ashraf Ghani to the dire security situation and requesting urgent reinforcements through an open letter on Sunday, claiming that he had not been able to make contact through official channels.
"We had to take to social media to reach you as Helmand is falling into the hands of the enemy and it requires your immediate attention," he wrote in his Facebook post.
Taliban fighters, sometimes working with other insurgent groups like the Islamic Movement of Uzbekistan, have managed to overrun many districts across the country this year, and also staged a three-day takeover of the major northern city of Kunduz.
They rarely hold territory for more than a few hours or days, but the impact on the morale of Afghan forces, and people, is substantial.
More than 2,000 members of the Afghan security forces have been killed fighting in Helmand so far this year and there are reports of a large number of soldiers and police deserting their posts.
Additional reporting by agencies
Join our new commenting forum
Join thought-provoking conversations, follow other Independent readers and see their replies