Seven things you can do to help Aleppo
Many still trapped in the last urban rebel stronghold ask why the international community did not intervene before the crisis reached breaking point 
Thursday 15 December 2016 10:54
comments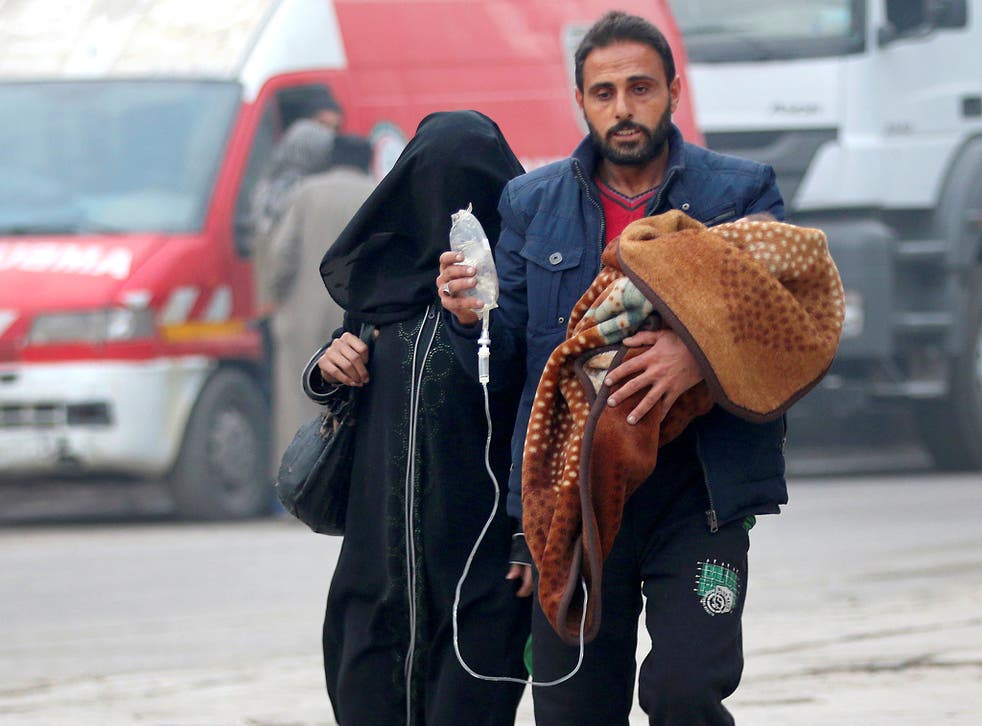 A second round of evacuations from the last pockets of rebel resistance in Aleppo is due to begin after intense fighting in the city described by the UN as a "complete meltdown of humanity."
A new ceasefire deal went into effect overnight on Wednesday, with evacuations of both civilIans and fighters scheduled for 8am (6am GMT).
As of 11am local time, however, no one has crossed from the checkpoint into west Aleppo after the White Helmets civil defence service reported that one of its number had been shot and three more injured by snipers whilst trying to clear roads of rubble for ambulances to pass.
A previous ceasefire was ruptured Wednesday morning after claims of violations on both sides, cruelling dashing the hopes of those who had been promised evacuations.
"We want to leave, we don't want more massacres, let us leave," one activist said in a Whatsapp message. Most in the city, after having stayed up all night for the first failed evacuations, are treating the new deal with caution.
Many activists and residents The Independent has spoken with in recent months have blamed Western politicians for not doing more to avoid the current desperate situation, or end the last three months of intense Russian-backed air strikes.
Anyone accused of helping the opposition fears possible detention or execution by regime forces if they can't leave for neighbouring rebel-held Idlib province.
Syria conflict: Aleppo civilians post 'goodbye' videos
Although regaining control of the city will amount to a huge victory for President Bashar al-Assad, the war is far from over. Many more civilians all over the country will suffer before the complex conflict ends.
For many people inside east Aleppo, help will come too late. Families have already been ripped apart by violence inflicted by both the regime and rebels.
"We all know the price of intervention. We are now beginning to learn the price of not intervening," former Chancellor George Osborne said during the House of Commons emergency debate on Aleppo on Tuesday.
To help end the bloodshed caused by the Syrian crisis, you can:
When feeling powerless, everyone wants to roll up their sleeves and help out - but the truth is your money provides far more effective assistance than packing up coats or blankets.
The Syrian government has blocked UN aid shipments from entering Aleppo since the siege barricades went up in July. A list of trustworthy local and international NGOs working on the ground in Syria can be found here - but in particular consider donating to the International Red Cross, Save the Children, and Doctors without Borders.
If you have a specific skill set, volunteer your time
Medical professionals have helped saved innumerable lives by assisting the beleaguered doctors and nurses in Aleppo by giving advice via Skype. Get in touch with US-based Syrian American Medical Society (SAMS), a medical charity that operates all over Syria, for how to get involved.
If you speak Arabic and can offer translation services for aid organisations, contact your local branch.
The White Helmets - at least one of whom was reportedly killed by a pro-government sniper on Thursday as they tried to assist in evacuations - have saved 70,000 lives in Syria's war by pulling people from the rubble of air strikes.
They have paid a high price: More than 100 volunteers have been killed since the organisation began as a loose collection of volunteers in 2013.
Support their work and the new Heroes Fund for the families killed volunteers leave behind here.
Join demonstrations where you live
In London, successful protests were held outside 10 Downing Street and the Syrian Embassy in London and in Liverpool and Manchester on Tuesday. Use the hashtag #StandWithAleppo to find demonstrations in your area - and if there isn't one, organise one.
Call and email your MP and MEP
Let them know you want the government to do more than "condemn the violence." Petition them to start aid drops for Aleppo and other starving areas of Syria, and ask them to consider measures such as sanctions or diplomatic repercussions for the Syrian and Russian governments.
Even in the face of the current crisis, the EU has taken discussion of sanctions on Russia over its actions in Aleppo - which were first proposed in October - off the agenda for a summit in Brussels on Thursday. Tell your MEP you want them back on the table.
Support the global refugee effort
Thousands of Syrians have died crossing the Mediterranean to Europe, and many more desperate people will try before the war ends.
Refugee resettlement in the UK is done on a voluntary basis by constituency. Tell your Local Government Association if you would be willing to foster an unaccompanied refugee child, and that refugee families are welcome in your area.
Tell your local council and MP that you want the UK to agree to take in more refugees. Jordan and Lebanon - Syria's neighbours - are currently home to almost three million Syrians. The UK has agreed to resettle 20,000 by 2020, and is currently not on track to reach that target.
Stay educated and up to date on the crisis by following the work of Planet Syria, an activist organisation which is seeking a diplomatic, non violent end to the civil war.
"Slowly, with the support of our real allies, we hope to reconnect with the tolerance and coexistence we have known for millennia and build a Syria better than before," their website says. Read more here.
Join our new commenting forum
Join thought-provoking conversations, follow other Independent readers and see their replies