Aleppo: Children killed while trying to escape battles between rebels and regime forces advancing on Syrian city
Save the Children warns families are risking their lives attempting to cross frontlines
Lizzie Dearden
Friday 02 December 2016 16:47 Comments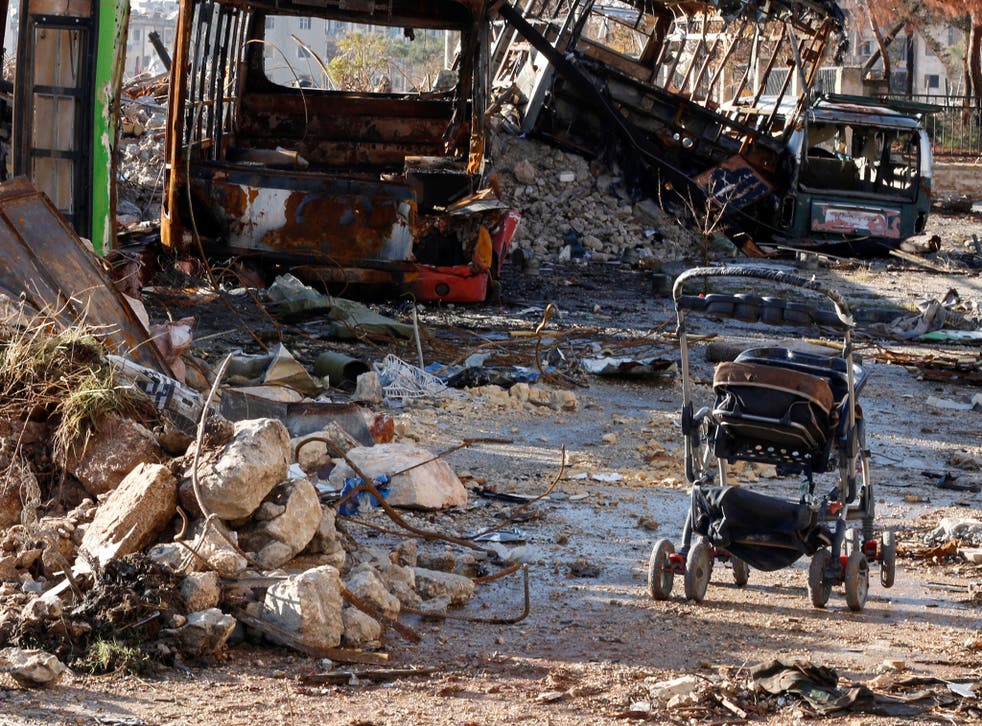 Children are being killed while trying to escape battles raging in the Syrian city of Aleppo, humanitarian groups have warned as tens of thousands of people flee the government's advance.
Save the Children said dozens of people have died attempting to flee eastern Aleppo, where the situation for families under constant bombardment and with no proper shelter and almost no food or fuel is "desperate".
The group reported children being separated from their parents and being killed or injured when venturing into the open in attempts to reach safety. At least 70 people are said to have died in recent days while trying to cross frontlines to safety.
At least 45 Syrian refugees killed by regime missile while trying to flee Aleppo
Sonia Khush, Save the Children's Syria director, said: "Families should not be forced to leave their homes and communities under the threat of bombs and starvation.
"The reality, however, is that international aid has not been allowed in to the city for almost five months, and conditions have become so desperate that people are taking deadly risks to flee under fire and cross frontlines into an uncertain fate.
"More children are going to die trying to reach safety in the coming days if we do not urgently establish safe, internationally monitored routes. The world has utterly failed the children of East Aleppo, but the warring parties have an obligation to protect them now in their hour of greatest need."
Bashar al-Assad's forces and allies from Russia, Iran and Hezbollah are advancing on rebel territory, retaking the district of Hanano and parts of Karm al-Qaterji and al-Hilwania in a campaign that has so far displaced 31,000 according to the UN.
There have been reports of Bashar al-Assad's forces shelling civilians, killing dozens of refugees in one street earlier this week, as well as men and boys being detained by government troops or forced into service.
"If you don't leave these areas quickly you will be annihilated," warned leaflets dropped by Syrian aircraft.
In pictures: Aleppo bombing

Show all 14
"Save yourselves. You know that everyone has left you alone to face your doom and have offered you no help."
There were also warnings from the UN that some rebel factions are preventing people from leaving areas under their control.
Displaced residents interviewed on Syrian state television reported abuses by opposition groups, with one woman saying her son was shot dead as he attempted to flee their territory.
Syrian and Russian authorities have repeatedly claimed to set up routes of safe passage for civilians but after five years of civil war and months under siege and intense bombardment, the pledges have been met with fear and distrust.
Save the Children called for the UN and International Committee of the Red Cross to be allowed to monitor the movement of people and immediately implement a 72-hour pause in fighting to allow aid in to the remaining population.
At a heated meeting of the UN Security Council on Wednesday, Stephen O'Brien, the under-secretary-general for humanitarian affairs, said international law had been systematically disregarded in the ongoing civil war, with Aleppo becoming the "apex" of a growing catalogue of horrors.
"For the sake of humanity, we call on, we plead, with the parties, and those with influence, to do everything in their power to protect civilians and enable access to the besieged part of eastern Aleppo before it becomes one giant graveyard," he said. "There are no limits or red lines left to cross."
Matthew Rycroft, the UK's Permanent Representative to the UN, blamed Russia for vetoing resolutions to stop the violence in what he called "the most horrific conflict of our lifetimes".
But Vladimir Putin's government has repeated Syria's assertions that it is fighting "terrorists" – a term used by the Assad regime to refer to all opposition groups.
Syrian and Russian media have been hailing the "liberation" and "stabilisation" of eastern Aleppo, while highlighting rebel violations like a rocket attack that was reported by state media to have killed six civilians including two children in western Aleppo on Thursday.
As government forces continued to close in, rebel groups announced the creation of an "Army of Aleppo" to fight the advance. Among the members listed on propaganda channels were local opposition fighters, Turkmen groups and Islamists including Jaysh al-Islam and Ahrar al-Sham.
Additional reporting by AP
Register for free to continue reading
Registration is a free and easy way to support our truly independent journalism
By registering, you will also enjoy limited access to Premium articles, exclusive newsletters, commenting, and virtual events with our leading journalists
Already have an account? sign in
Join our new commenting forum
Join thought-provoking conversations, follow other Independent readers and see their replies