Amnesty releases satellite images of Syria bombing in Aleppo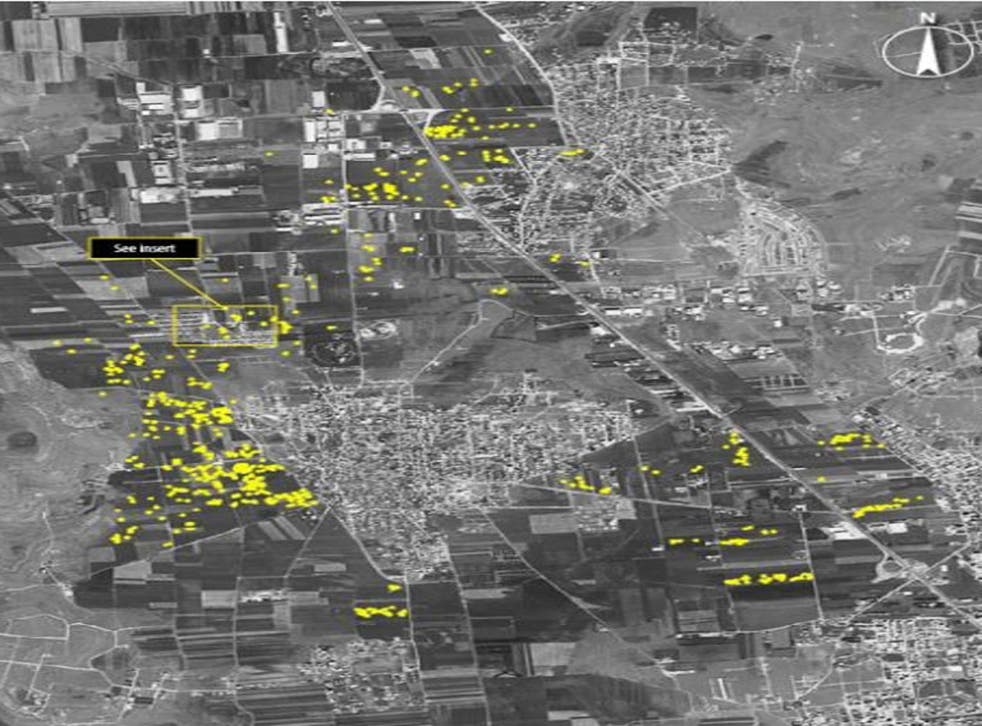 Amnesty International has released satellite images showing the extent of artillery bombardment in the Syrian city of Aleppo where rebels are struggling to fight off an offensive by forces loyal to President Bashar al-Assad.
The London-based international human rights group said both sides fighting in Syria's most populous city might be held criminally accountable for their failure to protect civilians.
It said the images, obtained from commercial satellites over the 23 July 23 - 1 August period, showed more than 600 craters, probably from artillery shelling, dotting Aleppo's surrounding areas. The craters were represented with yellow dots in the images.
One snapshot, from 31 July, showed craters next to what looked like a residential housing complex in the nearby town of Anadan, it said.
"Amnesty is concerned that the deployment of heavy weaponry in residential areas in and around Aleppo will lead to further human rights abuses and grave breaches of international law," it said.
"Turning Syria's most populous city into a battlefield will have devastating consequences for civilians. The atrocities in Syria are mounting already."
Scott Edwards, who oversees Amnesty's satellite technology programme, said schools, mosques, churches and hospitals inside the city appeared to be untouched by the shelling for now but there was a considerable build-up in pro-Assad forces.
He said the satellite images showed at least 58 tanks deployed in the area as well as 45 armoured personnel carriers and other infantry vehicles and numerous artillery units.
"Its very clear that the weaponry is there to cause great harm to Syria's s most populous city," he told BBC radio.
Assad has been reinforcing troops in preparation for an assault to recapture rebel-held districts of Aleppo after repelling fighters from most of the capital Damascus.
On Wednesday, rebels abandoned some of their positions and explosions could be heard in the area as helicopters flew over frontline areas, a Reuters reporter there said.
Reuters
Join our new commenting forum
Join thought-provoking conversations, follow other Independent readers and see their replies