Ankara Q&A: Why would the Kurds be targeted? Do previous attacks point to a perpetrator?
The blasts outside the capital's main railway station killed scores of pro-Kurdish activists and left-wing union members
Staff
Sunday 11 October 2015 21:25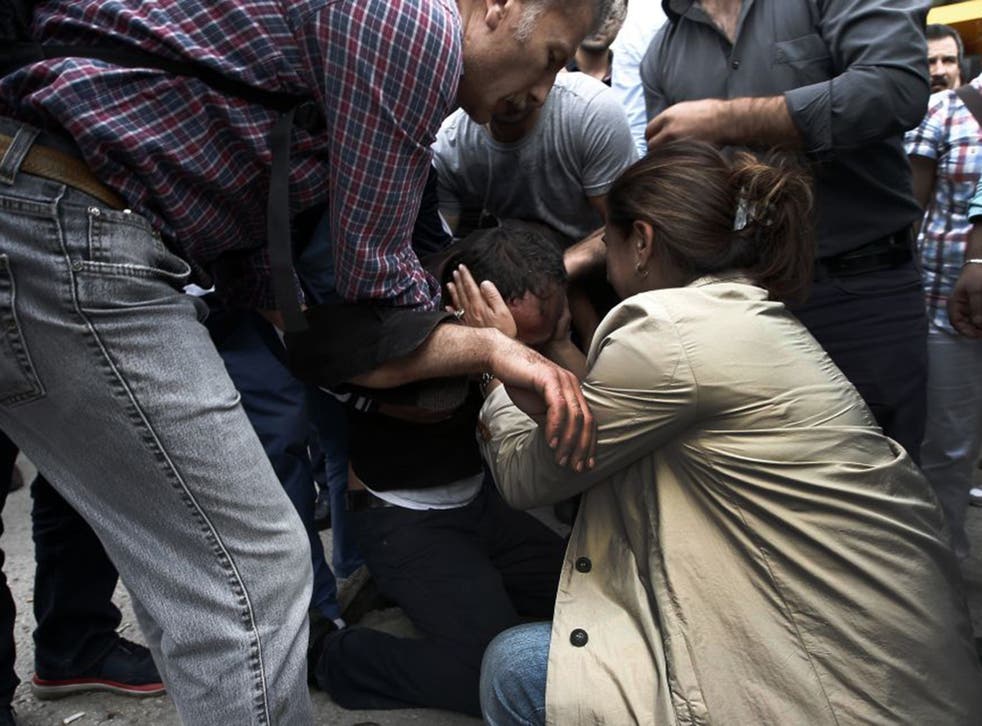 Q | Who was targeted in Ankara?
A | The twin blasts outside the capital's main railway station killed scores of pro-Kurdish activists and left-wing union members. The head of pro-Kurdish party the HDP said the blasts specifically targeted its supporters.
Q | Why would the Kurds be targeted?
A | Kurds constitute about a fifth of the population of Turkey but the Kurdistan Workers' Party (PKK) has fought a decades-long war against the state for independence. A de facto ceasefire agreed in 2012 broke down in July after Turkey began a "synchronised war on terror" against Isis in Syria and the PKK in southern Turkey and northern Iraq.
Q | Has anyone claimed responsibility for the blasts?
A | No. But the various elements in Turkish politics have been quick to point fingers. The ruling AK party, led by President Recep Tayyip Erdogan, says that it believes either Isis, "extremist" left-wing activists or Kurdish rebels were responsible. Some of those opposed to the AK party have claimed security services were behind the bombings. However, others say the fact that it was a suicide bombing suggests it was an Isis attack.
Q | Do previous attacks point to a perpetrator?
A | Turkey has been hit by several blasts this year. Before Saturday the worst was in July at a peace rally in Suruc near the Syrian border, which killed 32 youth activists. The state blamed Seyh Abdurrahman Alagoz, a 20-year-old man of Kurdish origin, who was believed to have travelled to Isis-controlled territory in the months before. Opposition figures claimed it was the work of the "deep state" controlled by Mr Erdogan, a claim the government denies.
Q | Turkey has often been lauded as a progressive, moderate Muslim nation. How has its politics polarised so quickly?
A | The resumption of hostilities with the Kurds has driven a wedge through politics and the war in Syria has placed huge strain on a country currently hosting two million refugees. President Erdogan has been in power for more than a decade, initially as Prime Minister. His mildly Islamist AK party has rankled with liberals and those who are fiercely protective of Turkey's secular constitution. He has also followed a no-nonsense path against the Kurds, which opponents say whips up an anti-Kurdish frenzy. There's a heated, volatile political climate, where divisions are pronounced and prospects for reconciliation dim.
Ankara explosions - in pictures

Show all 15
Q | With such division, can the AK party hold on to power?
A | The AK relied for years on Sunni Muslim voters outside the main urban centres but it lost its parliamentary majority in elections in June, while the pro-Kurdish HDP scored a stunning victory, winning a bloc of seats in parliament and leaving Mr Erdogan without a legislative majority for the first time since 2002. He desperately wants to win that back in polls next month, but there is little prospect the AK party will do so.
Q | What do the bombings in Ankara mean for Turkish politics?
A | Further polarisation. Everyone is blaming everyone else and there is no sign Mr Erdogan's call for unity in the face of terror is being heeded. The West's vital ally in the Middle East is facing a perfect storm: political polarisation, a resumption of violence with the PKK, the threat from Isis, and two million Syrian refugees and counting.