Assad outlines peace deal and condemns opposition as 'murderous criminals'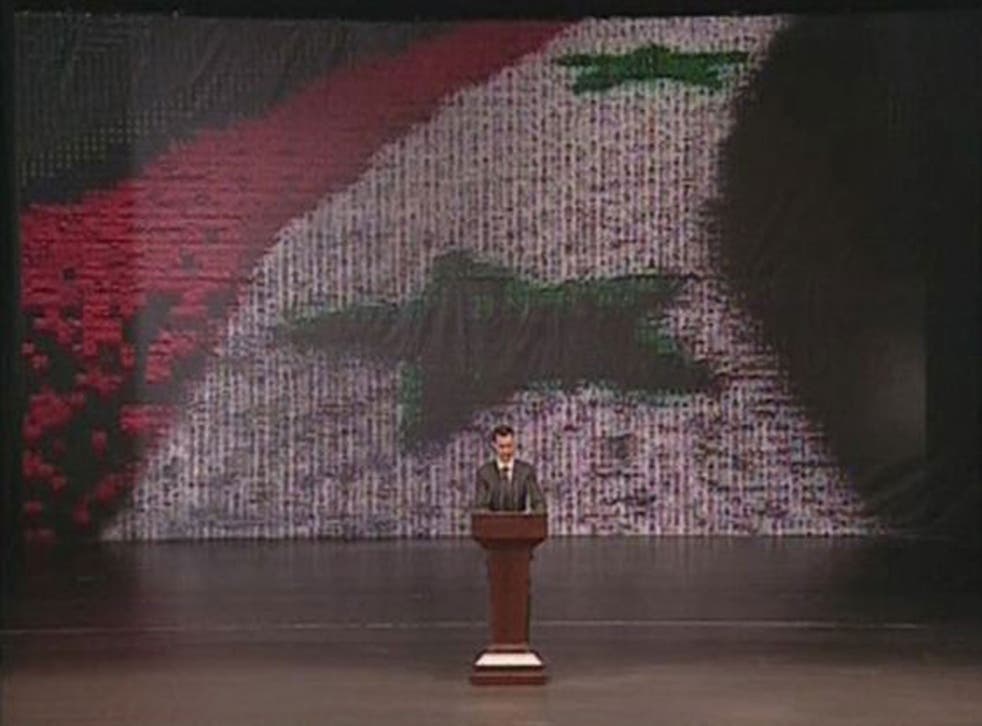 Bashar al-Assad used his first public speech for seven months – trailed by his regime as outlining a peace deal to end Syria's bloody civil war --- to reject any dialogue with opponents who he described as "armed criminals, enemies of God and puppets of the West."
However, the Syrian president appeared to offer the prospect of talks with the Western powers he has accused of trying to dismember the country, saying that his government was not rejecting diplomatic moves and wanted to negotiate with the "master not the servants".
During his hour long speech, with supporters chanting "God, Bashar and Syria is enough", Mr Assad also proposed a a new constitution and elections preceded by a national reconciliation conference. But this would not include " those who betrayed the state and taken up arms", he stressed, interpreted as meaning that the rebels can have no part in the process.
The opposition, and their international backers, dismissed the speech as offering nothing of value and reiterated that there could be no ceasefire while Mr Assad and his coterie accused of human rights abuse remain in office.
Attempts by the regime to hold talks with the US and European states are highly unlikely to succeed with increasing numbers of countries, in the West, the Middle-East and beyond recognising the opposition as the legitimate representative of Syria.
David Cameron said in London: "My message to Assad is that he should go. He has the most phenomenal amount of blood on his hands." EU foreign affairs commissioner Catherine Ashton "We would look carefully if there is anything new in the speech, but we maintain our position that
his hands." EU foreign affairs commissioner Catherine Assad has to step aside and allow for a political transition."Turkish Foreign Minister Ahmet Davutogl, whose country is hosting more than 100,000 Syrian refugees, commented "his remarks are just repetitions of what he's said all along. They are the same promises he made to us. As Assad no longer has the representative authority over the Syrian people, his words have lost persuasiveness ... A transition period needs to be completed swiftly through talks with representatives of the Syrian nation."
Mr Assad accused the rebels, who control swathes of territory including half of Syria's largest city, Aleppo, of stealing from people, depriving children of education and creating electricity and water shortages.While insisting that his forces were winning, Mr Assad called for a full mobilisation of the population. "We are now in a state of war in every sense of the word. This war targets the Syria using a handful of Syrians and many foreigners. Thus, this is a war to defend the nation." We meet today and suffering is overwhelming Syrian land. There is no place for joy in any corner of the country in the absence of security and stability," he said. "I look at the eyes of Syria's children and I don't see any happiness."
Outlining his "peace initiative", the Syrian president said: "The first part of a political solution would require regional powers to stop funding and arming (the rebels), an end to terrorism and controlling the borders." Negotiations can then begin, he said, but the regime reserved the right to take military action to "defend national institutions".
"We never rejected a political solution ... but with whom should we talk? With those who have extremist ideology who only understand the language of terrorism?. Or should we with negotiate puppets whom the West brought? We negotiate with the master not with the servants."
The Syrian deputy foreign minister, Faisal al-Moqdad, is currently holding talks in Iran, whose foreign minister, Ali Akbar Salehi, is due to visit Cairo later in the week. Egypt's Muslim Brotherhood president Mohammed Morsi brokered the ceasefire deal between Hamas and Israel. Cairo is also home to the new opposition umbrella group, the Syrian National Coalition.
Separately the UN and Arab League envoy for Syria, Lakhdar Brahimi has been pushing a plan approved at an international conference in June that would create a transitional government. But the plan leaves President Assad's role in a future Syrian political landscape unclear.
Join our new commenting forum
Join thought-provoking conversations, follow other Independent readers and see their replies