At least 69 killed as deadly Baghdad bombings mark end of Ramadan
Richard Osley
Saturday 10 August 2013 23:22 Comments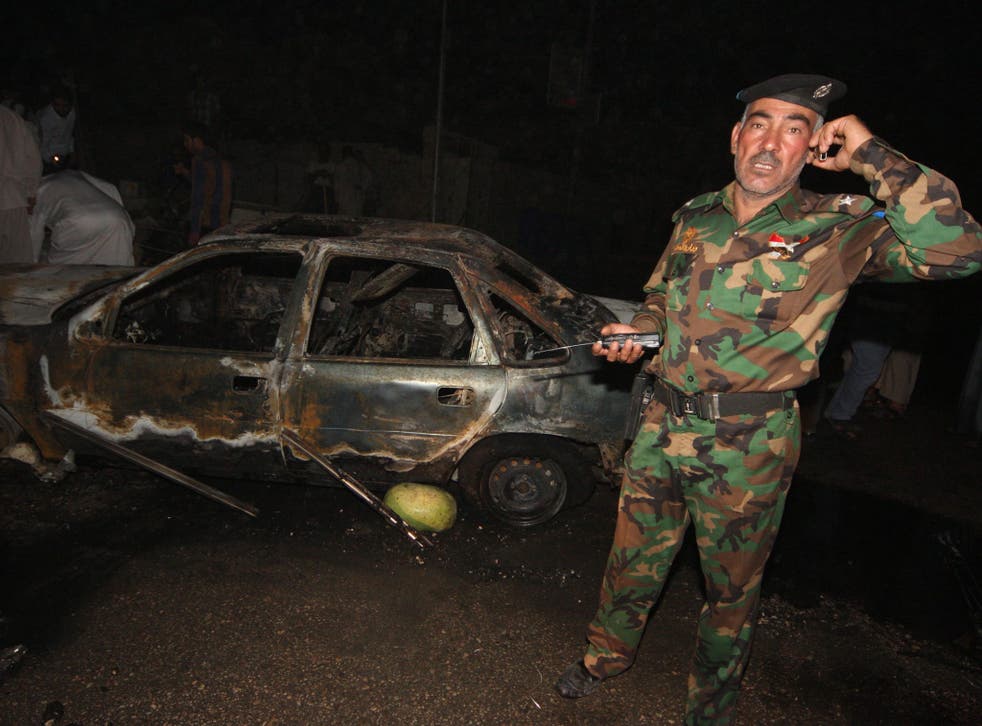 A string of car bombs were detonated in and around Baghdad while people celebrated the end of Ramadan yesterday, killing at least 69 people and wounding 140 more.
Twelve separate explosions targeted areas where Muslims were marking the final day of the holy fasting month in cafés, restaurants and markets in the Iraqi capital.
One of the worst blasts came shortly before sunset in the south-eastern suburb of Jisr Diyala where seven people died while at an outdoor shopping centre.
Five more were reported to have been killed when a bomb went off while drivers waited in a traffic jam in Karbala.
In a further attack, a suicide bomber blew up a car on a busy road in Tuz Khurmato, north of Baghdad, killing 10 and wounding more than 30. The town has been the scene of increased violence in recent months.
The attacks on Shia neighbourhoods came on the Eid Al-Fir holiday, bringing to an end of the most violent Ramadan since 2007. More than 1,000 people were killed in Iraq in July alone and there remain fears that an all-out sectarian war may yet erupt in the country again. Fifty people died in a series of explosions in Baghdad on Tuesday.
Tensions have increased since a crackdown on a Sunni anti-government protest camp in April in which dozens died during angry skirmishes. Security patrols had been stepped up in Baghdad.
The Iraqi Prime Minister, Nouri al-Maliki, said last week: "We will not leave our children to these murderers and those standing behind them and supporting both inside and outside."
Register for free to continue reading
Registration is a free and easy way to support our truly independent journalism
By registering, you will also enjoy limited access to Premium articles, exclusive newsletters, commenting, and virtual events with our leading journalists
Already have an account? sign in
Register for free to continue reading
Registration is a free and easy way to support our truly independent journalism
By registering, you will also enjoy limited access to Premium articles, exclusive newsletters, commenting, and virtual events with our leading journalists
Already have an account? sign in
Join our new commenting forum
Join thought-provoking conversations, follow other Independent readers and see their replies