Assault on Tikrit: Iraqi forces move against Isis to retake Saddam Hussein's city and province of Salahuddin
Sunnis fear retribution as the feared Shia militia join government troops in major assault on Tikrit, famed as the birthplace of former dictator Saddam Hussein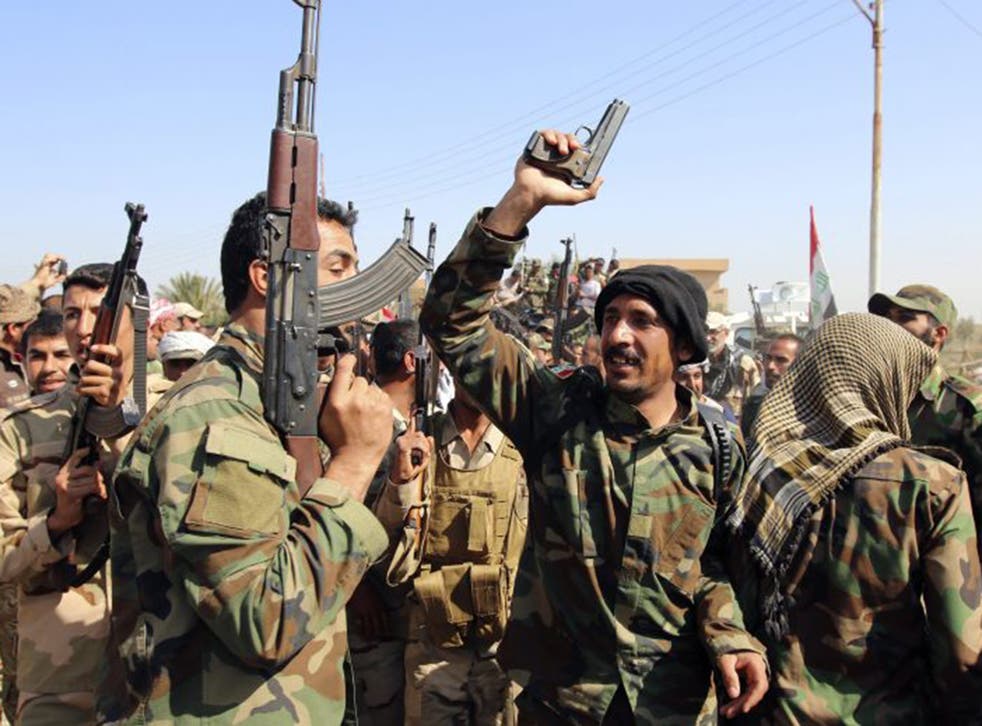 Iraqi forces launched a ferocious assault to drive Isis from the city of Tikrit, north of Baghdad, today as they began an offensive aimed at retaking the province of Salahuddin from the jihadist group.
Supported by Iraqi air attacks, government troops were claimed tonight to be approaching the outskirts of Tikrit and the military commander of the region, General Abdul-Wahab al-Saadi, declared: "God willing, victory will be achieved and Salahuddin will be turned into a grave for all terrorist groups."
The Pentagon said the US was not providing air support because the Iraqi government had not requested it.
Iraqi television broadcast footage of artillery apparently launching a barrage of shells against Isis positions, as the operation got underway 24 hours after it was first signalled on Sunday.
In pictures: Fight for Tikrit

Show all 16
But the powerful presence of Shia militia in support of the official ground forces and the involvement of Iranian Gen. Qassim Suleimani, the commander of the elite Revolutionary Guard's Quds Force, fuelled fears that any such victory may also bring retribution for the Sunni inhabitants of recaptured territory, and for any fighters taken prisoner. Hours after the offensive began, the United Nations' special envoy in Iraq appealed to warring groups to avoid attacking civilians.
"Military operations reinforced by international and Iraqi air support must be conducted with the utmost care to avoid civilian casualties, and with full respect for fundamental human rights principles and humanitarian law," Nickolay Mladenov said in a statement.
With disaffection among Sunni groups one of the key factors behind support for Isis in areas taken over by the terrorist group over the past 12 months, Iraq's prime minister Haidar al-Abadi also urged his forces to use "utmost care in protecting civilian lives and property".
There has been a spate of recent reports of largely uncontrolled Shia militia carrying out reprisals against Sunni civilians alleged to have given assistance to Isis, including mass executions and the burning of homes.
A spokesman for the prime minister said the government's objective was to "show the world once again the determination of the Iraqi government to liberate its land and protect its people, no matter what their religious or ethnic background".
A previous attempt to seize Tikrit was rebuffed when Iraqi forces were ambushed and driven back out by the better prepared Isis fighters.
Gen. Suleimani has emerged as the chief tactician in Iraq's fight back against the Sunni fighters. He personally oversaw the defence of Baghdad and arranged for money and weapons for the militia.
The Iranian news agency Fars also reported that drones were flying over Tikrit, without identifying their nationality.
Shia militia were reinforcing the assault from the neighbouring eastern province of Diyala, while artillery in a military base still under government control north of Tikrit also bombarded Isis positions in the city, a source said. In total, pro-government forces were said to number 27,000, of whom one third were being deployed in the initial "liberation" of Tikrit, with the remainder in reserve to control and reconstruct the town and gather intelligence.
Tikrit is symbolically important as the home of Iraq's executed former dictator, Saddam Hussein.
Troops were said to have advanced north from Samarra – itself only 50 miles north of Baghdad – and to have focused on ejecting Isis from the small town of al-Dour, described as an Isis bastion, before moving north towards Tikrit. If it can seize back that city, the government's stated aim is to move on towards Mosul, the largest Iraqi city under Isis control, later this year. Sixteen of the advancing troops – five soldiers and 11 militia fighters – were killed by gunfire and roadside bombs, army and medical sources said yesterday afternoon.
Meanwhile to the east of Samarra, a suicide bomber drove a vehicle packed with explosives into a convoy of Shia militia fighters, killing four. More than 30 militia fighters were wounded in clashes near al-Dour.
State-run Al-Iraqiya television said that forces were attacking Tikrit from different directions and claimed Isis fighters were dislodged from some areas outside the city. Several hours into the operation, it gave no additional details. "Until this moment we have not entered the city," Gen al-Saadi said. "God willing, we will enter, but we need some time as planned."
The US-led coalition launching air strikes targeting Isis was not involved in yesterday's Tikrit operation, Iraqi officials said.
American officials had no immediate comment.
The offensive comes as momentum has begun to shift since Iraqi soldiers, backed by coalition air strikes, took back the nearby refinery town of Beiji in November.
Ahead of the operation, Prime Minister Haider al-Abadi called on Sunni tribal fighters to abandon Isis, offering what he described as "the last chance" and promising them a pardon.
"I call upon those who have been misled or committed a mistake to lay down arms and join their people and security forces in order to liberate their cities," he said in Samarra.
Join our new commenting forum
Join thought-provoking conversations, follow other Independent readers and see their replies