Barack Obama urged to rule out trading US cluster bombs for Saudi favour
Exclusive: Rights groups call on president to act on use of controversial munitions during visit to kingdom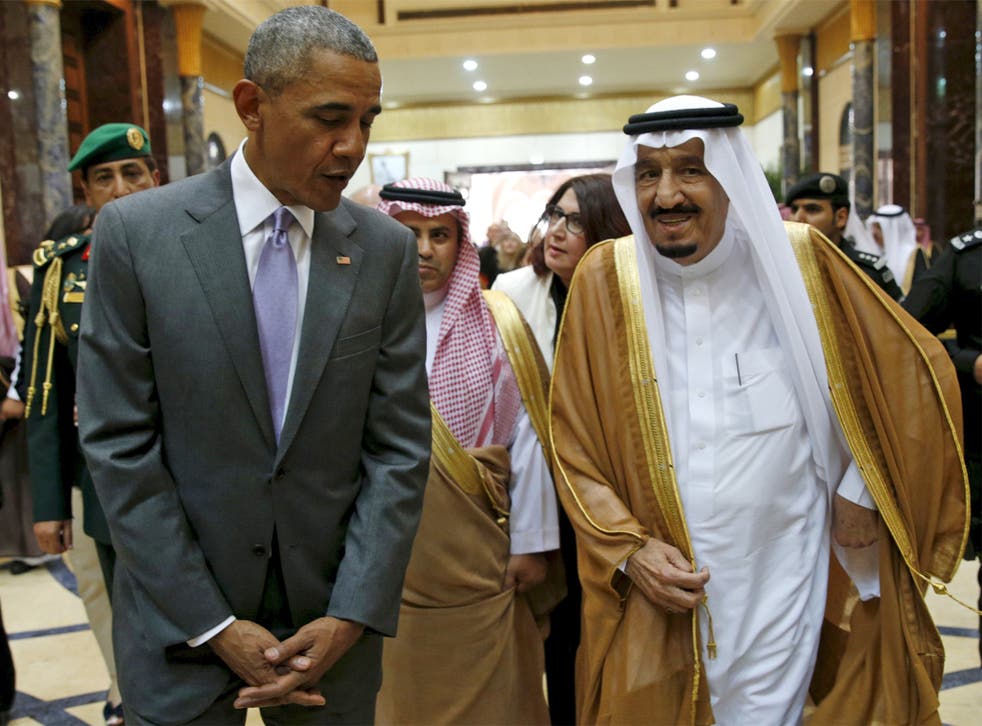 Barack Obama has been urged to use his visit to Saudi Arabia to rule out selling controversial cluster bombs to the kingdom amid mounting evidence they have been used against civilians in Yemen.
The US President's visit came amid increasing tension between the two allies over America's ever-closer relationship with Iran, as well as the potential release of documents purportedly linking Saudi officials to the 9/11 terror attacks.
White House officials said Mr Obama and Gulf leaders were set to discuss "deeper cooperation" in the fight against Isis alongside broader talks over ways to "resolve regional conflicts".
But the President has also come under pressure to use the opportunity to raise a range of issues with the Saudi human rights record – not least its indiscriminate Yemeni bombing campaign.
Speaking to The Independent, representatives for Human Rights Watch, Amnesty International and the Campaign Against Arms Trade said it was time for Mr Obama to take a stand over the Saudi-led air strikes which have killed more than 3,200 civilians in little over a year and could amount to war crimes.
Human Rights Watch has repeatedly presented the Pentagon with evidence to suggest US cluster bombs have been used by the Saudi-led coalition since the start of the conflict in Yemen.
The organisation's Yemen researcher Belkis Wille said she has spent months scrambling through the rubble of civilian buildings destroyed by American- and British-supplied bombs.
"I personally have seen those cluster bombs used in Yemen in unlawful ways, the way you cannot use them [under international law], in or near civilian-populated areas," she told The Independent.
The US and Saudi Arabia are not signatories of the international treaty banning cluster munitions outright, and a deal to sell a specific type of cluster bomb to Saudi Arabia was given the green light by the US Congress prior to the Yemen crisis.
State Department officials have previously vowed to put pressure on their Saudi counterparts over "reports of civilian harm" in Yemen, while US laws over cluster munitions exports were made much stricter in 2009.
But rights groups said Mr Obama must show leadership and rule out future deals to trade cluster bombs for the kingdom's favour.
"Congress has said we cannot sell to countries that use them near civilian-populated areas, and after what we at Human Rights Watch have witnessed in this war it would be unconscionable for the US to sell clusters to Saudi Arabia ever again," Ms Wille said.
"We are calling for a ban on all cluster bombs in the future, but we also want a complete arms embargo on Saudi, particularly on the side of the US but also on the UK, until it changes its behaviour in the context of this war.
"World leaders like Obama need to play that card," she said. "Cutting off the tap on this massive flow of arms is what will get the attention of the Saudis and nothing less than that."
Amnesty International published an open letter ahead of Mr Obama's visit to Saudi Arabia, part of a world tour including Britain and then Germany, urging the President not to ignore human rights issues during his trip.
10 examples of Saudi Arabia's human rights abuses

Show all 10
And joining the call for action over cluster bombs, Amnesty International UK's Arms Control Director Oliver Sprague told The Independent: "Selling cluster bombs to Saudi Arabia was always a jaw-droppingly irresponsible thing to do and President Obama should make it clear during the trip that this will end once and for all.
"With US-made cluster munitions killing and mutilating Yemeni countless civilians in the Saudi-led onslaught there, now is the time for the USA to finally agree to ban these appalling weapons.
Mr Sprague said the UK's "murky" role in the use of Saudi cluster bombs also "needs to be made clear", after the Ministry of Defence confirmed the British military was "supporting Saudi forces" in Yemen.
"Ministers need to give crystal-clear assurances that no British personnel or British equipment has been in any way involved in Saudi Arabia's use of these weapons," he said.
Campaign Against Arms Trade says UK arms sales to Saudi Arabia now amount to £2.8 billion since the bombing of Yemen began in March last year.
CAAT spokesman Andrew Smith said the reported use of cluster munitions was "another terrible reminder of the devastating impact that the bombing has had on Yemen".
"Cluster bombs are deadly," he said. "They are immoral and they kill indiscriminately. Their use underlines the contempt that the Saudi Air Force has for human rights.
"For decades now, successive British and American governments have given an uncritical backing to the Saudi regime. They have been complicit in the repression it uses against its own citizens, as well as the humanitarian catastrophe it has unleashed on Yemen."
Yemen is currently operating under a ceasefire agreement made on 10 April in Kuwait but, according to Ms Wille, the peace deal has made little difference on the ground.
She said: "I was in Yemen at the time it was announced, and no one had any hope it would make a difference.
"We've entered into such a dark place in terms of where the country is going, with the rise of Al-Qaeda and now the new emergence of Islamic State.
"It's one year on from the start of the war and people have really just lost all hope," she said.
Join our new commenting forum
Join thought-provoking conversations, follow other Independent readers and see their replies