Beirut bomb: 'At least 43 dead' in twin Isis suicide blast in Lebanese capital
As many as 100 people have been injured in what is believed to be a twin suicide attack in the predominently Shia neighbourhood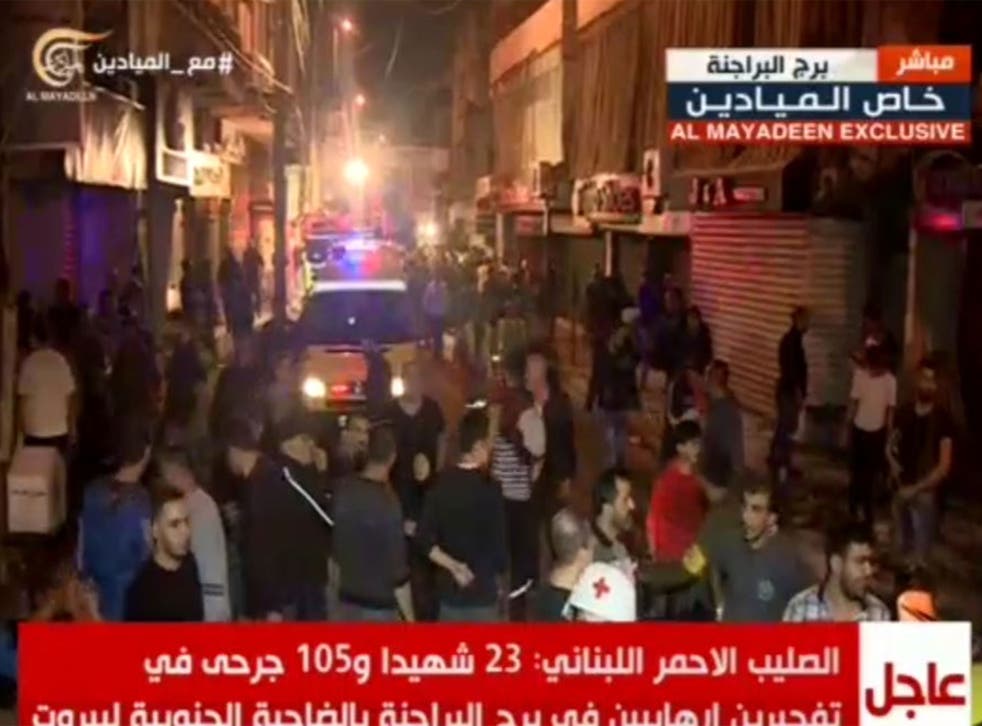 At least 41 people have died and as many as 100 have been wounded in a suspected twin suicide attack claimed by Isis in Lebanon's capital Beirut.
The explosions are believed to have taken place in a predominantly Shia neighbourhood Burj al-Barajneh, to the south of the city, a city official – speaking on condition of anonymity – told Associated Press.
It is thought the attacks, which have been claimed by the extremist Islamic organisation Isis, took place roughly 200 metres from Burj al-Barajneh Palestinian camps, and were detonated during rush hour as the streets were filled with people traveling home.
Images on social media showed a scene of devastation, with scores of people running through streets littered with debris.
There have been no major attacks in the area since June 2014.
The Lebanese branch of the Red Cross claimed as many as 41 people had been killed and issued an urgent appeal for blood donations to help the wounded. This number was later repeated by the country's interior minister Nouhad Machnouk, who told Reuters the death toll was just under 40.
There are also unconfirmed reports a third and fourth suicide bomber were involved. Social media accounts were claiming one of the bomvbers was killed in the second explosion, while another is thought to have escaped on foot following the explosions.
According to local media, the blasts went off near the busy Mansour shopping centre as the bombers walked down the street roughly 30 to 40 metres apart.
Join our new commenting forum
Join thought-provoking conversations, follow other Independent readers and see their replies