Netanyahu tells AIPAC that Iran and its international 'tentacles of terror' threaten the very existence of Israel
Mr Netanyahu said Israel-US relationship should not be affected by party politics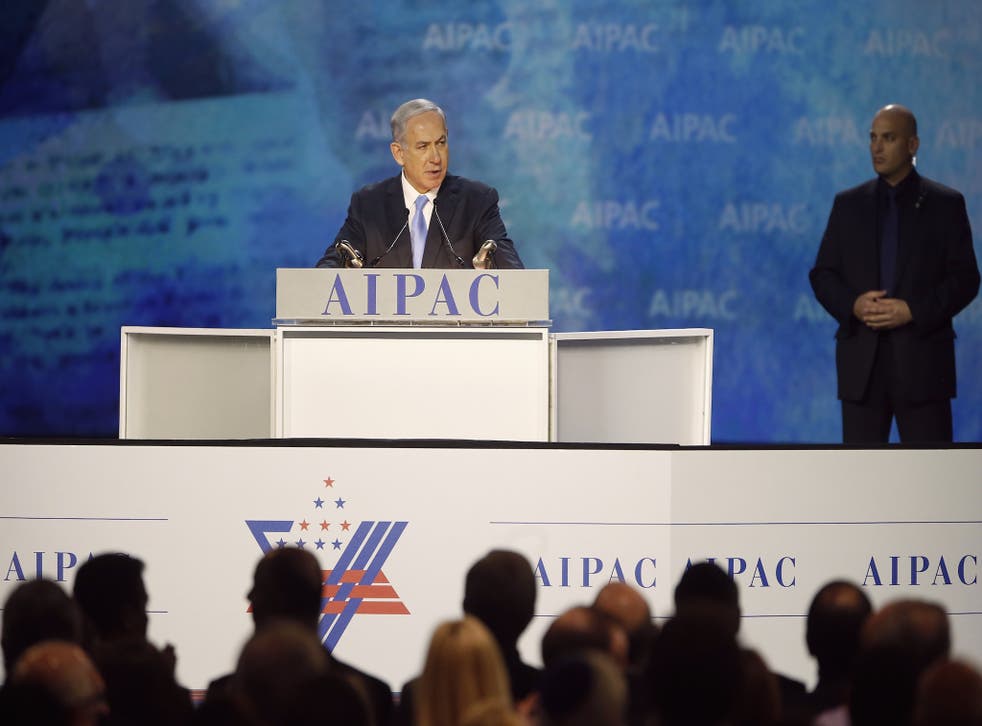 The United States and Israel made public protestations of enduring friendship on Monday even as acrimony simmered over plans by the Israeli Prime Minister, Benjamin Netanyahu, to voice his objections to US-led efforts to strike a diplomatic deal with Iran over its nuclear programme in a speech to Congress on Tuesday.
Mr Netanyahu told a meeting of the American Israel Public Affairs Committee (AIPAC) that he felt compelled to speak up about the efforts to reach a deal with Iran because the "existence" of Israel is at stake. But he simultaneously denied his intention was to show any disrespect to President Barack Obama.
"Iran envelops the entire world with its tentacles of terror," Mr Netanyahu said. "As prime minister of Israel, I have a moral obligation to speak up in the face of these dangers while there's still time to avert them."
He excoriated a regime "that is threatening to destroy Israel, that is devouring country after country in the Middle East, that is exporting terror throughout the world and is developing as we speak the capacity to make nuclear weapons, lots of them…Imagine what Iran would do with nuclear weapons."
He went on: "I have a moral obligation to speak up in the face of these dangers while there is still time to avert them."
Earlier, the US Ambassador to the United Nations, Samantha Power, used an appearance at the same AIPAC meeting to try to reassure Israel that the US will never let Iran become a nuclear power. "The US of America will not allow Iran to obtain a nuclear weapon, period," she said.
That top officials from both countries expended so much energy declaring the alliance between them healthy was in itself an indication of the seriousness of the rift created by Mr Netanyahu's decision to accept an invitation by the Republican leadership in Congress to make the address on Iran in spite of clear and public opposition from the White House.
"You are here to tell the world that reports of the demise of the US-Israel relationship are not only premature they are just wrong," Mr Netanyahu told the 16,000 delegates attending the AIPAC event. "Our alliance is stronger than ever."
Ms Powers similarly insisted that the alliance cannot be injected with partisan politics. "We believe firmly that Israel's security and the US-Israel partnership transcends politics and it always will," she said. "This partnership should never be politicised and cannot and should not be broken."
The Israeli leader's visit to Washington comes just ahead of elections in Israel.
It also coincides with what could be the last, delicate phases of the drawn-out efforts by the US as well as the other permanent members of the UN Security Council plus Germany to nail down an agreement with Iran that would allow it to maintain some enrichment activities but would curb its ability to weaponise its nuclear programme.
In Geneva for what could be make-or-break meetings this week with the Iranian foreign minister, Javad Zarif, the US Secretary of State John Kerry appealed to Israel not to undercut those talks. He hinted at fears that Mr Netanyahu may reveal elements of the putative agreement in his speech today.
"We are concerned by reports that suggest selective details of the ongoing negotiations will be discussed publicly in the coming days," he said.
"Doing so would make it more difficult to reach the goal that Israel and others say they share in order to get to a good deal. Israel's security is absolutely at the forefront of all of our minds, but frankly so is the security of all of the other countries in the region. So is our security."
It remains entirely unclear whether outstanding differences can be bridged to reach a long-term deal that will satisfy the West - let alone Israel - that the risk of a nuclear Iran has been eliminated.
"We have made some progress but we still have a long way to go and the clock is ticking," Mr Kerry commented. "We're going to find out whether or not Iran is willing to make the hard choices that are necessary."
Join our new commenting forum
Join thought-provoking conversations, follow other Independent readers and see their replies