Boris Johnson asks Tony Blair to 'put a sock in it' over 'unhinged' comments on Iraq crisis
London mayor, who voted for the Iraq invasion, says the war was a huge mistake and that attempt to 'rewrite history' is sickening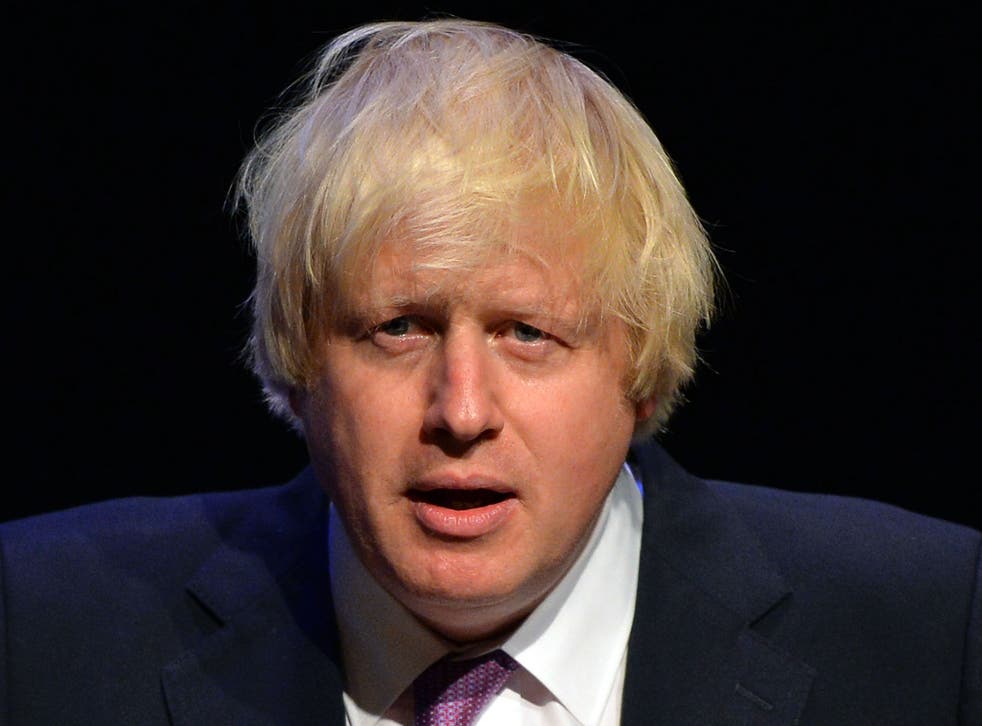 Boris Johnson has launched a scathing attack against Tony Blair, declaring that the former leader's insistence that the West should exonerate itself of blame for the violence engulfing Iraq is "unhinged."
The London mayor said that he had "come to the conclusion that Tony Blair has finally gone mad."
His comments in his Daily Telegraph column come two days after Mr Blair penned an essay on his website saying that the escalating crisis in Iraq would still have happened without the US-led invasion in 2003.
Mr Blair instead insisted said the current situation is an inevitable result of inaction on Syria mixed with an incompetent Iraqi establishment: "We have to liberate ourselves from the notion that 'we' have caused this. We haven't," he wrote.
His views, defended in an interview on the BBC's Andrew Marr Show, have led senior Labour figures distancing themselves from the ex-PM, while a wave of criticism from all sides of the political spectrum rains down.
"The truth is that we destroyed the institutions of authority in Iraq without having the foggiest idea what would come next. As one senior British general has put it to me, 'we snipped the spinal cord' without any plan to replace it," he said.
Mr Johnson calls Iraq a "tragic mistake" – one that Tony Blair, he says, must admit as being so.
However Mr Blair, who is now a peace envoy for the Middle East, maintains: "even if you'd left Saddam in place in 2003, then when [the 2011 Arab Spring] happened… you would have still had a major problem in Iraq"
Mr Johnson disagrees: "That is the truth, and it is time Tony Blair accepted it. When we voted for that war – and I did, too – we did so with what now looks like the hopelessly naive assumption that the British and American governments had a plan for the aftermath; that there was a government waiting in the wings; that civic institutions would be preserved and carried on in the post-Saddam era.
Read more: Tony Blair is to blame for Iraq says Christopher Meyer, Britain's former ambassador to US
"Somebody needs to get on to Tony Blair and tell him to put a sock in it – or at least to accept the reality of the disaster he helped to engender."
The Iraq crisis is continuing to develop with the country close to an all-out sectarian war. Virulent al-Qa'ida splinter group, Islamic State of Iraq and the Levant (Isis), is continuing its assault towards the south of the country.
Photographs emerged yesterday purporting to show Isis mass murdering a number of Iraqi soldiers and prisoners.
Foreign secretary William Hague has again confirmed that Britain will not be responding militarily to the situation, while the US has sent an aircraft carrier to the Gulf in preparation for potential air strikes. There are calls for Mr Obama to work with Iran to develop a co-ordinated response.
Mr Hague, who also backed the Iraq war, has also said that he doesn't believe the "invasion itself was a mistake."
Speaking on the BBC's Radio 4 Today programme, he said: "It is entirely possible to say that it was the right thing to remove Saddam Hussein but that mistakes were made in the aftermath.
"I don't think this entire business should be seen through the prism of Western intervention or not."
Join our new commenting forum
Join thought-provoking conversations, follow other Independent readers and see their replies