British prisoner Dr Abbas Khan found dead in Syrian jail days before he was due to be handed over to MP George Galloway
Family deny Syrian security authorities' claims that he committed suicide and demand an explanation
Robert Fisk
Tuesday 17 December 2013 11:52 Comments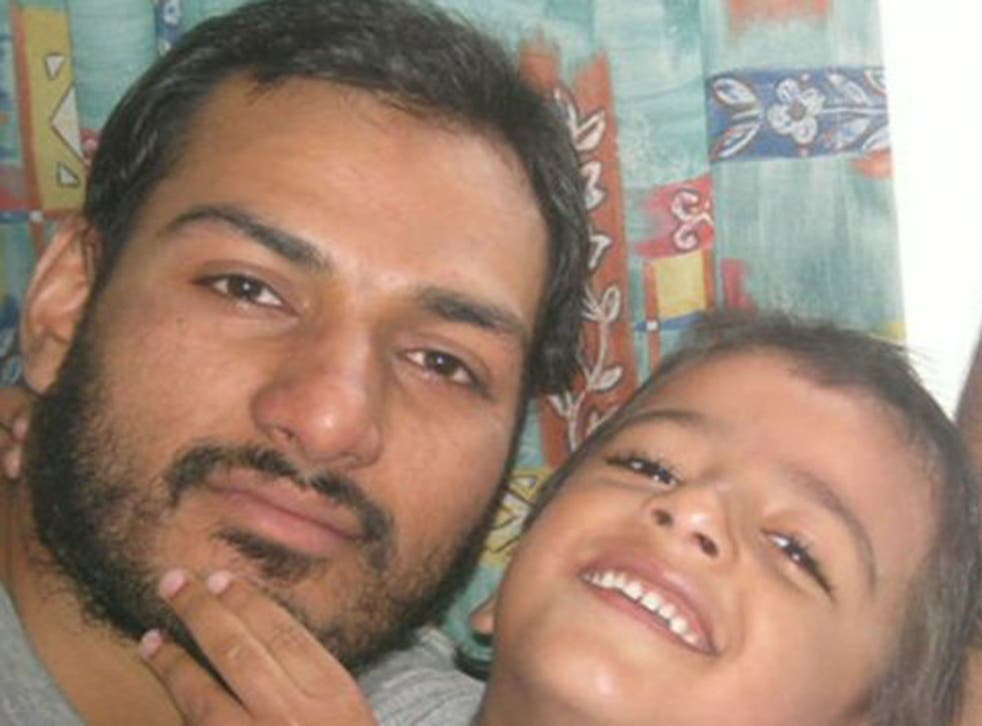 Despite the outrage of his grieving family and persistent questions from the UK Foreign Office, Syria has so far failed sufficiently to explain the "suicide" of a young British doctor in a Damascus prison - only four days before he was to be released on the personal orders of President Bashar al-Assad.
The death of 32-year-old Abbas Khan while in the hands of the country's state security police was described by the Foreign Office minister Hugh Robertson as "very suspicious" and "in effect murder", but it also raises questions about the degree to which Assad commands the loyalty of his own security services after almost three years of civil war.
The Syrian Deputy Foreign Minister Faisal Mekdad claimed that a government post-mortem examination proved that Dr Khan had hanged himself. But his death in the Kfar Soussa prison near the centre of Damascus, revealed by his family, is a scandal likely to embrace Assad, who had personally arranged that the MP George Galloway should travel to Damascus and take Dr Khan home to London before Christmas.
Indeed, given the growing belief - in Damascus as well as in London - that Dr Khan was murdered, his "suicide" may well necessitate an explanation from the President himself.
Dr Khan was arrested by Syrian government forces while working as an orthopaedic surgeon in the Aleppo region in 2012 and was held incommunicado for almost a year.
His mother, Fatima, who was in Damascus and had seen her son four times in the last four months, was eagerly awaiting his release at the weekend when she received a telephone call from a Syrian official to say that he had hanged himself in prison. His family in London - where Dr Abbas was born - had received a bundle of letters from him in the last few weeks expressing his delight at his imminent release.
"He was saying, 'I can't wait to be back with you guys'," his sister Sara told me. "He did not commit suicide." Dr Khan leaves a young wife and two children.
Even in Damascus, his death elicited expressions of shock and disbelief. Unable to bring herself to identify her son's body, his mother told her family she was leaving Damascus at once for Beirut.
George Galloway was flabbergasted.
When I telephoned him, he described Dr Khan's death as "inexplicable". He had just booked his air ticket to Damascus when he heard the news from Dr Khan's family - and then from the Syrian Deputy Foreign Minister himself.
"As yet, no satisfactory explanation has been given to me. The idea of a man committing suicide four days before he was to be released is impossible to believe. The Syrian government knows my stand on the war and on [American] intervention.
"A Syrian minister called me on behalf of the President to come to Damascus before Christmas and take Abbas Khan home. We need an explanation."
A spokesman for the Foreign Office said: "We are extremely concerned by reports that a British national has died in detention in Syria. We are urgently seeking clarification of this from the Syrian authorities."
Quite apart from the grief and outrage of Dr Khan's own family, Syria is now certain to become embroiled in a political crisis that suggests President Assad may not be able to control his own security authorities.
Dr Khan was a London born doctor and no longer had any political importance - he had been arrested after treating women and children in rebel-held areas of Aleppo well over a year ago - yet he was taken from the Azra prison where he was being held last week to the Kfar Soussa interrogation centre, a jail where inmates are held just after arrest and just before their release.
A tragedy of this importance - a British citizen whose release has been ordered by President Assad found dead in state security police custody - will require a full explanation not only from the Syrian government but from Assad himself.
Repeatedly, Assad has claimed that he is solely in charge of Syria, and - despite disquiet among Syrians at his decision to hand over his chemical weapons to the United Nations last summer - nothing has hitherto suggested that Assad's word might be crossed.
Yet the death of Abbas Khan now raises the possibility that there are those in authority in Damascus who want to challenge the power and prestige of their own President.
It is clear the Syrians intended to make a conciliatory gesture towards the West by releasing Dr Khan - yet his death suggests there are those who wish to destroy Assad's chances of a reconciliation with Western powers which only a few months ago were set on destroying his regime in a military attack.
Mr Mekdad has reported that guards visited Dr Khan at 7am to take him his breakfast but that, when they returned to take him for exercise at 9am, he was hanging by his pyjamas. The wife of another prisoner at Azra had told Dr Khan's family last week that he was taken from his cell by national security police who "wanted to ask him a few questions" before his release.
When originally arrested in 2012, Dr Khan was believed to have been severely tortured - or so he managed to inform his family - but later received better treatment.
Yet his very detention was difficult to explain. He had apparently argued with rebel supporters in Aleppo about the medical equipment he had brought to Syria after crossing the border illegally from Turkey.
Some thought he should sell the provisions but Dr Khan apparently insisted that they should be given away free.
Dr Khan's brother, Afroze, was flying to Beirut to meet his mother at the Lebanese-Syrian border. Last week, Afroze did say that he feared for his brother's mental health - but the family explained on Monday that he was referring to Dr Abbas's feelings when held incommunicado, and that this did not refer to his current mental state.
Afroze had been trying to put pressure on the Syrian authorities to bring forward the date of Dr Abbas's release - although the family realise that this original statement may now be used by others to "prove" that Dr Abbas may have taken his own life.
In private, the family complained at the unwillingness of the UK authorities to make any serious gestures on Abbas Khan's behalf.
Mrs Fatima Khan had spent weeks in Damascus pleading for her son's release, even hiring a lawyer to represent him in court. Overwhelmed by a phone call to her hotel asking her to identify her son's body, she refused to visit the hospital where his remains were held.

Read more by Robert Fisk on this story here: http://www.independent.co.uk/voices/comment/the-sad-and-curious-story-of-abbas-khan-9010993.html
Register for free to continue reading
Registration is a free and easy way to support our truly independent journalism
By registering, you will also enjoy limited access to Premium articles, exclusive newsletters, commenting, and virtual events with our leading journalists
Already have an account? sign in
Join our new commenting forum
Join thought-provoking conversations, follow other Independent readers and see their replies