Bush talks the talk on human rights. Now he must walk the walk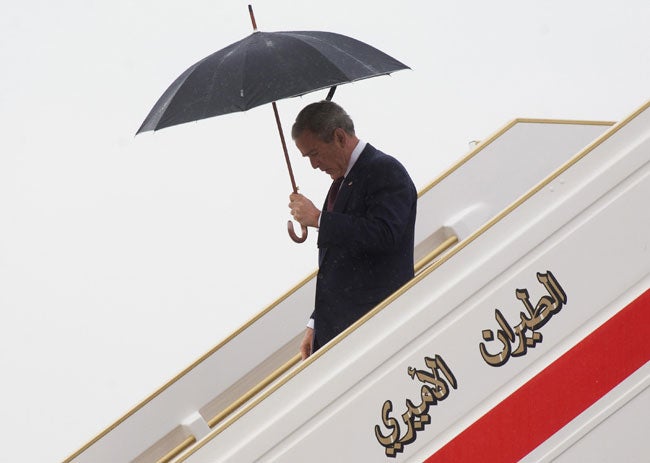 President George Bush is under pressure from human rights groups to use his visit to Saudi Arabia today to seek the release of the pioneering blogger Fouad al-Farhan, who has been jailed without charge for more than a month.
The human rights groups, including Amnesty International and the Committee to Protect Journalists, are urging the president to raise Mr Farhan's case with King Abdullah today. They also want him to appeal for the release of an Egyptian blogger, Abdel Karim Suleiman, the first to be jailed in Egypt, when he meets President Hosni Mubarak at Sharm-el-She-ikh on Wednesday. The Egyptian blogger is serving a four-year sentence for insulting President Mubarak.
Before the presidential Middle East trip, the White House triumphantly announced its own debut into the blogosphere, and yesterday Mr Bush extolled freedom of expression as a necessity of any democracy in a keynote speech in the United Arab Emirates. "You cannot stand up a modern, confident nation when you do not allow people to voice their legitimate criticisms," he said in Abu Dhabi. "You cannot expect people to believe in the promise of a better future when they are jailed for peacefully petitioning their government."
That, however, is exactly what appears to have happened to Mr Farhan, one of the first people in Saudi Arabia to blog without using a pseudonym, who has been in jail for 35 days.
So will the US President stand up to King Abdullah today and prove that his defence of free speech is more than just lofty rhetoric?
"This is an instance where President Bush has some leverage, these are his allies," said Joel Simon, the director of the Committee to Protect Journalists, which has been lobbying for Mr Farhan's release. "Saudi Arabia is a place where he can make a difference by raising these kinds of concerns. So I believe he is obligated to do so."
Blogging is becoming increasingly popular in Arab countries, where the traditional media is kept on a tight leash, censored or arrested if they write about taboo subjects. But as the online phenomenon grows, so does the state's attempt to clamp down. Reporters Without Borders classifies Saudi Arabia as one of its "13 Internet Enemies", and estimates around 400,000 websites are now on the government's blacklist.
That was no obstacle to Fouad al-Farhan, however. "Every time I blog, I know there is someone out there who hears my voice," he wrote to a friend. "I don't care if this 'someone' agrees with me or not, likes me or not. All I care about is that I voiced my opinion."
The 32-year-old had seen his arrest coming, writing a note to friends warning he was a wanted man and would be picked up within two weeks. It was accurate almost to the minute. Security forces swooped on his Jeddah offices on 10 December, carting Mr Farhan off to Dhaban prison.
Since then Saudi officials have remained virtually silent, confirming only that the father of two is being questioned on charges not related to security. Amnesty International fears the blogger may be being tortured.
Arab News, the Saudi English-language daily and the only local media outlet to cover the detention, reported that Mr Farhan's father-in-law had been allowed an hour-long visit last week, and quoted a friend as saying: "He said he's interrogated for 15 minutes every day."
But if the Saudi authorities were attempting to intimidate other bloggers with Mr Farhan's arrest, the plan seems to have backfired. The shows of support have been overwhelming, with one young blogger admitting that in the past week he had been inspired to start writing under his own name. "The arrest of Fouad and the great reactions towards it gave me a feeling of empowerment. I just feel more compelled to blog and express my thoughts freely," said Ahmed Omar Ba-Aboud.
It is unclear what Mr Farhan did that put him firmly on the radar of the Saudi authorities. It could have been the fact that in 2006 he complied with a request to stop blogging but then came back with a vengeance in July last year, with a posting "Why do we blog? Here's 25 reasons" and ignored subsequent warnings. It may have been the fact he blogged in Arabic rather than English and so was reaching a wider domestic audience.
In the letter he wrote before his arrest, he suggested it was his entries about political prisoners that had landed him in hot water. Others have pointed to a December post listing his 10 least favourite Saudi personalities, including a prince, a prominent cleric and the head of the judiciary.
For friend and fellow blogger Ahmed Al-Omran, who runs the Saudi Jeans blog, it is simpler than that. "He's a good example of the new generation of Saudis who have big dreams for their country and who want reform," he said.
"The King has a reform agenda but there are elements in the government who are not happy about the plans because their powers might be curbed. There's a struggle over the way our country's going."
Washington rarely criticises Saudi Arabia, the world's biggest oil exporter, in public. But last month, Mr Bush spoke out against a court verdict condemning a gang-rape victim to 200 lashes for breaching Saudi law by being alone with a man who was not a relative. Shortly afterwards, King Abdullah issued a pardon to the 19-year-old woman.
Mr Farhan's family will be hoping President Bush upholds his right to speak freely today so that their loved one can continue to exercise his.
Jailed for speaking out
* Fouad al-Farhan
Aged 32, he was arrested in December. In 2006, the Interior Ministry warned him to tone down his blog, which dissects political and social issues of the day. He quit blogging temporarily but came back in July 2007, with a list of 25 reasons why it was important to blog.
* QUOTE: "I suggest we address some of the public figures in the Kingdom as Saints. They are Saudis like us, but whoever criticises them is sent to prison."
* Abdel Karim Suleiman
In his twenties, he was sentenced to four years last February for insulting the Egyptian President and the religious university. Blogging under "Karim Amer", he referred to President Hosni Mubarak as a dictator and accused Cairo's Al-Azhar University of promoting extremist ideas.
QUOTE: "I say to Al-Azhar professors who stand against anyone who thinks differently to them: You are destined for the rubbish bin of history."
Join our commenting forum
Join thought-provoking conversations, follow other Independent readers and see their replies