Can billion-dollar investments put Qatar on the cultural map?
Can billion-dollar investments put Qatar on the cultural map?

Show all 5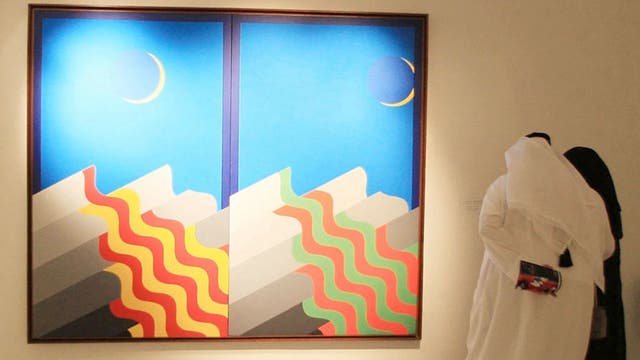 Squint and you can almost see the shrink wrap on the faux Corinthian columns, towering several storeys high and clustered around giant bronze doors. They swing open slowly to reveal a sweeping arena, its vast concentric rings seating 5,000 and surrounding a stage looking out to sea. With a stretch of the imagination it could be Epidaurus, if this pastiche of classical Greek architecture did not look quite so shiny.
For these are no crumbling ruins; instead, the 45C sun bounces blindingly off the cream limestone walls of the capital Doha's new amphitheatre, opened with great aplomb late last year by Jeremy Irons, to a Vangelis soundtrack.
And yet there is, so far, neither an audience large enough to attend the operas and concerts Qatar envisages staging in its capital, nor indeed the local artists to perform them.
Opposite the amphitheatre, Louise Bourgeois' Maman sculpture looms large. Bought for an undisclosed sum as part of a $25bn (£15.6bn) investment in contemporary art and tourism, its spider legs beckon visitors to an exhibition called Conscious and Unconscious.
It is largely empty, aside from a couple of burqa-cladf Qatari girls giggling into their mobile phones and paying little attention to the exhibits.
Equally deserted next door, save for a painter idly strumming a guitar, is the fine arts society, another of the 30-plus artistic venues in the newly-built Katara cultural quarter.
Its total cost, like so many things in Qatar, is opaque but no doubt stretched into millions, with its sprawling square mile housing a music academy (whose 18 handcrafted Steinway pianos alone cost about $1m), exhibition spaces, galleries and photographic and filmmaking institutes.
Katara's dusty, winding alleys are eerily silent in the oppressive midday heat, as if waiting for an audience which might never come.
But if there is one thing Qatar has in spades, it is patience. It has long been overshadowed by its oil-rich, headline-grabbing neighbours in the United Arab Emirates, which boasts two international art fairs and plans to create Middle Eastern outposts of the Louvre and the Guggenheim. Oman, meanwhile, has already hosted the likes of Placido Domingo, Andrea Bocelli and Renée Fleming in its spectacular new opera house in Muscat.
Work on the art institutions in the UAE, however, has stalled, and wrangles continue over building contracts and the delayed delivery of Abu Dhabi's $27bn (£16.8bn) museums district; meanwhile, Qatar has proven to be the come-from-behind horse, quietly stealing a march on its rivals by unveiling its own completed projects with little of the preceding fanfare.
In the bad old days when oil and liquefied natural gas first made this tiny Gulf nation one of the richest in the world, it was enough to splash the cash on fast cars, luxury yachts and designer handbags.
Now, though, Qatar wants to be taken seriously as a cultural contender – not only by buying in artistic endeavours from around the world but also in home-growing fresh local talent from scratch in a pointed mark of difference to its flashy neighbours in the desert. "We want to develop a local audience and captivate enough of the people in the world who would normally go to Paris or London," declares Katara president Abdulrahman al Khulaifi.
It is a bold claim for a country which only came into existence in 1971 and is just over two-thirds the size of Yorkshire, with a third of the population; of the 1.8m largely expatriate residents, only 300,000 are Qatari. Never mind the social and political restrictions preventing criticism of the royal family or showing anything too controversial…
But al Khulaifi is undaunted: "I see no reason why our artists would not be represented in major international fairs like Basel," he continues. "The exposure we give them and the kind of exhibitions we are bringing here will enhance their way of thinking."
With a per capita income of more than $100,000 (£62,500) – the highest in the world – it certainly has the resources. But is cash really enough to compete on the same level as Paris, New York and London? And is it possible to create an arts culture where it does not exist?
Qatar is certainly trying to plug those gaps by furiously splashing out on art, music, literary and cultural projects. Last year it was the world's biggest buyer of contemporary art, according to The Art Newspaper, with the Al Thani ruling royal family hoovering up Francis Bacons, Andy Warhols, Damien Hirsts and Mark Rothkos in a staggering $1bn (£625m) spending spree over seven years. It included the purchase of Cezanne's The Card Players for a record $250m (£156m), the highest price ever paid for a work of art.
Sheikha al Mayassa bint Hamad al Thani, the emir's 29-year-old daughter and a self-styled culture queen, declared at the time: "Through displaying various forms of art in public spaces, we aim to inspire local talent."
Qatari cash has, in the past five years, funded a philharmonic orchestra which plays regularly in its own, newly-built opera house; a modern art museum as well as the more traditional Museum of Islamic Art; a publishing house in conjunction with Bloomsbury in the UK; a Jean Nouvel-designed national heritage museum, set to open in three years; and that amphitheatre, empty since its opening ceremony.
The idea behind the $25bn injection into art and entertainment, says Qatar Tourism Authority chairman Ahmed al Nuaimi, is to transform the country into a world-class destination in time for the – controversial – 2022 World Cup and put Qatar on the global map. (Qatar was hit by allegations of bribery and vote-rigging, which it strongly denied and which were rejected by Fifa's ethics committee based on a lack of evidence.)
While it remains to be seen how much of a draw these incredible collections will be to an international audience, the Qatari aim of home-growing artistic talent is perhaps more interesting. Where does one begin when the pool is so small and experience is yet to bed in?
It was a challenge facing Kurt Meister, aged 66, the Munich-born bassoonist and former manager of the Bavarian State Opera hired to put together the Qatar Philharmonic Orchestra.
The musicians, put to the test in blind auditions in 10 cities, came from across the world, lured by the opportunity to be part of a new, exciting venture and the promise of comparable tax-free salaries in an expatriate haven by the sea.
But one place they did not hail from was Qatar, nor is there a strong Middle Eastern contingent, with only 12 Arab performers among the 101 musicians. Without a tradition of musical knowledge in the region, it was a struggle to find anyone qualified to play professionally.
"I am always asked when we will get our first Qatari in the orchestra," says Meister, "but it will take time. Normally you need 15 years' experience to be a violin player in an orchestra and Qatar Music Academy only opened last year. Before that, there was no music school."
Instead, there is an Arabic element introduced into most concerts, whether it is through an Arab composition or regional string instruments like the qanun or oud.
"The target is to find a bridge between Western and Arabic music," he says. "Qataris understand that they don't just need economy, they need culture. If you don't have culture and tradition, you don't have a face; you don't exist."
It falls on Qatar Music Academy to teach a love of music from a young age. Qataris are offered free music lessons from the age of five, paid for by the state. Yet only 16 per cent of its 300 students are local; the rest are paying expatriate children.
Anne-Marie Pigneguy, head of Western music at the school, says: "We are hoping there will be Qataris becoming professional musicians in 20 years' time. It is not about importing culture but about fostering education here. A lot of the local population still view it as haram [sinful]. It is still a new development for women to play instruments. But what is happening here is exciting."
Yet like the amphitheatre modelled on an ancient Greek tradition of the arts, will the cultural initiatives be merely derivative or be able to showcase something unique and memorable?
Art dealer John Martin, who runs an eponymous art gallery in London and founded the Art Dubai fair six years ago, thinks there is a danger that government funding can "suck the oxygen out of the art scene".
"When an artist or curator is asked to put on an exhibition, they are not doing it at grassroots level. There is no organic growth."
But he thinks there is a new-found intensity from artists and collectors in the region, partly triggered by seismic changes sweeping across the Middle East, who are moving away from Western influences and imprinting their own cultural footprint on their work.
"I always felt there were some artists right at the beginning [of Art Dubai] who were looking quite like pastiches of Western artists and that is changing now," he says.
"It does slightly throw into question the whole idea behind the big museums in places like Abu Dhabi and Qatar. It sounds like these museums are going to be clones of something that could be in Boston or New York or Frankfurt and I do not know whether that is going to excite people when what is happening on the ground is so exciting at the moment."
As progressive as Qatar would like to be perceived, it has an oddly schizophrenic attitude to the Western expatriates who have been invited in.
The Pearl, a luxury man-made island where swanky apartments nestle alongside designer boutiques and upmarket restaurants, was a natural hub for British and American expats to meet for cocktails.
Unusually, it had an alcohol licence. Then – apparently appalled at boisterous scenes in the conservative Islamic country – the authorities rescinded the licence without explanation last December. Similarly, an off-licence opened for a mere five hours in April, before shutting stating "technical difficulties".
Overnight, restaurants on The Pearl saw their profits halve and the entire development now has the mournful feeling of a seaside town out of season. Gordon Ramsay shut his Maze restaurant and relocated to the St Regis Doha hotel, where – since it is within the hotel's confines – he is less likely to fall foul of the whims of the authorities.
In a recent session on censorship of the arts on Doha Debates – a BBC televised series mirroring Question Time – audience members complained about racy scenes being cut from their cinema screens and the censoring of imported magazines.
Nor do the authorities seem willing to be scrutinised. Despite repeated requests for an interview with the Qatar Museums Authority (QMA), which sponsored the recent Damien Hirst retrospective at Tate Modern and plans to showcase his work in a similar exhibition in Doha next year, I was told firmly: "Your interview request has been rejected by our top management".
Sheikha al Mayassa brusquely told BBC Radio 4, in an interview which reportedly took more than a year to negotiate: "We have not imported culture. We are embracing change. We are not scared of opinions, we are not scared of discussions".
The conflicting messages seem to be reflected in its confused youth. Twenty-one-year-old artist Ali Hussain, insists nothing is off-limits in art, while admitting he would never paint a nude: "It is not that it is not allowed but in an Islamic country, it is disrespectful".
Nor does he see painting as a career option and envisages trading it in for a government post: "It is not a real job. There is no salary and no obvious status".
But Anne Renahan, the British managing editor of Bloomsbury Qatar Foundation Publishing, says there is a groundswell of change afoot. Among the 100 books in English and Arabic which the publishing house has produced since it opened two years ago are Saudi novels banned in their home country dealing with straight – and gay – sexual relations.
"There is nothing we would shy away from publishing," she says. "Our goal is to publish books of excellence in English and Arabic. There is a huge pool of quality Arabic authors. This is not about throwing money at something, it is a partnership. What is happening here is of Qatar and of the region."
John Martin says anything that might engage new audiences has to be welcomed. "Damien Hirst may be more relevant in the Middle East now, because we might all be bored sick of spot paintings but it is still totally fresh there. I just hope it does not bring a rash of spot paintings from the Gulf."
Join our new commenting forum
Join thought-provoking conversations, follow other Independent readers and see their replies