The Chilcot inquiry: The men that led Britain to war in Iraq
The Iraq Report – Part 5: The key protagonists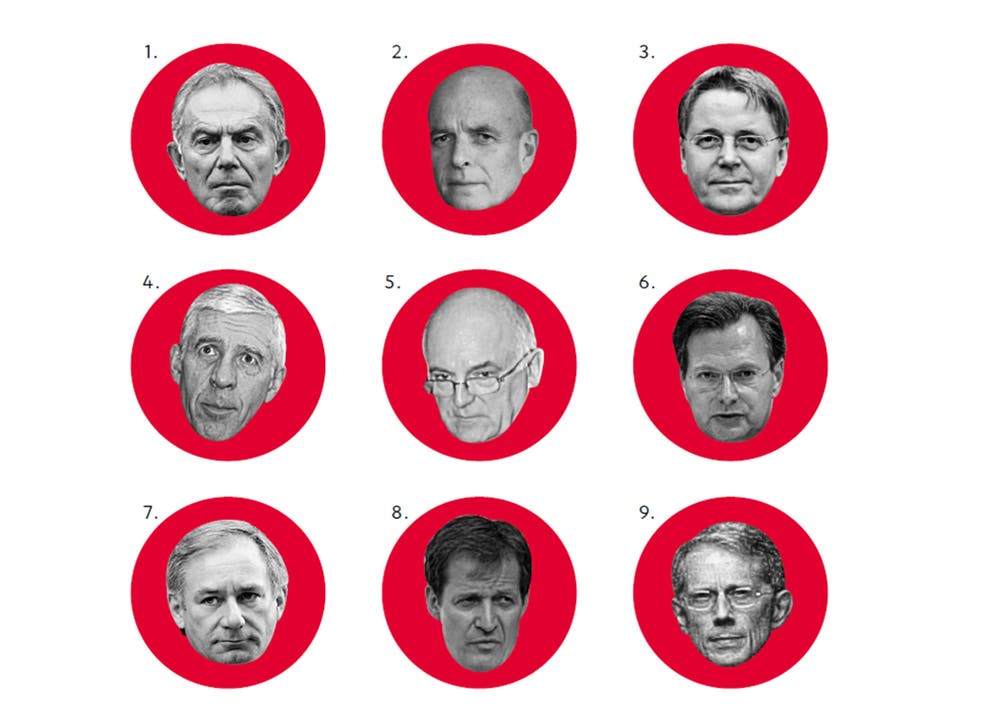 1. Tony Blair
Critics claim that the former prime minister (1997-2007) consciously exaggerated the threat from Saddam Hussein's supposed weapons of mass destruction; that he misled the Cabinet into backing a war to which he had already committed Britain in a private agreement with President Bush; and that he wilfully ignored initial legal advice that such a war would be illegal. Blair continues to deny such charges vigorously, and only the publication of Sir John Chilcot's report will resolve some of the detailed evidential questions. It is harder for Blair to refute the charge that, irrespective of the detail, his decision to take Britain to war in Iraq was a disastrous misjudgement.
2. Sir John Scarlett
Critics claim that the then chair of the Cabinet Office Joint Intelligence Committee was influenced by political pressures from Number 10, allowing Alastair Campbell to influence his drafting of the controversial "September Dossier" of 2002. More recently, the disclosure of a memo in which Sir John referred to "the benefit of obscuring the fact that in terms of WMD Iraq is not that exceptional" has cast further doubt on the objectivity of his advice.
3. Sir Jeremy Heywood
As the prime minister's principal private secretary (1999-2003), Sir Jeremy may find himself implicated in criticisms of the style of "sofa government" that developed during the Blair premiership – arguably weakening the power of the Cabinet to moderate rash policy-making. Sir Jeremy has also been criticised in his current role as Cabinet Secretary, in which capacity he has been involved in protracted arguments about the publication of confidential documents relating to the Chilcot inquiry.
The Iraq War: A timeline

Show all 16
4. Jack Straw
The former Foreign Secretary (2001-2006) admitted to the inquiry in 2010 that he had supported the decision to attack Iraq "very reluctantly". He expressed "deep regret" about the war, and acknowledged that he could have forced Blair to reconsider, had he refused to support it. The inquiry also heard that Straw refused to accept advice from Sir Michael Wood, a legal adviser at the Foreign Office, that to attack Iraq without Security Council authority "would amount to a crime of aggression".
5. Sir Richard Dearlove
As head of MI6 from 1999 to 2004, Sir Richard has obvious questions to answer about the way in which doubtful intelligence was presented as fact. Sir Richard has admitted (in 2002) that, in the US, "intelligence and facts were being fixed around the policy", but the 2004 Butler Review did not pursue this. Sir Richard is understood to have prepared his own account of events, with which to "put the record straight" should he feel unfairly treated by Chilcot.
6. Lord Goldsmith
Questions continue to be asked as to what could have induced the former Attorney General (2001-2007) to change his view on the legality of war just days before the invasion of Iraq. Over the previous year, he had consistently opposed an invasion without a further UN resolution. In evidence to the Inquiry, he cited "a combination" of Sir Jeremy Greenstock, Britain's then ambassador to the UN; Jack Straw; and US officials including George W Bush's national security adviser, Condoleezza Rice, as having persuaded him to alter his position. Tony Blair told Chilcot: "If [Lord Goldsmith] had said 'This would not be justified lawfully', we would have been unable to take action."
7. Geoff Hoon
The Secretary of State for Defence (1999-2005) has been repeatedly criticised for shortcomings in the supply of equipment to British forces. Lord Boyce, the former chief of defence staff, has claimed that, in the run-up to war, he was "prevented" by Hoon from speaking to the chief of defence logistics, "because of the concern of it becoming public knowledge that we were planning for a military contribution". Hoon has also been blamed for failing to clarify to the media that the "45-minute claim" in the September dossier, referring to deployment of WMDs, referred only to battlefield weapons.
8. Alastair Campbell
Widely portrayed as the villain of the Iraq debacle, the former Number 10 director of communications (1997-2003) has continued to insist he did nothing wrong. Campbell denied to Chilcot that the purpose of the September 2002 dossier was "to make the case for war". Subsequent testimony submitted by Major-General Michael Laurie claimed that Campbell's evidence was inaccurate.
9. Sir David Manning
Tony Blair's chief foreign policy adviser between 2001 and 2003, Sir David was present at meetings in June 2002 and January 2003 in which Bush and Blair drew up secret plans for the invasion of Iraq. In evidence to Chilcot, he referred to meetings in Washington in July and August 2002 but said he did not conclude there was a significant likelihood of military action until "much later". He was not asked about the "Downing Street Memo" of 23 July 2002, about a meeting he attended with Tony Blair, which stated: "Military action was now seen as inevitable."

***
After six years and nearly £9m, the report of Sir John Chilcot's inquiry into Britain's involvement in the Iraq war remains unpublished – and, we were told this week, will not be published this side of the general election.
Will the British public ever be told the truth about a conflict that millions of them opposed, whose lethal fallout can still be felt across the world today? In the absence of an official account, this series of articles – based on evidence given to the inquiry and other accounts that are already in the public domain – is an attempt to set down in writing, as objectively as possible, the known facts and unresolved questions of one of the most bitterly controversial episodes in recent British history.
Join our new commenting forum
Join thought-provoking conversations, follow other Independent readers and see their replies