Critics scent the whiff of corruption on the Netanyahus ahead of Israel general election
A long-awaited report will declare whether or not the couple wasted taxpayers' money through extravagant spending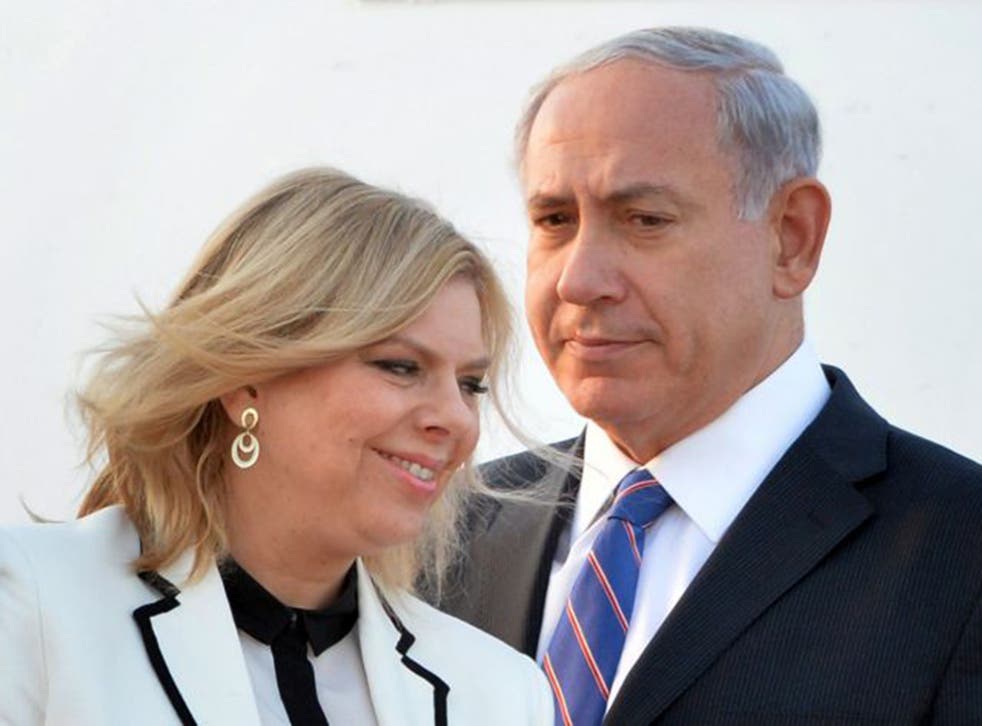 For years, Israeli voters have been accustomed to hearing about the lavish household spending of Benjamin Netanyahu's wife, Sara, with thousands of shekels spent on scented candles, flower arrangements and ice-cream.
Tomorrow a long-awaited state comptroller's report, finally cleared for publication, will declare whether or not the couple wasted taxpayers' money through extravagant spending at their official residence in Jerusalem, and at a second residence in Caesarea.
In the feverish political atmosphere ahead of next month's general election, its findings are eagerly awaited – not least after reports in the anti-Netanyahu Haaretz newspaper on Ms Netanyahu's so-called "bottlegate" scandal.
Ms Netanyahu was accused of pocketing thousands of shekels in refunds for deposits on bottled beverages consumed during official functions at the prime minister's residence – a practice her husband's political rivals say amounts to stealing public funds. She wrote a cheque for 4,000 shekels (£680) to reimburse the government in 2013, but a former employee, who is suing the couple for various other grievances, claims the amount pocketed was closer to 24,000 shekels.
Mr Netanyahu wrote on Facebook that a smear campaign was under way and called on political opponents to focus on him, not his wife.
Today's report, which Mr Netanyahu's lawyers had sought to have witheld until after the polling, is expected to find that the couple did indeed overspend on expenses at their two residences. But to the disappointment of the prime minister's critics in the press – with journalists from both Haaretz and Yediot Ahronoth intensifying scrutiny of Ms Netanyahu's behaviour – "bottlegate" will not be covered by the state comptroller's findings.
"If the excesses of the prime minister's family and entourage are exorbitant enough, it could have an effect on the campaign," said Yossi Alpher, former director of the Jaffee Center for Strategic Studies. "But his constituency isn't so sensitive to this issue so people shouldn't get their hopes up."
Ms Netanyahu has been central to her husband's life since they met, while she was working as an El Al airlines flight attendant, and married more than 20 years ago. They have two children, and she has since qualified as a child psychologist, but it is her reputedly domineering style at home – including her behaviour towards household staff – that has attracted most attention.
At times she is painted in the media as pulling the strings of power and deciding who has her husband's ear. "Sara knows everything," he is purported to have told a former Mossad chief, Meir Dagan.
The "bottlegate" scandal resonated among some because of old allegations of misuse of state funds by Ms Netanyahu to buy furniture for the couple's residence in Caesarea.
However, Yefet Tsedaka, a Likud central committee member, said: "Everything is exaggerated and will be put to rest when the comptroller issues his report. They have nothing on Bibi because he's been successful, so they are trying to hurt him through Sara. They focus on Sara rather than talk about the issues."
Join our new commenting forum
Join thought-provoking conversations, follow other Independent readers and see their replies