David Haines exclusive: Witness describes the moment Isis militants seized the British aid worker
As the identity of hostage David Haines is made public, details have emerged about the manner of his kidnapping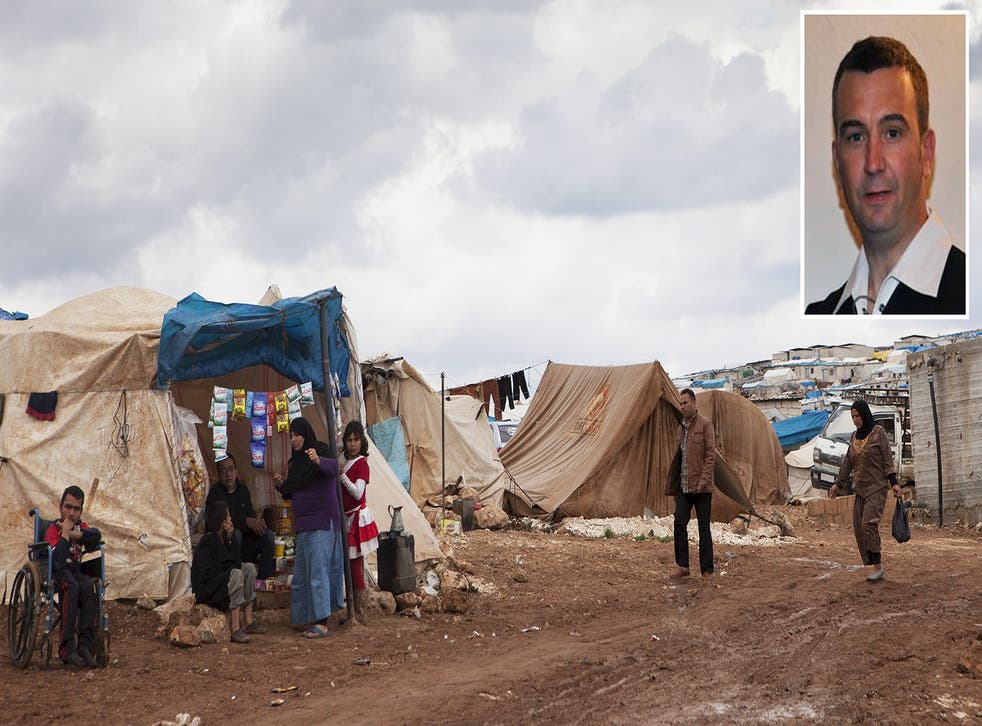 The British aid worker threatened with beheading by Isis was kidnapped by "professional" gunmen who targeted the vehicle in which he was travelling in the apparent expectation of obtaining Western hostages, a witness has revealed.
A Syrian translator for the charity employing David Haines described to The Independent the moment in March last year when Isis fighters in two cars pounced to detain the Briton and an Italian colleague in northern Syria.
The incident happened when the men were agonisingly close to safety as they travelled the final few miles to the Turkish border.
The details of how the abduction of Mr Haines, 44, took place are only now emerging after his captivity was kept secret for 19 months.
In pictures: The rise of Isis

Show all 74
His kidnapping was made public in horrifying circumstances on Tuesday when he appeared in a video posted by Isis showing a jihadist with a London accent decapitating American journalist Steven Sotloff and then warning that the Briton would be next.
Prime Minister David Cameron today reiterated that Britain will not pay a ransom to secure Mr Haines' release and condemned countries which have handed over millions of pounds in return for kidnapped citizens, accusing them of funding terrorism.
The British aid worker, a seasoned employee of charities who was in Syria for the Paris-based Agency for Technical Cooperation and Development (ACTED), was in the final hours of a three-day tour to assess locations for new refugee camps in the north of the country when he was abducted with the organisation's Italian coordinator, Federico Motka.
Their Syrian translator, who asked not be named, said the four-strong group were driving back via Aleppo towards the Turkish border from the nearby Atmeh refugee camp and had taken a shorter route along a farm road when Isis gunmen appeared.
He said: "Two very fast cars came up behind – one overtook and the other stayed behind. They shouted at us to get out of the car in formal Arabic. They were wearing black masks and were so professional.
"They knew that two of us were Syrians and they knew who else was in the car. One of them put a gun to my head and threatened me not to tell anyone what I had seen. They put [Mr Haines and Mr Motka] in the boot of their car and shot out the tyres of our car."
The translator said the kidnapping took place "in seconds" and the gunmen included at least one foreigner who appeared to be of African origin. He added: "No-one thought that would happen so close to the border. All of us were just looking forward to getting back to Turkey."
The translator praised Mr Haines, a father of two who was born in East Yorkshire and raised in Perthshire, for his warmth and humanity towards the Syrian refugees. He said: "I remember he was really worried for the people [in one camp] because they didn't have toilets. He stopped by every child though and made a joke with them. He was always smiling and listening to the refugees. Those three days, I was with the best guy in aid work."
The apparently pre-planned nature of the abduction served to underline remarks by Mr Cameron, who said that ransom payments had encouraged further kidnappings by jihadist extremists in search of funding for their activities.
Speaking at the Nato conference in Wales, the Prime Minister said: "Countries that have allowed ransoms to be paid, that has ended up with terrorist groups, including this terrorist group, having tens of millions of dollars that they can spend on kidnapping other hostages, on preparing terrorist plots."
Germany, France and Spain have all reportedly paid ransoms to obtain freedom for their citizens. Italian media said today that the release of Mr Motka, who was freed in May after sharing a cell with Mr Haines and five other foreigners, had been secured after Rome authorised payment of €6m (£4.75m) to the captors.
Following the release of this week's video, the Foreign Office asked for media not to identify Mr Haines but his name and details of his career were circulated on the internet by international media organisations including the New York Times and NBC. The Independent has decided that the amount of information available about the Briton is such that no purpose is served by continuing to withhold his name.
Mr Haines has been based in recent years near Zagreb in Croatia, where he met his second wife, Dragana, and helped run a kitchen supplies business. He travelled to the former Yugoslavia in 1999 and spent five years working for a German charity helping to rehouse refugees from the civil war.
Speaking at her Croatian home Mrs Haines said she was still struggling to take in the threat to her husband and was anxious to say nothing that could further put his life in danger.
"He's everything to us. He's our life. He's a fantastic man and father. Nobody can understand how we are feeling," she was quoted as saying by the Daily Telegraph. "My daughter keeps asking about him every day. She hasn't seen her father for a year and a half. She has gone through so much. She sees me crying all the time."
Nena Skoric, Mr Haines' former landlady in Croatia from 1999-2004 when he worked for a German aid agency, said: "It didn't matter to him whether people were Croats, Serbs or Muslims, as long as they needed help. He was such a good man. I don't know what is wrong with the kidnappers. Don't they know he was helping Muslims? They don't seem to care about that."
Croatian newspaper Jutarnji List reported that the Briton met Dragana while she was working as a translator for the charity. The couple married in 2010 and have a four-year-old daughter.
Members of Mr Haines' family in Britain have gathered in Ayr, home to his elderly parents. Friends said there had been no contact with the aid worker since his capture.
In a tweet responding to an internet survey asking what she most wanted, Mr Haines' teenage daughter by his first marriage wrote last year: "For my daddy to come home."
Join our new commenting forum
Join thought-provoking conversations, follow other Independent readers and see their replies