Desperate Syrian Kurds in Kobani plead for help against Isis fearing threat of 'massacre'
'What happened on Mount Sinjar will seem like nothing compared to this if Isis gets through' Kurdish military claim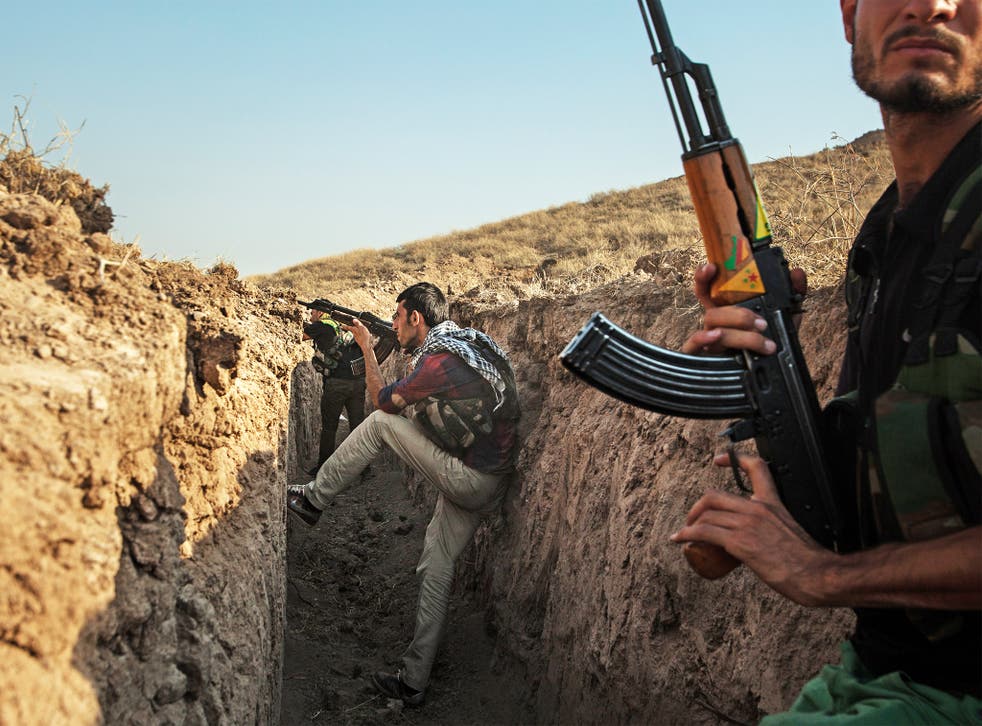 The Syrian city of Kobani is facing its own crisis in the fight against Isis, with Kurdish fighters claiming that the world could see another massacre "if no help arrives".
Kobani, situated near the Turkish border, is under siege by Isis (also known as Islamic State) and suffering from the effects of militants cutting its water and electricity supplies.
Kobani's population has reportedly ballooned from 60,000 people to nearly 400,000 through increasing numbers of people fleeing their homes to escape the advancement of the militants across Syria, and tanks, artillery and mortars now surround the city as Isis continues to attempt to push through its defences.
Syrians flee to Turkey as Kurds storm Isis strongholds

Show all 15
Isis fighters are now just miles away from the city, Rooz Bahjat, a senior Kurdish military officer told Foxnews.com, after renewed attempts to take the city following months of attacks on Kobani.
"What happened on Mount Sinjar will seem like nothing compared to this if Isis gets through," he said, adding: "This could be a massacre if no help arrives."
Kurdish fighters have been pleading for the US-led coalition, which it believes is conducting the current air strikes in the area, to coordinate with them, claiming that overnight strikes on Wednesday were not effective and struck abandoned bases.
Reydour Khalil, a spokesman for the fighters, said the Kurdish forces are willing to co-operate with the US and its alliance, and is able to provide positions and information about the militants' movements.
"We will do everything to resist these advances. We will fight 'til every last drop of blood, but if help does not arrive soon, disaster is at hand," Polat Tan, a senior commander with the Kurdish militia told Foxnews.com.
Isis launched a new offensive to try and capture Kobani over a week ago, with militants and Kurdish fighters exchanging artillery and machinegun fire in a cluster of villages about nine miles west of the city.
A Reuters witness said the frontline in this area had not appeared to have moved significantly for days, but militant fighters in the south of the city pushed towards Kobani on Wednesday night. The main Kurdish armed group in northern Syria, the YPG, repelled them.
Syrian and Turkish Kurds have been finding ways to cross over from Turkey to help fight in Kobani, despite Turkish law banning people from going to war in a foreign country.
But the crisis across the border has helped to unite Turkey and its Kurdish population against a common enemy in Isis, despite the two peoples being in conflict for decades.
The influx of around 150,000 Syrian Kurds from Kobani and its surrounding areas in the past week has placed renewed pressure on relations however, and Kurdish leaders have warned that the discord could kill a peace process that is attempting to end the conflict that spanned three decades and shed the blood of thousands over the question of Kurdish autonomy in Turkey.
Ahmet, a 30-year-old man, who declined to give his surname, said he was travelling from Turkey to join the fight across the border.
"We came here to die," he said, adding that he wanted peace in Turkey, but that if Kobani fell, the peace process would be dead and violence could soon break out again in Turkey.
Join our new commenting forum
Join thought-provoking conversations, follow other Independent readers and see their replies