'Disturbing' Syria torture images go on display at UN headquarters
Photographs were smuggled out by former military photographer who defected to West (warning: graphic content)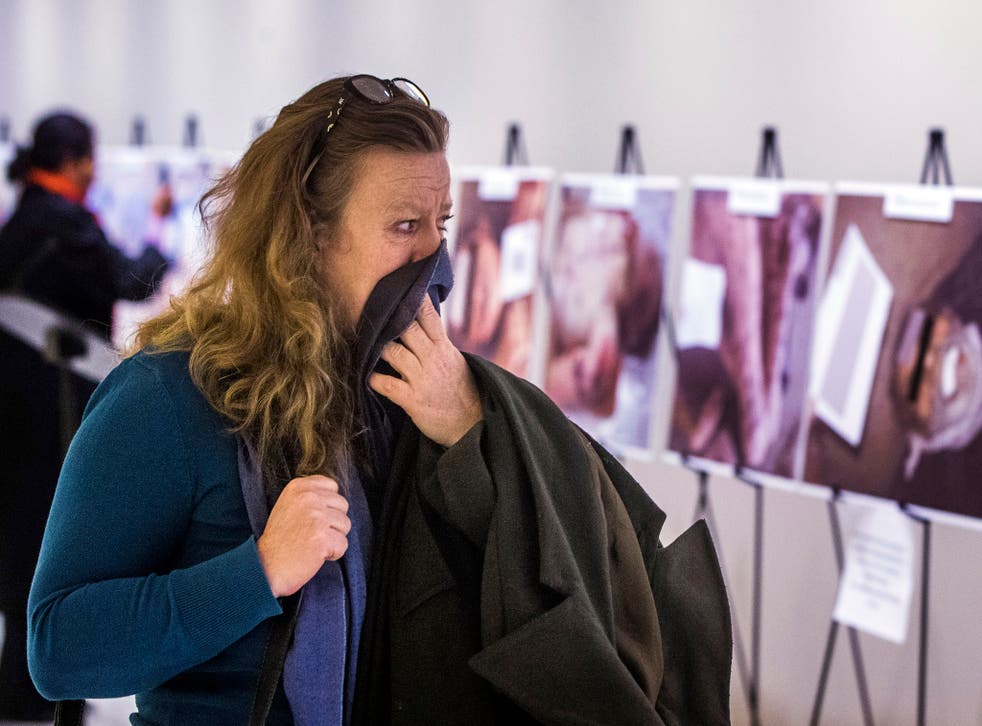 A series of shocking images reportedly taken inside Syrian jails have gone on display at the headquarters of the United Nation in New York, revealing torture, starvation and killings. A warning sign next to the exhibition declares: "The following images are disturbing."
The images, which will be displayed for ten days, are around two dozen from a total of 55,000 taken by a former military police photographer who defected to the West and who has been given the codename Caesar. The images were smuggled out of Syria between 2011 and the middle of 2013. The exhibition is titled: Caesar Photos: Inside Syrian Authorities' Prisons.
Britain's UN Ambassador, Mark Lyall Grant said the aim of the exhibit was to raise awareness of the human rights abuses that have been committed by President Bashar al-Assad's regime.
"As the conflict in Syria enters its fifth year, the number of those killed and displaced has reached 220,000 and 7.6m, and over 3.8m have been forced to flee the country," he said, according to Reuters.
"We hope that this exhibition will serve as a reminder of the imperative to pursue a political solution to the conflict with utmost urgency to end the suffering of the Syrian people."
Britain is one of of 15 member nations that organised the exhibition. Other organisers include Turkey, Saudi Arabia and Qatar, all of which are staunchly opposed to President Assad and which have been accused of human rights abuses themselves.
Syria's UN Ambassador Bashar Ja'afari has yet to comment on the exhibition and the Syrian mission failed to respond to inquiries from The Independent.
Caesar was a senior sergeant in Syria's army who spent 13 years working as a forensic photographer, say former war crimes prosecutors who examined the photos. Lawyers acting for Qatar commissioned the examination of the evidence, Reuters said.
Between September 2011 and August 2013, Caesar worked at a military hospital, taking photos of bodies from three detention centres in the Damascus area. He smuggled copies of those photos out of the hospital on memory sticks hidden in his shoe.
The UN Security Council viewed the photos during a meeting last April. Russia and China vetoed a bid in May to refer the situation in Syria to the International Criminal Court for possible prosecution of war crimes and crimes against humanity committed during the civil war.
Last year, Caesar testified before the US Congress. Wearing dark glasses and a hood to hide his identity, he told members of the House Foreign Affairs Committee about the images he had taken.
Speaking of Mr Assad, he said: "He didn't care if it was his brother. He would kill him. His main thing is holding onto power."
Earlier this year, the UN triggered controversy when it permitted the exhibition of a series of photographs by Syrian photographer Hagop Vanesian. The exhibition, entitled My Homeland, showed images of the ruined city of Aleppo, including captions that mention defending against "terror groups". The Syrian opposition denounced the images as a work of propaganda.
Join our new commenting forum
Join thought-provoking conversations, follow other Independent readers and see their replies