The end of food parcels marks new battle lines for the West Bank's refugees
Refugees in the Amari camp now have a new adversary – the UN agency charged with assisting them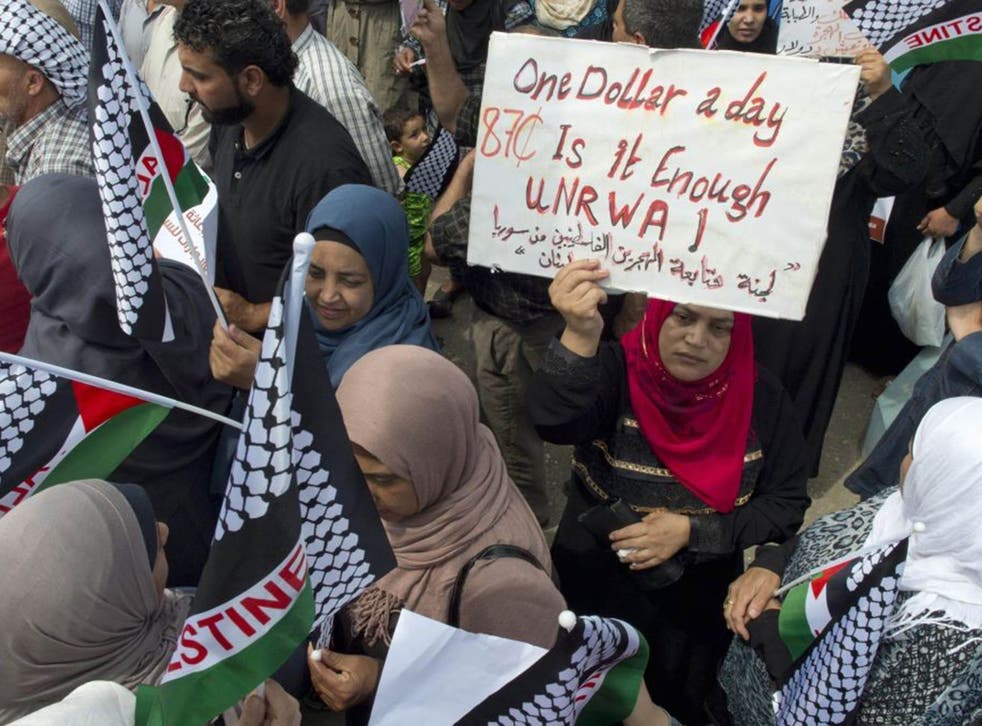 In Amari, a collection of drab grey stucco and concrete dwellings perched on narrow alleys near the Palestinian de facto capital Ramallah, tensions are simmering. This time it's not with Israel but rather between refugees and the UN agency charged with assisting them.
Since shortly after being expelled or fleeing during the nakba, the 1947-49 Palestinian catastrophe of displacement that accompanied Israel's creation, refugees in camps in the West Bank, Gaza, Jordan, Lebanon and Syria have received food parcels from the United Nations Relief and Works Agency (UNRWA). Now, in the West Bank, an efficiency-minded UNRWA is altering that practice, prompting high anxiety among refugees.
From now on the food distributions in Amari and seventeen other camps in the Israeli-occupied territory are being discontinued, with UNRWA deciding instead to issue refugees electronic cards so they can make their purchases themselves.
UNRWA says the change will actually give the refugees purchasing power worth twenty dollars more than they currently get from the parcels of flour, sugar, oil, rice and powdered milk valued at $110 (£78) and given for each member of a family that meets the UN's need criteria.
But the rumour mill in the tight-knit camp says people are about to be short changed by UNRWA and that with the cash cards they will be able to purchase much less than the worth of the food parcels they have been getting. ''UNRWA is trying to save money at the expense of the most vulnerable people,'' says Ahmed Tomaileh, an activist on the camp's residents committee. The distributions have been made every three months.
Speaking in a youth centre that was adorned with posters proclaiming ''Drugs Harm Health", Mr Tomaileh charged that the shift to electronic cards comes amid other steps UNRWA has taken to scale back its role, including making fewer people eligible for food distribution in recent years, in what he says is an impending withdrawal of financing of social service institutions in the camp, such as its Committee for the Rehabilitation of the Disabled.
''UNRWA is withdrawing and if UNRWA withdraws this is a conspiracy to end the refugee issue,'' said Mr Tomaileh, whose family fled Anaba village near what is now Ben Gurion Airport in 1948 and walked for a day and a half under severe conditions to reach what became Amari camp across Jordanian lines in the West Bank. Many of Amari's residents or their parents or grandparents were expelled under the command of Yitzhak Rabin, then a young military leader who went on to become Israel's premier. He conceded in his memoirs that it was a ''harsh'' action.
''We tell UNRWA that we want you to stay. We don't want a change. We want UNRWA to help us until we return to our houses,'' Mr Tomaileh said.
To point up anger over the food change and other alleged signs of UNRWA's scaling back its role, leaders of camps across the West Bank decided on protest steps that took effect Monday, including preventing UNRWA cars from entering the camps and closing offices of UNRWA camp directors. ''If they don't pay attention we will escalate,'' Mr Tomaileh said, adding that no violence would be used.
UNRWA spokesman Christopher Gunness explained that the move to electronic cards would benefit the refugees by giving them greater flexibility and choice, and was more dignified than queing for parcels. He added that the switch to electronic cards comes as part of an effort to meet donor country expectations of efficiencies and internal reforms during a severe financial crisis with a budget deficit of $81m (£56m). ''We have to make sure things are happening that make UNRWA an attractive organization to fund.'' A basic problem for the organization, he says, is that there is no sign of an end to occupation for the refugees, while there is constant greater demand for services due to natural growth.
For the poorest of the poor, when coupled with cash disbursements of 35 shekels (£6) per family member, the food distributions are still seen as vital.
''Definitely we rely on it,'' says Suha Hamad, 41, whose fifteen-year-old son Mohammed is disabled and has an array of medical expenses that the family is hard pressed to meet. ''My husband is a blacksmith and the money he makes is not enough to live with. With the food parcel, we make our own bread, use the rice and the oil is of excellent quality. I use the money to buy medicine for my son.''
Mr Gunness said he is not aware of UNRWA scaling down its funding for camp organizations. ''It may be that certain organizations are deemed to be better partners and that UNRWA is finding other partners and dropping some,'' he said. Regarding the reduction in recent years of the numbers of people receiving food handouts, a UN official said that during the last five years UNRWA has tightened up its checks of eligibility, with social workers conducting needs assessments to make sure that families who do not qualify do not receive the food.
''I totally understand why any refugee believes there is a political plot to downsize UNRWA and make the refugee problem go away. But it isn't true. Our mandate is not for sale,'' Mr Gunness said. The change is not being made in Gaza because high inflation and economic unpredictability and in fact. there in the context of the Israeli blockade, it is better for people to continue getting the aid as food, he said.
In Amari, Hiam Muawad, 52, who is so poor she has been waiting for charity since the sacred fasting month of Ramadan in June to get her teeth fixed, said uncertainty over what will happen with the electronic cards ''is an extra worry.'' But, she added, if the card does in fact enable her to purchase more ''it will be a good thing.''
However, Ms Hamad, the blacksmith's wife, who is convinced she is about to receive less from UNRWA's change, said: ''The protest steps are good. Maybe it will move the situation, maybe they will change their mind.''
Join our new commenting forum
Join thought-provoking conversations, follow other Independent readers and see their replies