Gaza conflict: 'They treat us like the enemy' – the ambulance drivers on the front line
During a rare moment of calm, the emergency workers of Gaza tell Kim Sengupta of the horrors and dangers they face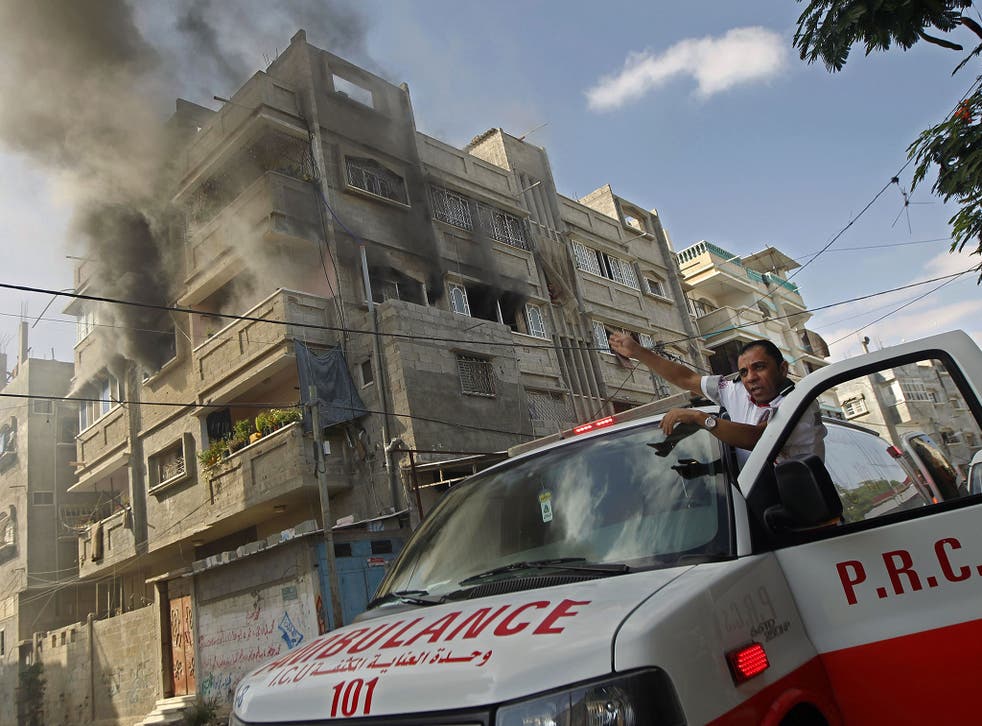 Omar al-Khadar was using the few surprising hours of calm to try and scrape off the tar from his boots. It had formed a perfect contour when he rushed into a burning mechanics yard in Shujaiya after a missile strike. The task had been made especially awkward with one hand, scalded when pulling aside a piece of red hot metal to get to an injured man, heavily bandaged.
It had been hours of frantic work after a missile strike on the main market which resulted in more than 150 injured and 15 dead. "It could have been many more killed if both the fuel tanks they had in that garage had exploded, luckily only the smaller one did," said 34-year-old Mr Khadar. "There were people lying in the streets. Two of us had to jump over them to get to the men in the garage; otherwise the people there would have burned alive. It was a terrible thing that happened,"
The scenes at the market place in Shujaiya were truly awful. People had been caught unawares, out shopping in the days of Eid al-Fitr. There was a degree of reassurance as the Israeli military had declared a four hour humanitarian ceasefire; it was a rare opportunity to stock up.
There was also the unspoken hope that lightning, albeit man made, would not strike twice on the same day. In the early hours of the morning an attack had taken place on a UN school, Jabaliya Elementary Girls, being used as a refugee shelter.
It had cost 19 lives and more than a hundred wounded. International condemnation had followed, with the UN charging that Israel may have committed a war crime and even strictures, albeit muted, from the US.
The Israeli military had insisted that its troops were responding to mortar rounds from near the school. It had, however, added that it would carry out an investigation into what happened.
In pictures: Israel-Gaza conflict

Show all 124
Residents had relaxed a little, the ambulance service, after being busy with Jabaliya and also bombings near Khan Younis, were regrouping. Most of the wounded had to be ferried to hospitals by private cars and taxis.
"We used all the ambulances we had available, which is not many", Mr Khadar acknowledged. "There is always problem with getting fuel, and the shifts were light because some of the men, who were living in different towns, had gone home for Eid."
Mr Khadar had rushed out without telling his wife and children where he was going, a practice many in the emergency services have adopted to spare them further worry: "An ambulance I was standing next to got shot up by the soldiers in Beit Hanoun and I made the mistake of phoning home to tell them I was alright. Bad mistake, they wanted me to go home straight away. I tried to explain we have a job to do, but it's difficult."
Most of them have been doing the job without getting paid, because they are employed by Gaza's Hamas administration which is bankrupt. Public employees hired by Fatah, on the other hand, receive their salaries; another point of the internecine friction between the two Palestinian organisations.
Sitting at their office at the European Hospital in Khan Younis, a group of paramedics reflected on other tribulations of being a Hamas employee. "The Israelis treat us like the enemy, they see us not as the ambulance service but Hamas. We have come to accept being shot at," said Yusuf Abu Musahem. Sometimes it is with lethal consequences - one of their colleagues, Mohammed al-Abdala, was killed in Beit Hanoun last week.
The Israeli military have claimed that fighters had been using ambulances for transport. This, unsurprisingly, is denied by the paramedics. They did so with a touch of weariness. "They always say that, but then they check the ambulances in the frontline areas anyway, if there were resistance people there, they will find them," stressed Abu Moussab. "But perhaps they think all ambulances are carrying the resistance, maybe that's why they shoot at us routinely; deny us entry to pick up the wounded."
But the paramedics had been allowed in part of the way on that day. We had seen them carry out people who were dead, or barely alive, after being trapped, injured, in their houses for days in Abbasan and the outer edges of Khuzoo.
The corpses were taken to the morgue of the European Hospital. Most of them were mutilated by shrapnel, decomposing after being left in the heat. Relations who had come to collect bodies could not identify them, many were shaken. Zeinab al-Haddad clung to her husband, tears rolling down her cheeks. "That cannot be my brother, that is not him, he is a handsome boy," she said, shaking her head.
Watching, Hussein Mahmud, said: "It is very hard for them, of course. But they see this once, or maybe, in times like these, twice. But we have been seeing this every day. We cannot talk to our families about this; there is no one we can talk to really. I am sure we all have psychological problems."
There was laughter at the suggestion that counseling may be available someday. "Who's going to pay for that? It would help if they started paying us our salaries: that will be one stress lifted from our minds," was the view of Abu Moussab.
"We are not the only ones who need help", said Yusuf Abu Musameh, who had worked as a nurse for nine years in Tel Aviv. "I would like to speak to the Israelis, yes I can speak Hebrew. I would like to ask them 'how can you people, who have suffered so much in the past, do this to us?' I do not believe this is not damaging them, it must do."
Join our new commenting forum
Join thought-provoking conversations, follow other Independent readers and see their replies