Gaza, a year on from Operation Protective Edge: Families still living among the rubble of 18,000 homes destroyed in a 50-day war
On 8 July last year, Israel launched Operation Protective Edge, a campaign in Gaza aimed at halting rocket fire into the country by Hamas. The ensuing 50-day conflict left some 2,251 Palestinians dead, mostly civilians, including 551 children. Seventy-three Israelis, mostly soldiers, were killed. Both sides have since been accused of possible war crimes by an independent UN Commission. In Gaza, where 18,000 homes were seriously damaged or destroyed, rebuilding has been slow, hampered by border restrictions and political infighting. In the first of a series examining the aftermath, Sam Masters reports from Gaza on the families who are still living among rubble a year later.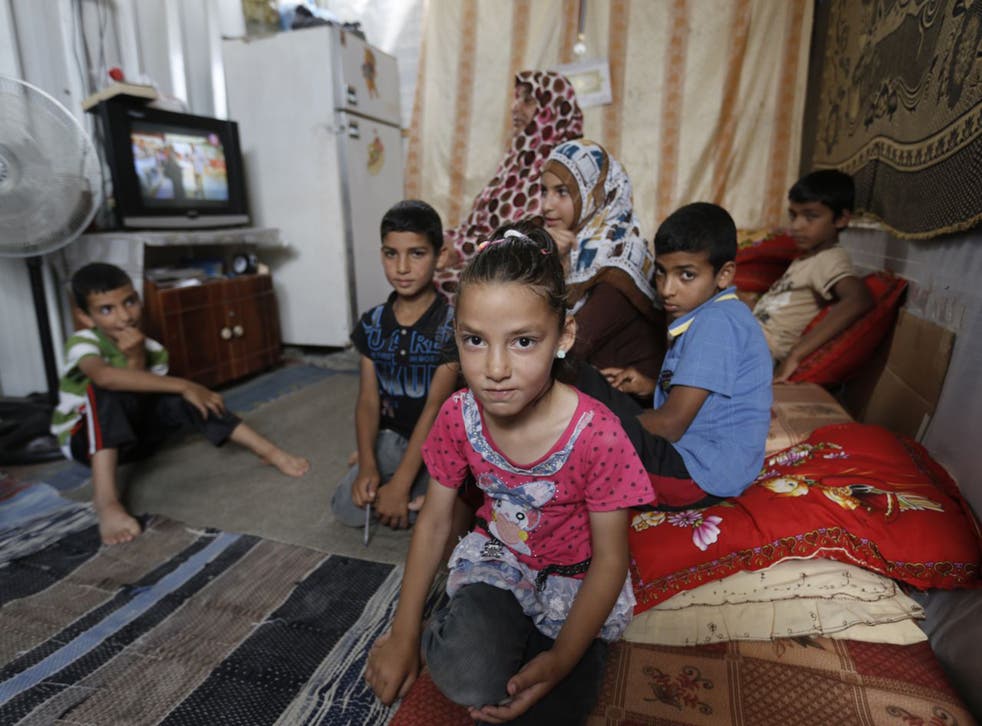 Spray painted in blue, eight letters and numbers are all that indicate K60-1-1009, a vast pile of concrete and twisted steel, was once a six-storey home. There, some 32 members of one family lived in what they thought was heaven.
The border town of Khuzaa, near Khan Younis, was smashed and obliterated by Israeli bombs during Operation Protective Edge – Israel's response to rockets fired from the Gaza Strip a year ago. And the homes like those across Gaza are still not rebuilt.
The blue numbers and letters are an attempt by Palestinian authorities to indicate ownership of land across Gaza in the unlikely event of them being reconstructed.
"This was my home," says Fadda al-Najjar the matriarch of the family that lived in K60-1-1009. Limping slightly, she looks considerably older than her 63 years. "This was the sofa, that was the carpet," she adds, pointing to tufts of material trapped beneath the rubble. She says Khuzaa was peaceful before the war started, and claims no rockets were fired into Israel from the area.
Then disaster struck. "We had left the house to go to the shelter, but I came back to check everything was all right. There was nothing left here," Fadda says. "It was like you see it now. My house was not here any more. I lost everything. This was our paradise."
Tears in her eyes, she says she has lived in Khuzaa for 42 years. One of her sons died during the war, she says, declining to specify exactly how, beyond saying he "refused to leave the area".
In pictures: Israel-Gaza conflict

Show all 124
Hamas, the militant group which runs Gaza, says Israel had built a series of complex "attack tunnels" in the Khan Younis region, which it was using during last summer's 50-day war.
But Fadda does not hold Israel responsible for every aspect of her lot. "Israel did this to us," she says, "but our government needs to do something about the way we have to live now."
A recent UN report into last year's Gaza war found that Israel may have committed war crimes. Contrary to Israel's own findings, the UN report by a special commission of inquiry determined that the clear majority of the 2,251 Palestinians killed were civilians, 551 of them children.
But Hamas, too, was pilloried. The commission found that the "indiscriminate" targeting of Israeli civilians by Palestinian rockets "may amount to a war crime". The commission said evidence suggested that the 4,881 rockets and 1,753 mortars fired at Israel by Hamas, which killed six civilians and injured as many as 1,600, were intended "to spread terror among the civilian population, in violation of international humanitarian law".
"This home used to be beautiful," Fadda adds, before walking, disconsolate, towards the caravans where the residents of Khuzaa now live. She passes a small boy, eight or nine years old, who makes the noises of a car. He clambers through the smashed wreckage of a pick-up truck, eventually sitting behind the steering wheel. The boy makes a chuntering sound, clasping the wheel with one hand. With the other he points towards the border, a row of trees half a mile away. Then he continues driving.
The caravans have corrugated roofs and two or three small rooms – one with a portable gas cooker. There are 27 makeshift homes, each housing up to 10 people. In the summer the heat is stifling; in the winter – and in particularly during last year's unprecedented freeze across the Middle East – there is no heating. When it rains, the caravans flood and the rats appear.
Fawzi and Fatma al-Najjar live in one of them with their four sons and two daughters.
Fawzi, 48, was one of the thousands who used the Erez border crossing to enter Israel daily to work on construction sites before the Israeli blockade began a decade ago. "Our suffering has never stopped. We can never forget it," he says as he lifts the cardboard that lines the floor to expose holes underneath where the rats run freely. "Now I want to work, but I can't. The blockade stopped it. When I could no longer work I was sad and I worried about the future, but at least we had our home.
"I came back one day to find that the house was not only bombed but levelled. There was nothing left. Nothing has happened. We are waiting for somebody to help us rebuild, but nothing has been done."
Fatma adds: "We used to think that there might be bombing, that there might be danger from Israel. But we never imagined it would be on this scale. We never thought we would lose everything like this. We never imagined we would live like this. I still cannot believe it has happened."
Standing in the makeshift living room, where plastic chairs and rugs on the walls give the appearance of a home, Fawzi says: "We were put here and we have been left here. Maybe we will die here."
Their son, Ahmed, 13, shows a picture he drew of the Israeli bombs falling. There are tanks, his home, and perched on its roof is a bird carrying an olive branch. The symbol of peace is offered to the skies above. "This is my house," Ahmed says, proud of his work. "That is …" he struggles for the correct word, "a bulldozer".
His sister, Ghaida, eight, who smiles but does not speak, does not sleep well. "She is still scared," says Fatma. "She has post-trauma – she is terrified that something might happen again."
A boy gropes around the rubble that surrounds the caravan site. He cannot see.
His mother, Amadullah, has four children who are nearly blind because they suffer from a degenerative eye condition.
"They are getting sicker and there's nothing we can do about it," she says. The caravan camp has a medical centre but Amadullah says she needs supplies from outside Gaza, which are impossible to access.
Another couple living opposite – Husam and Fatma – have two children. "Nobody recognises what we are going through," says Husam. "The government may have a role in what we're going through now, but it is Israel that is responsible for us losing everything." He adds: "We need a real place, this is not living."
The blockade means the materials and components needed to build homes, roads, and facilities have not arrived.
Qatar's influence in Gaza extends to an unfinished road from Gaza City south towards Khan Younis, and a vast and empty housing complex glistening in the sun. It is claimed that Qatar has finally reached an agreement with the Egyptian government to allow construction materials to enter Gaza. Trucks carrying Egyptian cement are now entering through the southern crossing at Rafah. But they are believed to be for new developments rather than rebuilding.
United Nations officials have said the reconstruction is moving at a "snail's pace". Roberto Valent, the incoming area chief of a UN agency involved in reconstruction, blames the delays on the slow flow of promised foreign aid and continued Israeli curbs on the entry of building material. Speaking in Gaza City in June, Mr Valent said the lack of progress on rebuilding was "very, very disheartening".
At least 18,000 homes were destroyed or seriously damaged during Operation Protective Edge, according to the UN. Many more suffered minor damage. But Israel says materials must be closely monitored, because of signs that Hamas is again digging military tunnels from which to threaten Israel, for which it needs cement and steel.
The Israeli group Gisha, which campaigns for Gaza civilians, says about five million tons of construction materials are needed for rebuilding. Israeli officials say they have permitted 1.3 million tons to enter Gaza since September, but Gisha says most of that was for Qatari-funded development projects, not post-war reconstruction.
On the outskirts of Gaza City is the district of Shejaiya, another area where homes and factories were levelled during the bombing campaign. Like Khuzaa, Shejaiya borders the no-man's-land between Gaza and Israel. There, on the night of 17 July, residents remember one bomb falling every minute from 8pm to 8am.
Entire districts were flattened, and nothing remains today. Houses are skeletons, the debris is everywhere. But some residents have returned.
Rabah Abu Shanab, 47, never left. He build a temporary shelter in his garden after an Israeli tank shell struck his home. But Mr Shanab cannot sleep in the shelter, so on the second floor of the ruined building he lies on a mattress and tries to close his eyes. "This was my house," he says, avoiding concrete slabs that jut out at all angles as he leads me upstairs.
"I sleep here," Mr Shanab says, lying on a mattress with children playing at his feet. From his bed he can look at Israel in the distance, as the walls of his home have all fallen away. "I can hear shooting every day," he says, pointing towards the lush strip of pasture that separates the Palestinians and the Israelis. "Every day somebody is getting killed."
He recalled how his house was damaged by bombing in 2008, though less badly. "We rebuilt it then. We can't now. Nobody is helping us. We weren't compensated then, we won't be now. The tragedy keeps coming here. We are the first place the invasion comes as this is the closest point to the border."
He says he knows nothing about Hamas tunnels, but says that Shejaiya was where three Israeli soldiers, taken prisoner by Hamas, were being held.
"Some fighting took place in this area and shots were fired from here. The Israelis thought this was where the resistance was. But we are just a family, we know nothing about that. They did not discriminate between the fighters and the civilians."
Standing on the roof of his home, Mr Shanab adds: "We are on our own." He says he and his family of 14 have to live on a three-monthly stipend of 1,000 shekels, equivalent to around £5 per week.
"There is no hope for the future," says Mrs Shanab, who has four daughters, two sons and eight grandchildren. She used to work in Israel. "It was good. I saved the money to build this house and thought that whatever happened, I would always have this home for my children. What did we do to deserve this? I want to understand why this happened here."
In the town of Beit Hanoun, a few minutes from the Erez border crossing and the scene of some of the most intense shelling last year, the Bedouin community that lives there remembers the nights of July last year too. Among the ruins, goats graze and families still live in makeshift shelters where their homes once stood.
Faddiya Abu Shabab, 88, walks carefully among the concrete and bricks. "I don't want to leave here," she says. "This is my home. It is very difficult now, but this is our destiny – there is no way we can change things.
"We came from the biggest Bedouin community in Palestine and were forced from the West Bank. We could raise animals and live comfortably. Now it is impossible."
Her son, Kemal, is fond of an old Arab saying. Rebuilding is "shway shway", or taking place slowly. So does he expect to see his family home, where he took pride in a garden filled with plants, fruits and vegetables, rebuilt? He smiles. "It will never happen," he says.
Join our new commenting forum
Join thought-provoking conversations, follow other Independent readers and see their replies