Germany to continue security operations in Afghanistan only if arrival of refugees stopped
Germany's interior minister made the comments just hours after a Taliban suicide bomber blew himself up outside Kabul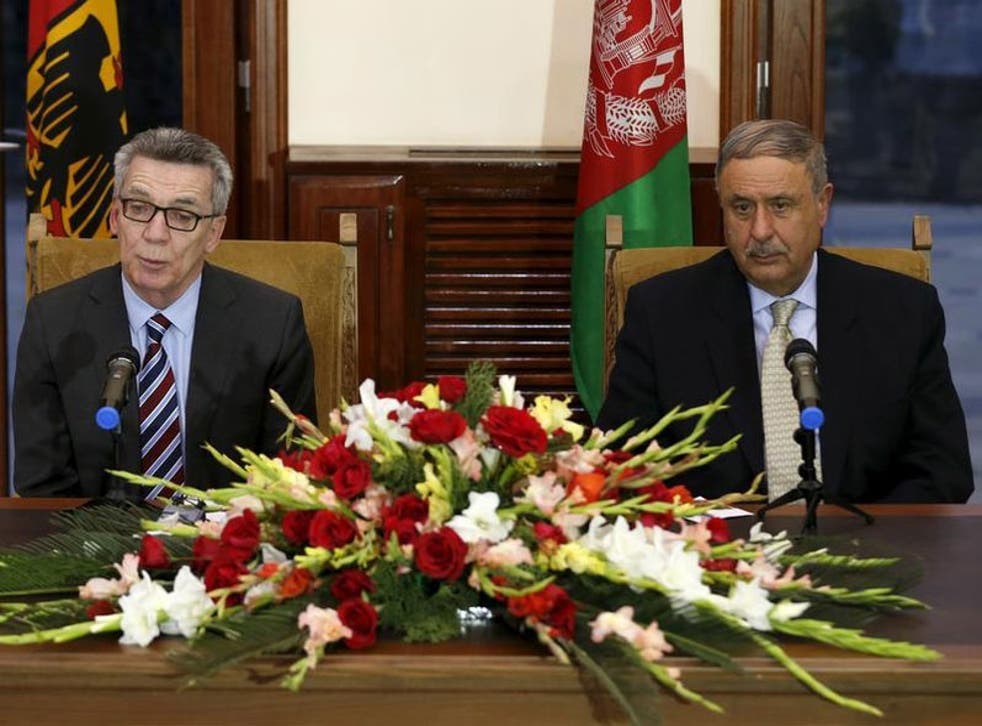 Germany's interior minister has promised Afghanistan it will continue to provide security support to the country, but only if the arrival of Afghan refugees to the country is stopped.
During a visit to Kabul on Monday, Thomas de Maiziere said: "We're staying here as long as it's necessary. But we also expect that the Afghan population stays here," N-tv reports.
"We want the influx of refugees to be stopped."
Germany has been engaged in operations in Afghanistan since 2003 and has trained over 73,000 Afghan police personnel. Around 980 German troops remain in the country since the NATO mission in Afghanistan officially ended in 2014.
Mr Maiziere said German police and soldiers will remain in Afghanistan "as long as it asks for security," but stressed, "because we want to stay, we do not want that many Afghans to leave their country."
The minister quashed any expectations Afghans may hold upon coming to Germany, stressing chances of asylum seekers finding success were slight.
"There is no welcome money in Germany. There is no guarantee of a job or an apartment," Mr Maiziere told state broadcaster ZDF, warning Afghans not to succumb to propaganda spread by people smugglers.
Mr Maiziere called on Afghans to "stay here to build up [the] country", insisting parts of the region are still stable, Reuters reports.
Mr Maiziere promised to bolster deportations of Afghans from Germany, using current flight routes between the countries and hiring charter planes. He also offered Afghanistan financial help to reintegrate returned migrants.
Mr Maiziere made the comments just hours after a Taliban suicide bomber blew himself up outside a Kabul police station, killing at least 20 people and wounding 29 others - the latest attack in the Afghan capital.
Referring to the attack, the minister said: "Of course, the security situation in Afghanistan is complicated. Who could deny?
"We also have attacks elsewhere in the world. International terrorism threatens not only Afghanistan, but all of us."
On social media, people remarked upon the German government's call to send refugees back to Afghanistan in the wake of the attack.
One Twitter user wrote: "Mr Maiziere is demanding from others that they live in a land that he'll only visit with the protection of a division of soldiers"
Another said: "Despite the attack in Kabul, Mr Maiziere is calling for Afghans to go back"
The number of Afghans fleeing to Germany has increased dramatically. The Federal Office for Migration and Refugees registered 150,000 Afghan refugees in 2015, a huge rise on the 9,700 Afghans who applied for asylum in 2014, The Local reports.
Afghans are the second largest group of asylum seekers in Germany after Syrians.
Join our new commenting forum
Join thought-provoking conversations, follow other Independent readers and see their replies