Hajj stampede: Fears grow for British pilgrims in Mecca as Foreign Office 'urgently seeks information' about their locations
19,000 to 25,000 Britons are believed to be in Saudi Arabia for the annual pilgrimage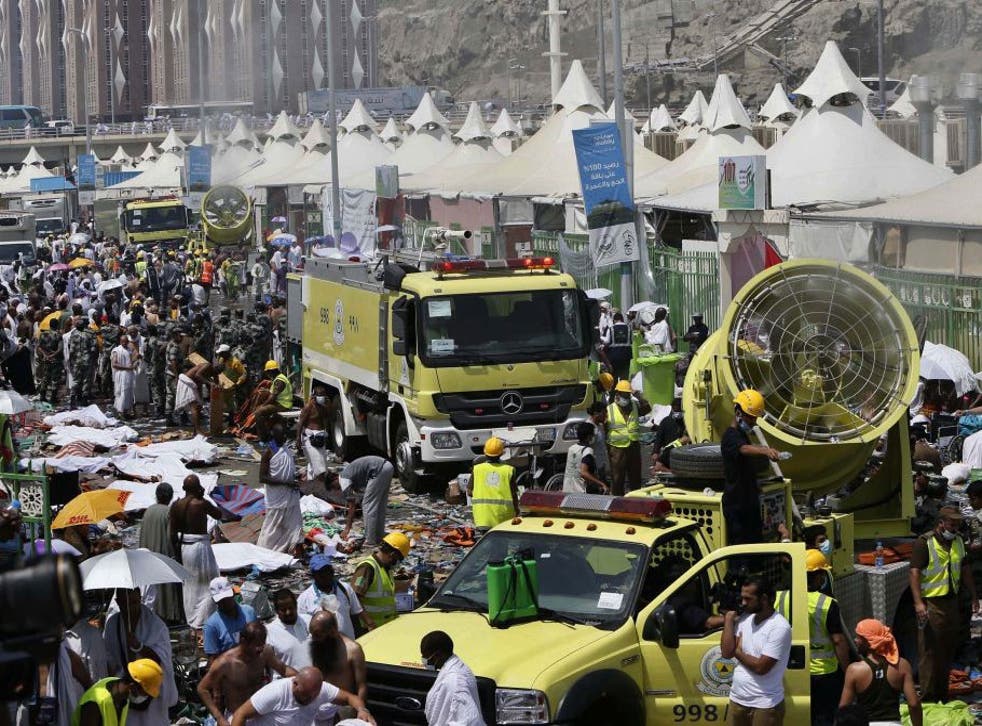 Fears are mounting for the lives of British Muslims on the Hajj pilgrimage to Mecca, as the death toll of the stampede that has killed at least 717 continues to rise.
The Foreign Office is now "urgently seeking information" following the news of the crush, with the estimates of the number of Britons in Saudi Arabia ranging from 19,000 to 25,000.
The stampede occurred in Mina, a large valley around three miles from the holy city of Mecca. It is the place where pilgrims conduct a ritual symbolising the stoning of the devil by throwing pebbles against three stone walls, and is also the site of around 160,000 tents, put up to accommodate the millions of pilgrims who flock to the city during the annual Hajj pilgrimage.
Videos of the aftermath of the crush posted online show horrific scenes, with scores of bodies lying in the streets amid crushed wheelchairs, and emergency workers struggling to attend to everyone.
The tomb of the Prophet Mohamed: Islam's most revered holy site

Show all 7
Worried friends and family of British pilgrims in Mecca took to social media in the hope of finding news.
Sahri Jaffri, from Manchester, said: "News of deaths during the Hajj pilgrimage stampede is making me worry as my mom and her best friend are there now."
"Please pray for their safety and for the other carrying out their pilgrimage too."
Imran Chowdhury, a restaurateur from Britain, said: "I have one of my friends there with his wife; worried sick about."
Others asked their followers to pray for family members whose safety was unknown.
The stampede occurred less than two weeks after a huge construction crane crashed down on Mecca's Grand Mosque, the focal point of the Hajj.
111 worshippers were killed in this disaster, two of them British.
The stampede is the deadliest disaster that has occurred during the Hajj since 1990, when a stampede in a pedestrian tunnel led to the deaths of 1,426 pilgrims.
The Saudi interior ministry has said that the death toll could continue to rise, and officials have made some inflammatory remarks about the causes of the stampede, which are still unknown.
Health minister Khalid al-Falih said that the crush was "possibly caused by the movement of some pilgrims who didn't follow the guidelines and instruction issued by the responsible authorities."
The head of the Central Hajj Committee, Prince Khaled al-Faisal, went further, blaming the stampede on "some pilgrims from African nationalities," according to state-owned news channel Al-Arabiya.
Register for free to continue reading
Registration is a free and easy way to support our truly independent journalism
By registering, you will also enjoy limited access to Premium articles, exclusive newsletters, commenting, and virtual events with our leading journalists
Already have an account? sign in
Register for free to continue reading
Registration is a free and easy way to support our truly independent journalism
By registering, you will also enjoy limited access to Premium articles, exclusive newsletters, commenting, and virtual events with our leading journalists
Already have an account? sign in
Join our new commenting forum
Join thought-provoking conversations, follow other Independent readers and see their replies