Hamas-run court gives Palestinian men life sentence for murder of Italian peace activist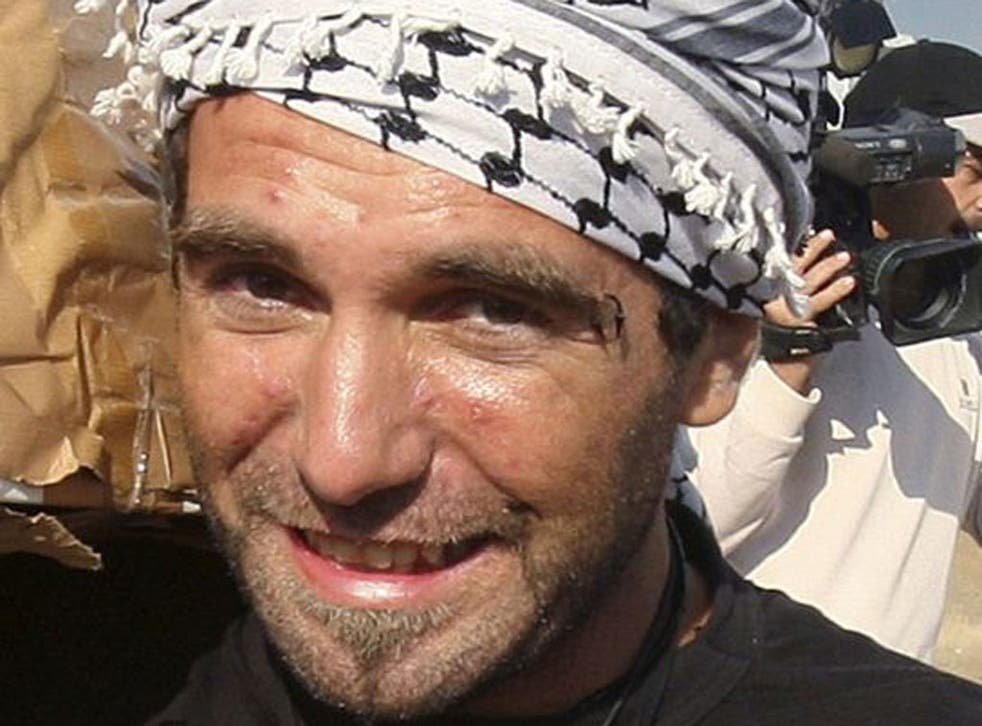 A Hamas-run court has sentenced two Palestinian men who are members of a radical Islamist group to life imprisonment for the murder of an Italian peace activist in the Gaza Strip eighteen months ago.
Mahmud al-Salfiti, 24, and Tamer al-Husasna, 26, were found guilty of abducting and murdering Vittori Arrigoni, a member of the pro-Palestinian International Solidarity Movement activist group, and were each sentenced to 35 years in prison.
The court also sentenced a third man, Khadr Faruk Jerim, to 10 years for kidnapping. A fourth, Amer Abu Ghoula, was sentenced to 12 months in absentia for sheltering fugitives.
In a humiliating challenge to the authority of Hamas, Gaza's Islamist rulers, Tawhid and Jihad, a Salafist group said to draw inspiration from Al Qa'ida, kidnapped Mr Arrigoni, 36, in April last year. In exchange, the group demanded the release of a Salafist leader detained by Hamas a month previously.
A video released on YouTube showed a bloodied and blindfolded Mr Arrigoni, his head held up to the camera by the hand of a militant out of shot. Arabic text accompanying the video accused the Italian of "spreading corruption" and denounced Italy as an "infidel state."
Although the Hamas government was given some time to deliver Hisham al-Saidni, the jailed leader, in return for the release of Mr Arrigoni, the Italian was inexplicably killed before the deadline could be met. His body was found when Palestinian police stormed the building where he was being held. Authorities said that he had been hanged, but journalists were prevented from seeing the body to verify that claim.
Hamas, designated by Israel as a terrorist group, has struggled to keep in check Gaza's more radical Islamist offshoots, rivals to Hamas both ideologically and politically, and Mr Arrigoni's murder undermined its claim that it had stamped out such acts since taking control of Gaza in 2007. The authorities moved quickly to catch the alleged perpetrators, and two of the main suspects were killed in a gun battle with Hamas forces last year.
Mr Arrigoni arrived in Gaza in 2008 on a boat bringing humanitarian supplies to the besieged enclave. He spent much of his time in Gaza helping Palestinians, and would accompany fishermen as an international human shield to deter Israeli gunships, responsible for enforcing an Israeli-led land and naval blockade, from firing on them. He was also a vocal critic of Hamas's human rights record.
His abduction was the first of a foreigner in the Strip since Hamas seized power from its secular rival Fatah, and among the group's first acts was to release BBC correspondent Alan Johnston, who had spent 114 days in captivity.
Join our new commenting forum
Join thought-provoking conversations, follow other Independent readers and see their replies