Has Assad crossed 'red line'? Graphic video footage emerges claiming to show victims of nerve gas attack in Syria, but doubts cast on evidence of use of chemical weapons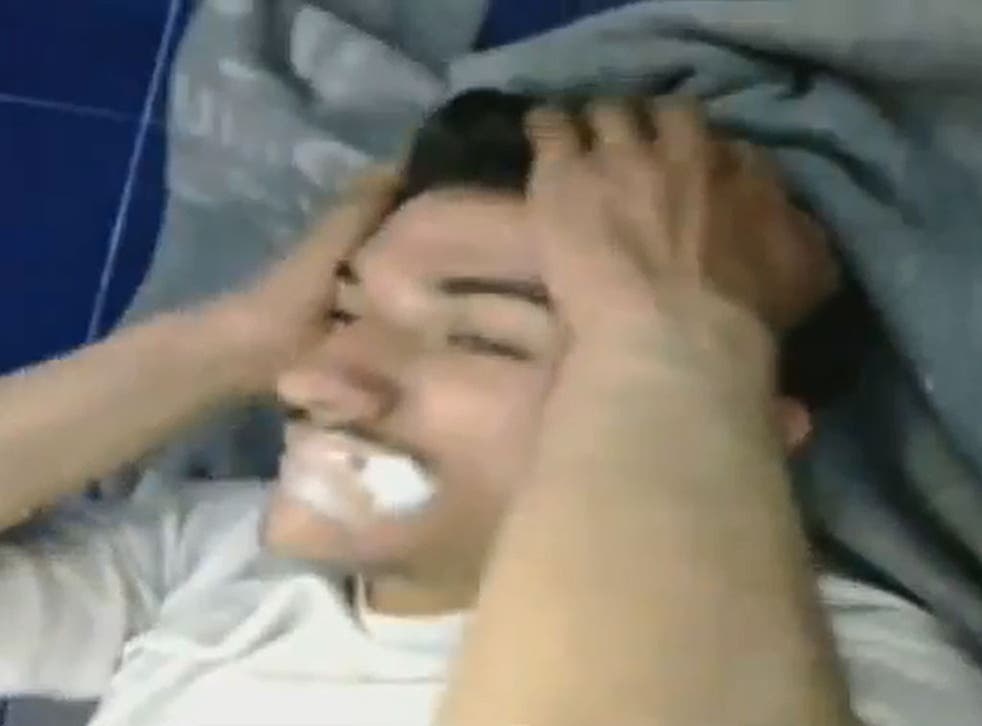 Syria denied on Friday it had used chemical weapons on rebel forces, denouncing as "lies" Western claims the nerve agent sarin was detected in samples sent from the front line.
Warning: The video contains disturbing images
A day after US Defence Secretary Chuck Hagel went public with claims of sarin use "on a small scale" he believed came from regime forces, Syria's Information Minister Omran Al-Zoubi told Russian TV: "Everything the American minister and British government have said lacks credibility. It's baseless, and it's a new tactic to put political and economic pressure on Syria."
President Obama, in his first comments about the new intelligence disclosure, said yesterday, "For the Syrian government to utilize chemical weapons on its people crosses a line that will change my calculus and how the United States approaches these issues." He has issued similar warnings for months, saying the use of chemical weapons or transfer of the stockpiles to terrorists would cross a "red line" and carry "enormous consequences."
Seeking to show resolve, Obama added yesterday that "I've meant what I said."
Earlier yesterday the Prime Minister David Cameron told the BBC the use of chemical weapons in Syria was a "war crime" that breached a "red line", but stressed further evidence was required and he had no desire to intervene militarily. The claims chemical agents have been used comes at a time when stalemate on the ground, disunity among the political opposition, and growing unease about the predominance of extremists among rebel fighters, have led to calls for a renewed push for peace.
At the Nato conference of foreign ministers in Brussels this week, US Secretary of State John Kerry, Russian Foreign Minister Sergei Lavrov and the alliance's Secretary-General Anders Fogh Rasmussen, all proposed resuscitating the Geneva initiative for talks signed last year, with Mr Kerry stressing differences between Washington and the Kremlin were not as deep as before. The claim from Israel that the regime has already used the nerve agent Sarin on other occasions immediately led to Mr Kerry being asked why this was not seen as crossing the "red line" by Assad which, Obama had warned, would lead to a change in Washington's Syria policy. Forty-eight hours later, pressed by supporters of the Syrian opposition, the White House sent out a letter to members of Congress saying US intelligence agencies believed "with varying degrees of confidence" chemical weapons were used against rebels.
This follows a letter sent by the British and French governments to the United Nations accusing regime forces of using WMD. David Cameron continued to hold yesterday: "It's limited but there is growing evidence that we have seen the use of chemical weapons, possibly by the regime."
The picture which is emerging from accounts given by Western and Middle Eastern officials and members of the Syrian opposition is this: the tests so far have not yielded conclusive results; they have been based on blood, hair and soil samples as well as photographs and video footage; the samples have not been collected independently by Western investigators inside Syria but handed over by the rebels or, at least on one occasion, by Turkish intelligence; some of the footage may have been faked; the tests had been carried out at the UK's Defence Science and Technology Laboratory and in America. Conclusions on them vary within US intelligence agencies and the experience of Iraq and WMD is a source of caution among officials in Washington and London.
Dr Sally Leivesley, a chemical and biological analyst, and a former scientific adviser to the Home Office, said: "There are things here which do not add up. A chemical attack using Sarin would leave mass fatalities and very few people alive. From what one hears about the symptoms it's possible a harassing agent rather than a nerve agent was used". She added: "The latest ones show people with an eye disorder, which is obviously worrying but does not mean chemical [weapons] or Sarin was involved. Some of the earlier photos we had seen were odd: people in masks and gloves, who were supposedly doctors, touching the victims – something which will not happen. The symptoms we've seen could be caused by other elements, such as chlorine.
"What may be considered 'evidence' of the presence of chemical elements in things like hair samples could be something like pesticide, which is the reason American agencies want to wait for further tests. Could there have been some faking? Possibly, but if that is being done it's not because people are bad; it's because they are desperate."
Analysts are also puzzled by the way regime supposedly used its WMD arsenal. Dr Ralf Trapp, a specialist on chemical proliferation, said: "From a military perspective, it doesn't make sense to use chemical weapons bit by bit. Why would the regime just put it on a grenade here or a rocket launcher there? It's just not the way you would expect a military force to act."
Doubts about provenance of the evidence are providing the US administration the caveats to resist activating the "red-line" threat. Washington is now desperate to get UN inspectors involved. In Brussels, the Americans have urged Mr Lavrov to intercede with Assad to allow the teams access to sites inside Syria.
Q&A: THE DEADLY EFFECTS OF SARIN GAS
Q How does sarin gas work?
If used as a weapon, it's used to contaminate atmospheres, so normally it is inhaled. It can also be absorbed through the skin and affects the transmission of nerve signals to the muscles.
Q What are the symptoms of someone exposed to sarin gas?
At lower concentrations the pupils contract, the saliva gets flowing, so you get foaming of the nostrils and mouth. You will see respiratory difficulties and loss of control of the intestinal tract causing involuntary urination and defecation. At higher concentration the effect will be on the respiratory system and central nervous system.
Q How quickly is it possible to die after being exposed?
The onset of symptoms would be within minutes and death would be sometime within 10 minutes.
Q How much does it take to kill someone?
Toxic doses would be in the area of 7 grams per human being.
Join our new commenting forum
Join thought-provoking conversations, follow other Independent readers and see their replies