Syrian civil war: More than 40 people killed in triple suicide attack targeting government forces in Homs
Al-Qaeda linked militants launch assault on military intelligence and state security buildings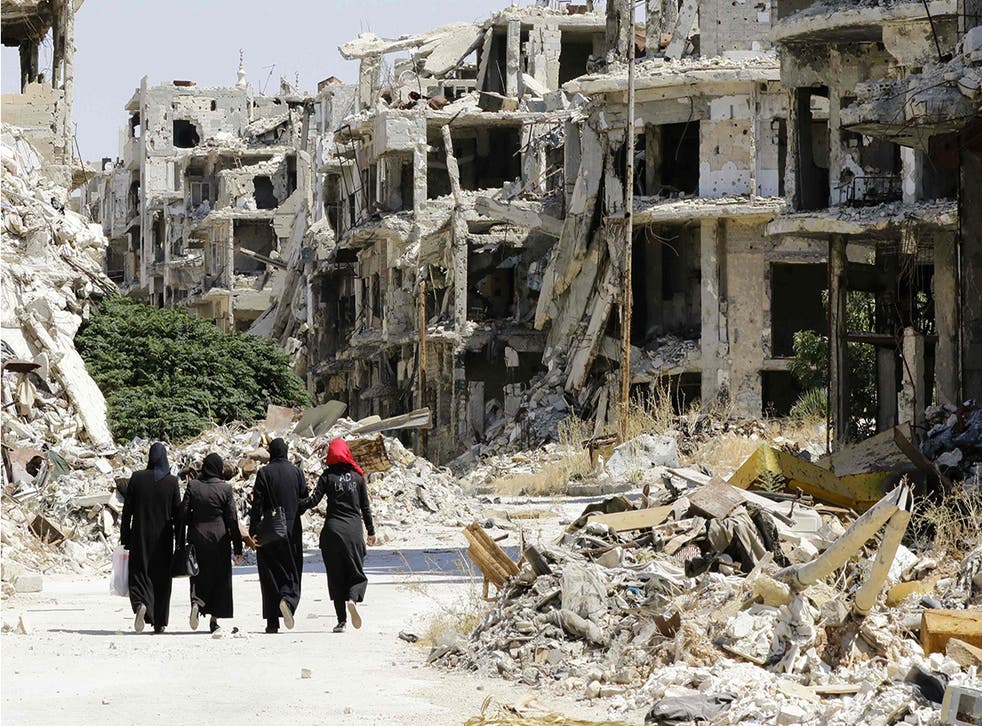 At least 42 people have been killed and many more injured in a triple suicide bombing attack by al-Qaeda linked militants on security offices in the Syrian city of Homs.
The jihadis opened fire before detonating their explosives at two headquarters operated by Syrian government forces, killing at least 42 people including a senior military security officer, General Hassan Daaboul.
He was killed with 29 other victims at a military intelligence building, while 12 more people died at a state security branch, according to the UK-based Syrian Observatory for Human Rights.
Drone video shows levels of devastation in Homs, Syria
Syrian state media reported that clashes rocked the districts of al-Ghouta and al-Mohata starting early on Saturday morning, before three suicide bombers blew themselves up.
Homs' military intelligence branch is among the Syrian prisons documented by human rights groups as centres of murder and torture.
Tahrir al-Sham, a new alliance of Islamist rebels formed last month, claimed responsibility for the assault and hailed its success on its propaganda channels, saying five "mujahideen" took part.
The group is a merger between Jabhat Fateh al-Sham, the rebranded al-Qaeda's affiliate Jabhat al-Nusra, and jihadi groups including Jabhat Ansar al-Din.
Initial suspicion had turned to its rival Isis, which has used similar tactics in assaults on enemy territory and has launched bombings in Homs before.
The terrorist group holds territory to the east of the city, including its symbolic stronghold of Palmyra, while opposition groups are positioned to the north.
World news in pictures

Show all 50
Several bombings have targeted government-controlled Syrian cities in recent months, as well as territory retaken from Isis, including a blast that killed more than 60 people near al-Bab on Friday.
Homs was one of the largest opposition strongholds in the early days of the Syrian civil war, being taken over by rebel fighters before becoming a symbolic battleground for Bashar al-Assad's forces.
Sunday Times journalist Marie Colvin was among those killed in intense bombardment of the city during a brutal siege starting in 2011 that left much of Homs destroyed and thousands dead.
Five years of battle in what was once Syria's third-largest city slowed with the gradual evacuation of rebel fighters that started in 2014, leaving all but one district under government control.
A new round of peace talks is underway in Geneva but hope of a political solution to the crisis is dwindling after almost six years of brutal civil war.
Join our new commenting forum
Join thought-provoking conversations, follow other Independent readers and see their replies