The humanitarian headache of bringing home Syria's bodies
The head of the country's Red Crescent tells Robert Fisk about the horrors he has seen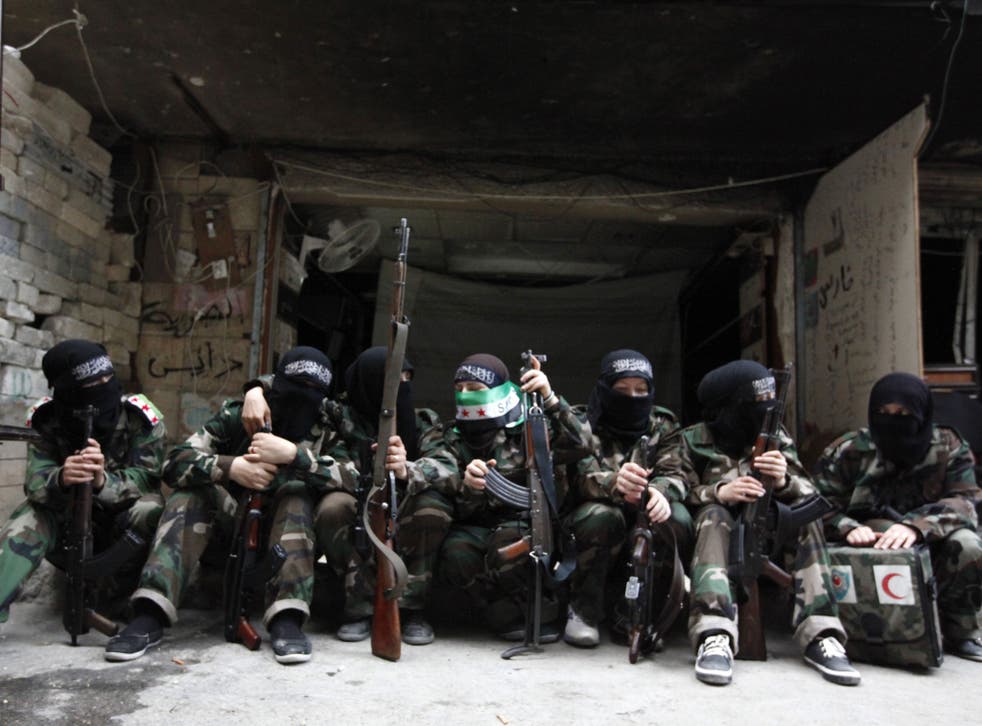 Khaled Erksoussi is planning to leave Syria.
The Damascus Secretary General of the Syrian Red Crescent – 22 of whose volunteers have already been killed in the war – was fired from his full time job with a Damascus telecoms company this week, probably because he spends too much time on humanitarian work.
The Red Crescent can't match his old salary. Besides, donor money is drying up, talented volunteers are already being poached abroad. And who wants to spend their time stuffing three-day old corpses into body-bags and negotiating with up to 12 different groups across the front lines?
For this is also a gruesome story. Reader beware.
"It looks like there is no money any more from the donor side," he says. "All our partners are suffering. Maybe politics is taking first note on the stage. Did you notice that when the chemical issue (sic) happened, in the UN Security Council, the first decision was to go in and investigate – but what about the medical side? It shows what is important: finding the guilty – the victim doesn't matter."
Mr Erksoussi is a difficult man to disabuse – the UN inspectors were not sent to point the finger at the guilty, but he has a good enough argument. Pointing the finger gets more credit than understanding the tragedy through which Mr Erksoussi's colleagues work.
Take the body retrievals, most of them of soldiers killed by rebels – dozens of them – often brought home three at a time. "Sometimes they [the insurgents] play tricks. Not long ago, we went to collect the bodies of three soldiers. But the last body we were carrying, our people thought something was wrong. One of the bodies seemed to have wires attached to it. We left it in place. Now we have demanded that all the bodies transferred to us must be examined before extraction. Both sides must take from the corpses what is on them, whatever it is, even ammunition. I don't want to deal with a hand grenade in an ambulance..."
Most recently, the Red Crescent has been ferrying cooked food into the hell-hole of Aleppo prison, a vast block held by government forces and guards but totally surrounded by rebels, in which hundreds of prisoners – common criminals, detainees and insurgent enemies of the government – are now held amid dirt and lack of sanitation and shellfire.
"We managed to get dozens of prisoners out who had officially finished their sentences and they just needed a safe passage out. But the first time we went there, one of the rebel groups fired a rocket-propelled grenade at one of our cars. They missed. Everything was in place and cleared with all the groups, but this one said: 'We are upset because you didn't talk to us.' We said, 'well, we'll shout next time – but just don't shoot.' But later insurgents wounded one volunteer and killed a government judge (who was ) with us.
"Last time, we had a team in Deir el-Zour and they were detained by the al-Nusra forces for seven hours. We were with an International Red Cross team and Jabhat al-Nusra hate what they call 'this damned Red Cross'. We said, well, you've been eating food with ICRC red crosses on without caring very much."
Now the Red Crescent can supply even insurgent-held Raqaa with supplies, but not the centre of Aleppo city which has been besieged for a month.
Days of negotiations between government and rebel forces precede most body extractions. "They usually come out within two to three days. The rebels usually know the names of the soldiers they've killed. The deal is done between them on the front lines. They use us as mediators to cross the front lines and get corpses out. When they make the deal, we get in touch with both sides to make sure it's correct. Often it's supplies in return for bodies. Usually we put them in body bags. The bodies are sometimes left in the place where they were killed – most of them shot – but last time in Deraya (a suburb of Damascus), they (the rebels) just pulled them from the place where they died to a house nearby where they gave them to us."
The last two Red Crescent volunteers to be killed were in Homs two months ago when a mortar shell fell outside the local Red Crescent office. The war came to them.
Khaled Erksoussi speaks with great care about some elements of the Red Crescent's work. I can well see why. More than 15 volunteers remain imprisoned by the regime. The problem of what is lawful and unlawful in war has been a major problem. "The government still regards the finding of a make-shift hospital as a victory" – since it has usually been set up to help wounded insurgents who cannot go to a government hospital – "but this contradicts the fact that all wounded victims must be given medical assistance."
Mr Erksoussi believes that the fighting around Damascus has become more ferocious but "you can't win with force – this idea is on both sides now. What's preventing both of them from stopping is 'ego'. It's not like they're equal. When a government thinks it is fighting terrorists or 'evil', you still have to be responsible for civilians. But unless you close the tap – weapons and money – it will continue forever. I can't say this place is going to hell – because it's already there."
Weapons data is handed over to watchdog
Syria has sent the Organisation for the Prohibition of Chemical Weapons an "initial declaration" outlining its weapons program, the organisation said Friday.
Spokesman Michael Luhan told The Associated Press that the declaration is "being reviewed by our verification division." The organisation will not release details of what is in the declaration.
The OPCW, which polices the treaty outlawing chemical weapons, is looking at ways to fast-track moves to secure and destroy Syria's arsenal of poison gas and nerve agents as well as its production facilities.
However, diplomatic efforts to speed up the process are moving slowly.
A meeting initially scheduled for Sunday at which the OPCW's 41-nation executive council was due to discuss a US-Russian plan to swiftly rid Syria of chemical weapons was postponed yesterday. No new date was immediately set and no reason was given for the postponement. AP
Join our new commenting forum
Join thought-provoking conversations, follow other Independent readers and see their replies