Iran nuclear deal: Jubilation in Tehran, relief in the White House and dismay in Israel as agreement is finally reached
Iran welcomed back to international community after a decade of negotiations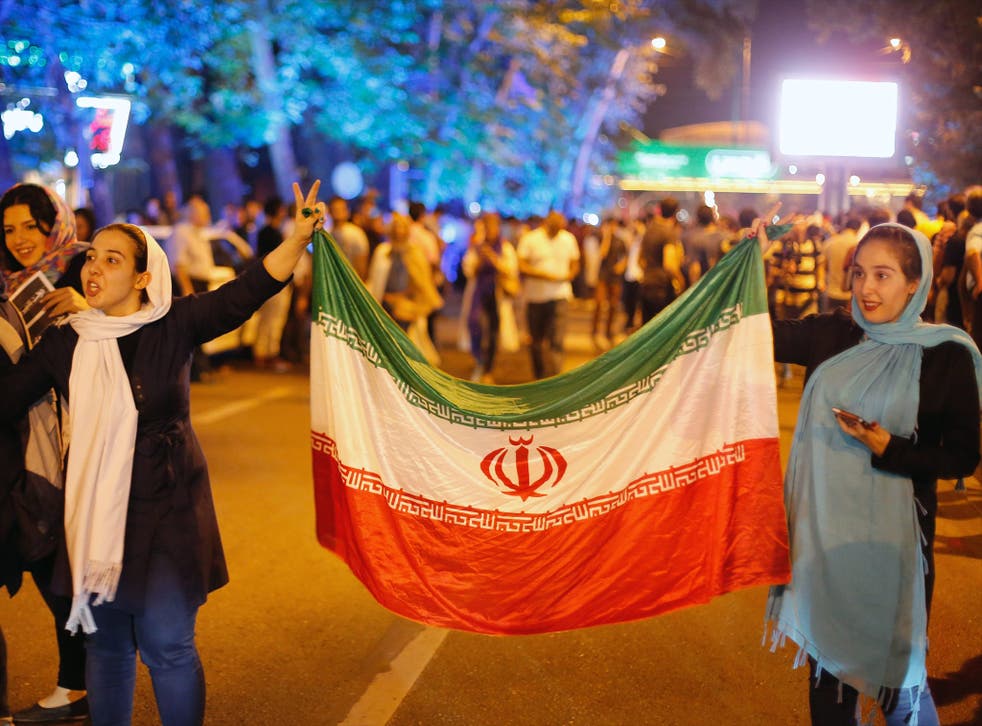 After 18 days of painstaking talks in Vienna, and before that more than a decade of negotiations that at times appeared to be going nowhere, world powers and Iran finally unveiled a comprehensive agreement on Tehran's nuclear programme.
At just after 8am on Tuesday morning reports began to suggest that the P5+1, the five permanent members of the UN Security Council along with Germany, and Iran had finally reached agreement on a number of minor issues, which had held up negotiations on Monday. The result is the greatest thawing of relations between the West and the Islamic Republic since the Iranian Revolution of 1979.
The talks have concerned two main themes. From the point of view of the P5+1, how to prevent Iran from developing an atomic weapon. In return the Iranians – who have always insisted that their nuclear development was intended for peaceful means – demanded to be allowed to enrich uranium to develop cheaper power. Speaking at the White House, Barack Obama said the agreement was "a comprehensive, long-term deal with Iran that will prevent it from obtaining a nuclear weapon". "This deal meets every single one of the bottom lines ... we established when we achieved a framework earlier this spring," said Mr Obama. "Every pathway to a nuclear weapon is cut off."
American opponents of the deal, especially Republicans who mistrust Iran's intentions, said that they will attempt to block the agreement when it reaches the House of Representatives. John Boehner, the Speaker of the House, said "We'll do everything we can to stop it", after arguing the Vienna agreement will "fuel a nuclear arms race around the world".
Mr Obama, however, vowed that any attempt to stymie the deal in Congress would not be countenanced. "I will veto any legislation that prevents the successful implementation of this deal," he said. The Iranian President, Hassan Rouhani, took to Twitter to hail the accord, suggesting that it could lead to more rapprochement between the US and Iran. "This agreement goes both ways. #IranDeal can dismantle the wall of mistrust brick by brick," he said.
There were small street parties in Tehran as the deal was announced, ahead of what were expected to be larger celebrations on Tuesday night. The conference announcing the settlement was carried live on television, as was Mr Obama's reaction. "This is a first step to becoming a friend with the world," Bahar Ghorbani, a 36-year-old housewife, told Reuters.
Iran's Supreme Leader, Ayatollah Ali Khamenei, has supported the negotiations as a means to getting economic sanctions lifted. While Mr Rouhani is seen as being a moderate within the Iranian establishment who has pushed for a deal, it has always been Mr Khamenei who has wielded the real power.

"Domestically, the boost that Iran's economy will receive will increase President Hassan Rouhani's popularity, and enhance the credibility of the Islamic Republic model of government, at least for the next two to three years," said Firas Abi Ali, the head of Middle East analysis at IHS Country Risk. "However, expectations of significant improvements in living standards are unlikely to be met… This may well lead to increased political instability."
The main points of the deal are technical. Iran's stockpile of enriched uranium will be reduced by 96 per cent of current levels, to just 300kg, while its capacity to enrich uranium will be cut by two-thirds. At the same time, Iran's underground facility at Fordow, and a reactor at Arak will be engineered to stop significant amounts of fissile material being produced.
Which countries have nuclear weapons?

Show all 14
In return, the Iranians have achieved a degree of relief from UN sanctions. Tehran is now compelled to allow inspectors from the International Atomic Energy Agency access to its nuclear sites. Once inspectors are satisfied that the enriching capacity has been reduced, sanctions will be lifted. A mechanism for penalties to be reintroduced within 65 days if Iran is deemed not to be complying is included in the deal.
The US Secretary of State, John Kerry, said: "This is the good deal we have sought."
One of the last sticking points – the lifting of an arms embargo – has also been agreed. Tehran will be allowed to trade conventional weapons within five years, and ballistic missiles within eight. The Pope and the UN Secretary-General, Ban Ki-moon, applauded the deal, while Iran's main Shia ally in the Middle East, Syria's President Assad, said the agreement would allow Tehran to support "just causes".
Israel has been at pains to stop any deal that allows Tehran to continue to enrich uranium. Israeli officials described the agreement as "a dark day in history". America's talks with Iran have turned Mr Obama's relationship with the Israeli Prime Minister, Benjamin Netanyahu, from frosty to toxic. "The deal will reward Iran with hundreds of billions of dollars which will fuel its efforts to destroy Israel," said Mr Netanyahu.
Hammond's faux pas
Britain's Foreign Secretary Philip Hammond gave a thumbs-up to the nuclear deal, but in Iran the gesture is the equivalent of giving someone the middle finger, according to Roger E. Axtell's book 'Gestures: The Do's and Taboos of Body Language Around the World'. It is a similar case in Iraq, where US troops were often given the thumbs up. Whether they meant it as a symbol of support or an insult would only be clear to the perpetrator.
Join our new commenting forum
Join thought-provoking conversations, follow other Independent readers and see their replies