Netanyahu condemns nuclear talks after Iranian commander vows to 'wipe Israel off the map'
Mohammad Reza Naqdi also threatened Saudi leaders over Yemen conflict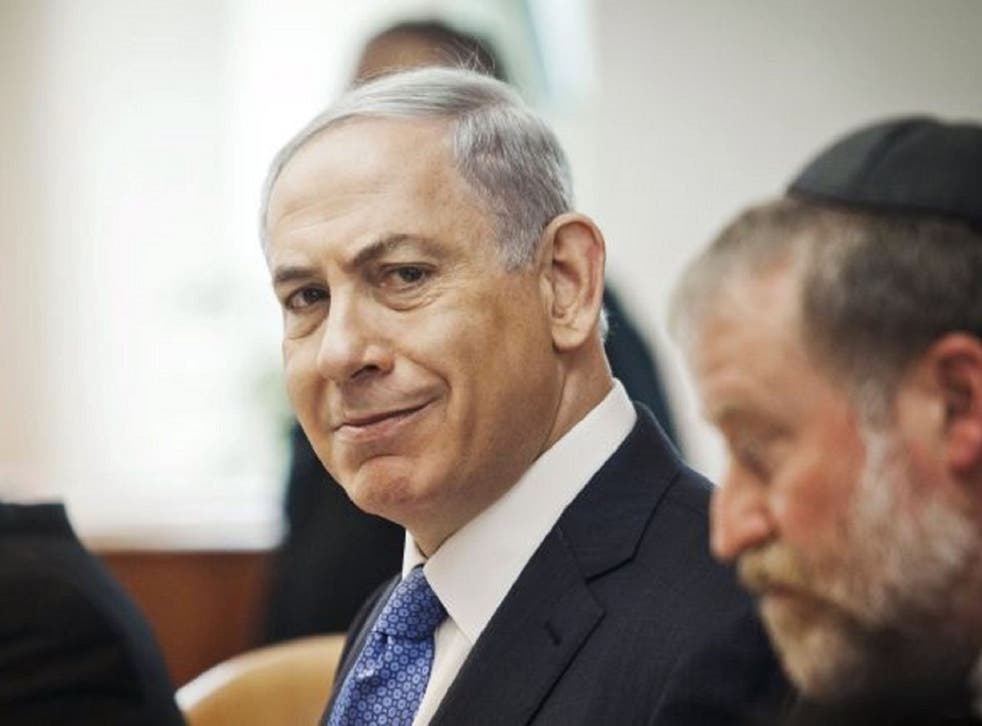 Benjamin Netanyahu has warned that Iran has been put on an "unconscionable" path to building nuclear weapons by the continuing talks with world powers.
Speaking this morning, the Israeli Prime Minister also condemned an Iranian military commander who reportedly vowed to "wipe Israel off the map" and claimed Saudi leaders will face "Saddam Hussein's fate".
Brigadier General Mohammad Reza Naqdi, who leads the Basij volunteer force, made the declaration to mark Islamic Republic Day in Tehran on Tuesday.
"Wiping Israel off the map is not up for negotiation," he said according to Kol Yisrael radio.
Mr Netanyahu responded today by calling Iran's regime "murderous" and condemning any deal over its nuclear capabilities.
"Yesterday an Iranian official said that Israel's destruction is non-negotiable," he said, according to the Jerusalem Post.
"However, giving Iran's murderous regime the bomb is negotiable. This is unconscionable.
"Iran is accelerating its campaign of terror and conquest throughout region, most recently in Yemen."
Iran has been accused of supporting the Houthi rebels fighting Yemen's government, meaning it is effectively part of a proxy war with Saudi Arabia and its allies.
Iran's Fars news agency reported comments made by Brigadier General Naqdi in the same speech, threatening the Saudi-led international coalition fighting the Houthis.
"Imposing war on Yemen will, God willingly, have no result other than Saddam's fate for the aggressors and the US that is the direct sponsor of this crime will have to leave the region forever after losing its puppet, the Al Saud regime," Brigadier General Naqdi said.
Saddam Hussein was deposed and later hung during the Iraq war after 24 years in power.
Brigadier General Naqdi has made threats against Israel before, saying in 2014 that Iran was supplying weapons to Palestinians in the West Bank.
"The Zionists should know that the next war won't be confined to the present borders and the Mujahedeen will push them back," he added.
In 2012, the Brigadier General Naqdi said only the "burning of the White House" and the hanging of US commanders would atone for the alleged burning of the Koran at an American military base in Afghanistan.
His Basij force is made up of mostly religious volunteers who act as an Islamic moral police and suppress political dissent.
Mr Naqdi's latest comments came as Iran and six other nations including Britain meet in Switzerland in efforts to reach an agreement in nuclear negotiations that have stretched beyond yesterday's deadline.
Iranian Foreign Minister Mohammad Javad Zarif, Russia and Iran expressed optimism that an initial agreement was within reach but Philip Hammond was more cautious.
"I think we have a broad framework of understanding, but there are still some key issues that have to be worked through," the Foreign Secretary told the BBC.
"Some of them are quite detailed and technical so there is still quite a lot of work to do but we are on it now and we'll keep going at it."
Leaders are hoping to bridge significant gaps and hammer out details of a framework accord.
If they succeed, those understandings would form the basis for a comprehensive agreement to be reached by the end of June.
Israel's Prime Minister criticised the expected deal for "paving the way" for Iran to be able to build an atomic bomb.
Mr Netanyahu has been a vocal critic of the negotiations, claiming they would fail to keep the Islamic Republic's suspect nuclear intentions in check.
Accusing Iran of developing weapons, the recently re-elected leader said the emerging deal would leave intact much of Iran's nuclear infrastructure, including underground research facilities, a plutonium reactor and advanced centrifuges capable of enriching uranium.
"Iran's breakout time to have the tools to make a nuclear weapon won't be years, as was said in the beginning," he added. "In our estimate, it will be reduced to perhaps a year, most likely much less than that."
Additional reporting by agencies
Join our new commenting forum
Join thought-provoking conversations, follow other Independent readers and see their replies