Iraq claims victory over Isis in battle for Tikrit as security forces raise flag in the city
Shia militias drive past walls painted with the black flag associated with Isis – with the palace of former president Saddam Hussein in the background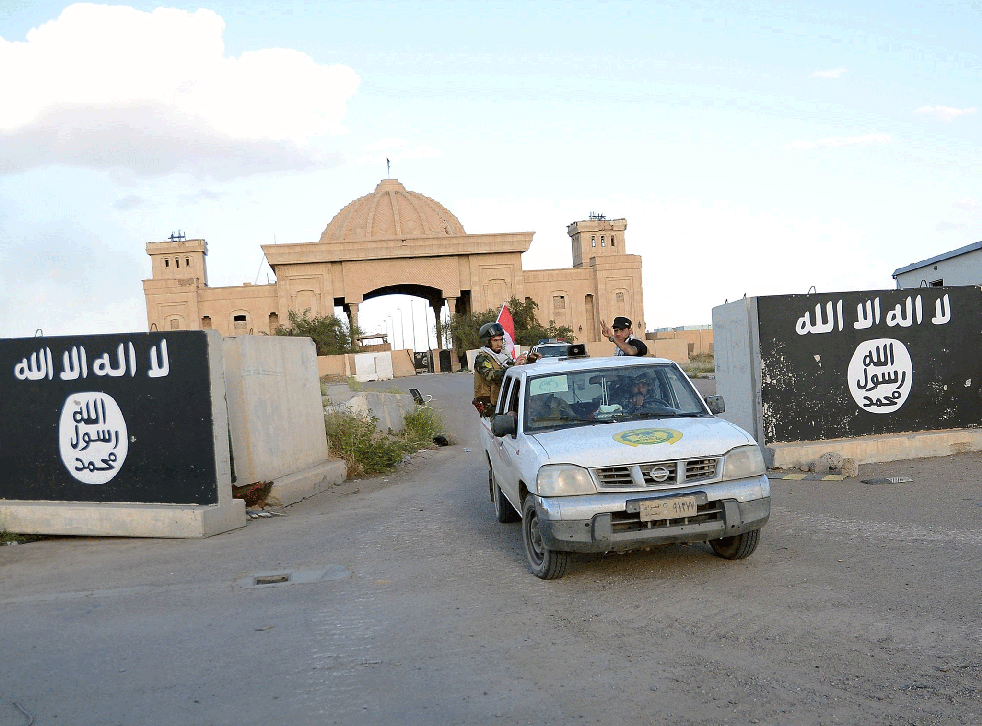 The palaces of Saddam Hussein lie in the background while the black flag associated with Isis is painted on to the walls at its entrance – through which drive Shia paramilitary fighters apparently claiming victory over the militant group.
The picture, taken on the day Iraq announced the liberation of Tikrit from Isis, offers a glimpse into the full complexity of the issues currently unfolding in the country.
Security forces were today said to be battling the last remaining pockets of Isis militants in the hometown of the former Iraqi president, but were expected to take full control "within the coming hours".
It comes a day after the Iraqi forces, fighting alongside Shia militias, pushed into the centre of the city and raised the country's flag above the Salahuddin provincial headquarters.
Interior Minister Mohammed Salem al-Ghabban has now said the government's objective is to take control of the entire city, according to an Associated Press report.
"There are only a few pockets of resistance left and we will announce the good news within the coming hours that these pockets of resistance are eliminated," he told reporters in the city.
He went on to say displaced residents will be given help to return while a civil defence unit will search the city for roadside bombs and car bombs.
"Daesh is completely defeated," he added, using an Arabic name for the group, which calls itself Islamic State.
The Iraqi security force's offensive to retake the city is seen as an important step towards driving Isis out of Iraq's second-largest city Mosul, further north.
Timeline: The emergence of Isis

Show all 40
The Iraqi military and police have worked with Shia militias and Sunni tribes in the large-scale operation which started on March 2.
The US last week also launched air strikes on the city following a request from the Iraqi government.
The Iranian-backed Shia militia groups had opposed the strikes, insisting they could retake the city.
The groups returned to the battle on Tuesday after suspending their operations when the strikes were requested on Thursday.
The US government reportedly deeply mistrusts the Shia militia groups and has tried to find ways to take part in the battle for the city, without acknowledging working with the Tehran-backed forces.
Additional reporting by AP and Reuters
Join our new commenting forum
Join thought-provoking conversations, follow other Independent readers and see their replies