Iraq crisis: President Obama weighs up US response to jihadist attacks
Reports claim US drones have been flying secretly over contested sections of Iraqi territory since last year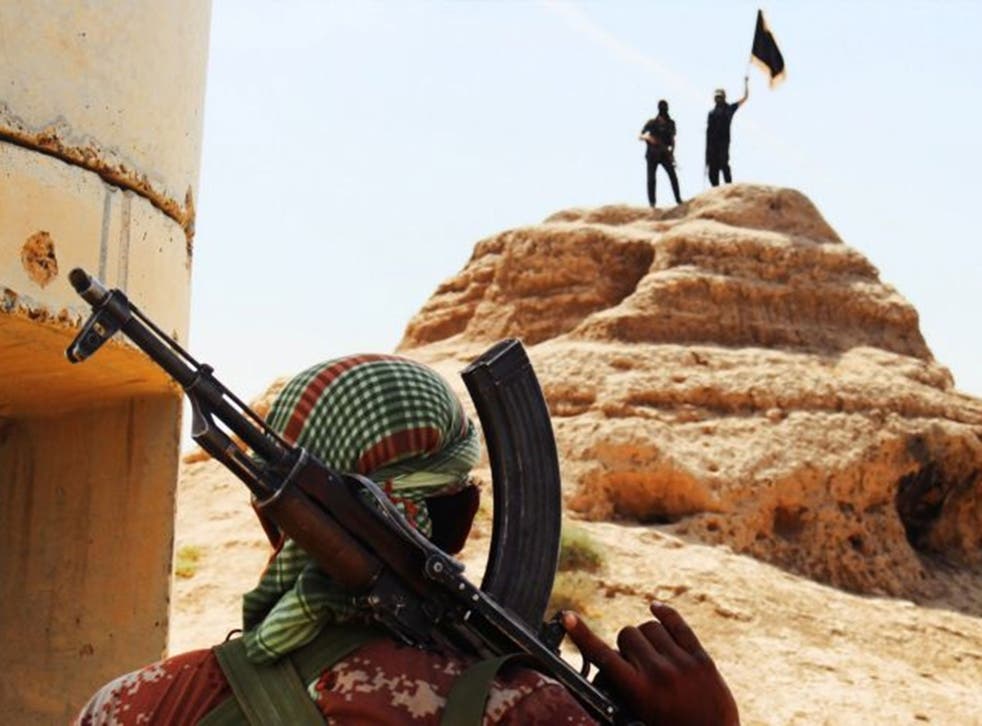 President Barack Obama tonight refused to rule out taking military action against jihadist militant fighters that have captured two major cities in northern Iraq and appeared to have their sights on the capital, Baghdad
As the scale of the crisis in Iraq became clear, officials said a variety of options were on the table to help the Baghdad government repel the insurgents but offered no details. They could range from rushing additional aid to the Iraqi military, including hardware such as fighter jets that are already in the pipeline, to ordering military strikes.
"I don't rule out anything because we do have a stake in making sure that these jihadists are not getting a permanent foothold in either Iraq or Syria," Mr Obama said when asked whether he was contemplating air strikes. The Associated Press cited an unnamed senior US official as confirming that ordering unmanned drone missions with strike capability in Iraq is under consideration but that no decisions had yet been taken
Earlier, reports surfaced that the Iraqi government had as long ago as last year approached Washington about the possible use of US drones to target insurgent encampments but was rebuffed. However, the Wall Street Journal reported that US drones had in fact been flying secretly over contested sections of Iraqi territory since last year in a purely surveillance capacity to try to get some insight as to the insurgents' positions and capacity.
Officials said that Vice President Joe Biden called Iraq's embattled Prime Minster, Nouri al-Maliki, by telephone to discuss the crisis and how the US might help counter the assault of fighters of the Islamic State of Iraq and the Levant (Isil). But there was no suggestion of ground troops being deployed to Iraq.
The apparent hesitation to authorise direct military intervention in Iraq meanwhile drew sharp criticism from some leading Republicans on Capitol Hill. Emerging from a classified meeting of the Senate Armed Services Committee, Senator John McCain said President Barack Obama had "fewer and fewer" options to deal with the crisis and called on him to "get rid of his national security team, which has been a total failure".
Mr McCain, a leading hawk who was among those who supported the invasion of Iraq in 2003 and the troop surge in 2007, said that the unravelling of Iraq amounted to "the greatest threat since the Cold War". He has repeatedly criticised the US withdrawal from Iraq, which had been a central pledge of Mr Obama when he campaigned for president, that was completed in 2011. "Just because you say a war has ended, doesn't mean it's over," he said.
The US has spent $15 billion in bolstering the army of Prime Minister al-Maliki on training and on military hardware, including weapons and planes. In a statement late Wednesday, the White House said it was reaffirming "our commitment to assist the Iraqi people as they confront the threat that Isil poses to Iraq and the region". It added: "The US will continue to provide, and as required increase, assistance to the Government of Iraq to help build Iraq's capacity to effectively and sustainably stop Isil's efforts to wreak havoc in Iraq and the region".
But the White House would clearly be reluctant to return to the battlefield in Iraq, a step that would effectively reverse the pledge to end the war there made by President Obama. It would also go against US public opinion which is unlikely even in the current circumstances to evince any support for returning to the country. Additionally, the US will see little advantage in fighting on behalf of Mr al-Maliki whose credibility as Prime Minsters is so weak.
According to the New York Times, Mr al-Maliki began asking for aerial support, either with drones or fighter aircraft, against the insurgents as early last year. In a meeting with top US officials on 11 May this yeaer, Mr al-Maliki asked that he be allowed to use US-supplied drones against rebel camps. But failing that, he said he would be willing to allow the US to conduct its own strikes on his behalf with drones or aircraft. He reportedly made a similar request in a phone call with Vice President Biden several days later. No such US commitment was forthcoming.
There was no confirmation by the White House that such requests had been made, however. "We are not going to get into details of our diplomatic discussions," a spokesperson for the National Security Council told the Times. "The current focus of our discussions with the government of Iraq and our policy considerations is to build the capacity of the Iraqis to successfully confront the Islamic extremists."
The overrunning of vast swathes of Iraq by the al-Qa'ida-inspired insurgents may meanwhile complicate the second leg of Mr Obama's drive to reduce America's overseas military commitments – the planned withdrawal of almost all US troops from Afghanistan. "I would hope the president would take some of the lessons we are seeing in Iraq and not repeat them in Afghanistan" Senator Kelly Ayotte, a Republican from New Hampshire said.
Join our new commenting forum
Join thought-provoking conversations, follow other Independent readers and see their replies