Iraq crisis: Kurds dream of separate state as their forces seize Kirkuk
Kurdish soldiers control the Kurdistan capital, raising hopes of independence
Fernande van Tets
Thursday 19 June 2014 14:15 Comments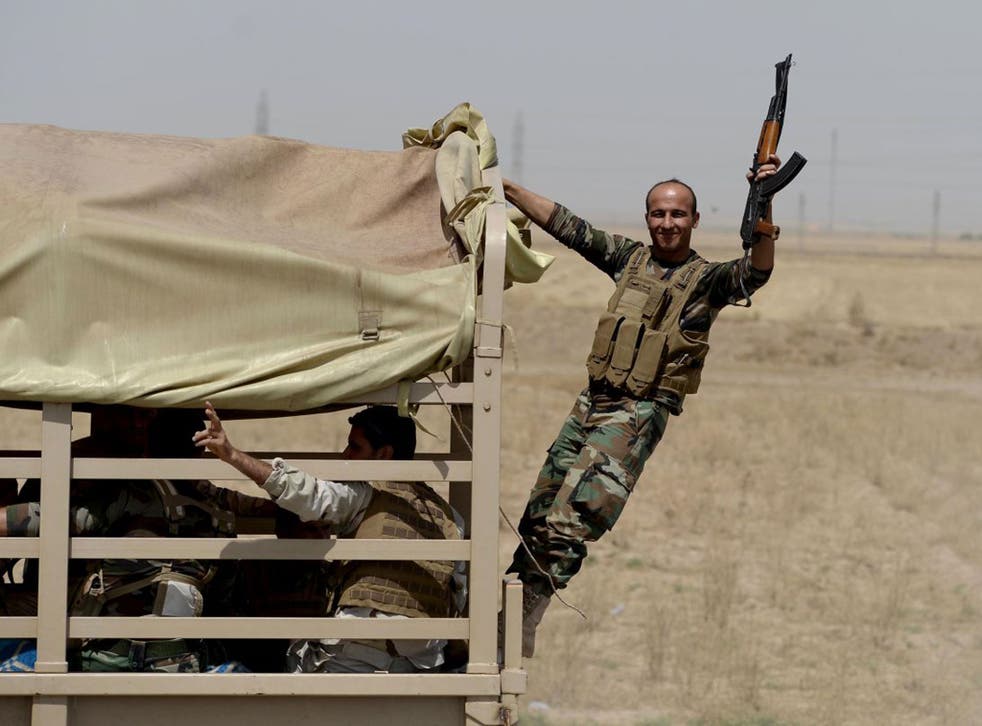 It was the happiest day of her life when she finally went to Kirkuk, said Shilan Saidi, 33, a film-maker who describes herself as a Kurdish nationalist.
The possibility of independence for the autonomous region of Kurdistan has become more concrete after Kurdish forces took control of Kirkuk, which some Kurds call their Jerusalem, last Thursday.
Ms Saidi visited Kirkuk two days ago. "It was one of the best days of my life; I almost cried when I entered the city," she said. Many find it hard to put into words what Kirkuk means to them. It's not about the oil, they insist, though it certainly plays a role in securing a potential Kurdish state's financial future. Kirkuk has Iraq's fourth largest oil field, which produces almost half the country's current output. "It's our heart, we can't live without it," Ms Saidi says.
The Kurds emphasise that their entering Kirkuk was at the invitation of the Iraqi government. But the Iraqi military has expressed concerns, with Lt-General Ali Ghaidan Majid, the commander of Iraq's ground forces, calling the move a "dangerous development".
Ms Saidi feels now is the perfect opportunity for the Kurdistan Regional Government to declare full independence from Iraq. Currently the autonomous Kurdish region displays many characteristics of a state, such as its own independent visa procedure, but is still part of Iraq. Rebaz Zedbagi, a businessman with interests in construction and the energy market, feels the capture of Kurdistan has solved a longstanding obstacle to declaring independence.
In pictures: Iraq crisis

Show all 98
"Before there was an argument about whether we can really be independent without Kirkuk. But now almost 100 per cent of Kurdish lands are under the control of Kurdish forces."
Mr Zedbagi feels it's time to end the unhappy marriage with Iraq. "Right now is the moment. We have to take the independence, nobody will give it to us," he says.
He feels businesses will stay put, having invested significantly already. "Most of the investors have already invested here, especially in real estate and oil. It's not easy to leave. Money talks, they have a lot of profit here. They are not in a position to leave. The future is bright here; see how many international companies are setting up here; Exxon Mobil, Chevron, Haliburton," he says. Safeen Dizayee, a Spokeperson Minister, was cautious about the prospect of statehood: "The KRG has pursued and continues to pursue legal, constitutional resolution of such status issues, and the decision must be taken by the citizens themselves."
The fate of Kirkuk was to be decided in a referendum. Although the city is almost half Kurdish, it was mostly populated by Turkmen until the discovery of oil in 1927 transformed it.
The city already has a popular Kurdish governor. Independent Kurdish MP Raboon Maaruf said: "Practically Kirkuk is run by Kurdistan political parties. Sooner or later it will return to Kurdistan, and this return will be legal and constitutional. Independence is the dream of all Kurdish people. One day this dream will be reality, but we will not declare our independence without Kirkuk."
Other Kurds see great obstacles to independence. Mahmoud Othman, a former Kurdish MP in the Iraqi parliament, said: "The security council, the UN, they want Iraq to be one country. Same goes for Iran and Turkey. I don't think they will allow for a break-up."
Register for free to continue reading
Registration is a free and easy way to support our truly independent journalism
By registering, you will also enjoy limited access to Premium articles, exclusive newsletters, commenting, and virtual events with our leading journalists
Already have an account? sign in
Join our new commenting forum
Join thought-provoking conversations, follow other Independent readers and see their replies