Iraq crisis: 'At least 50 killed' in wave of terrorist attacks across Baghdad
Isis have claimed responsibility for one bombing and could be behind others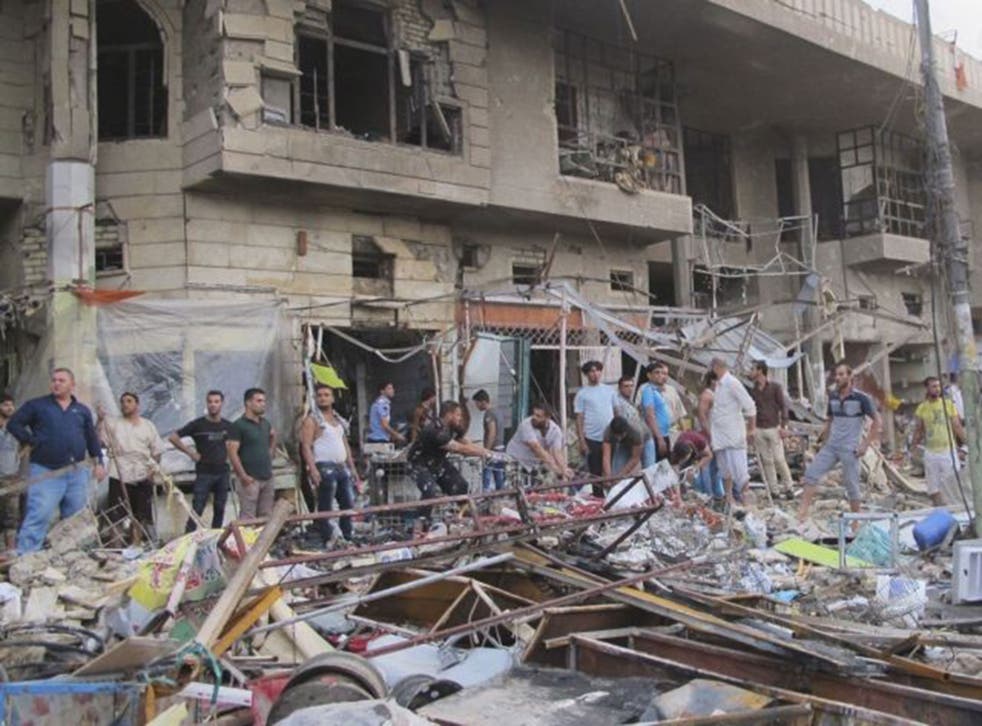 At least 50 people have been killed and many wounded in a wave of bomb attacks on Baghdad bearing the hallmarks of Isis.
The Islamist group, which controls several major cities and towns surrounding the Iraqi capital, has claimed responsibility for the most deadly attack in the Dawlai district.
Two car bombs exploded simultaneously in a shopping area, killing between 14 and 16 civilians and wounding more than 30 others, according to varying reports.
Also on Thursday, a suicide bomber rammed a car laden with explosives into a police checkpoint in the eastern suburb of Talibiyah at 2.30pm, killing at least 12 people, a police officer said.
Seven policemen and five civilians were among those killed, he added, and at least 28 other people were wounded.
An hour later, five mortar rounds hit the Shia district of al-Shaoula, killing another five and wounding 21 others.
A car bomb then exploded in the nearby Hurriyah district, leaving six dead and wounding 14 others. Three people also died and six were wounded in a bomb blast by a row of coffee shops in the Shia working class district of Allawi.
The violence also reached the countryside south of Baghdad, a mixed area that is often a battlefront in the war between Sunni jihadists and the Shia-led government.
In the district of Mahmoudiya, a car bomb killed seven and wounded 18, while a roadside bomb blast claimed the lives of three Iraqi soldiers and wounded one other on patrol in Madain.
Isis has vowed to take over Baghdad after overrunning vast areas of western and northern Iraq and neighbouring Syria.
Residents angered by the failure of government forces to protect them threw stones at police checkpoints and police cars that arrived to respond to the blasts on Thursday, prompting police to withdraw from some areas.
Iraqi politicians have tried to reassure residents that the capital is too well-protected for militants to capture, even as they struggle to stop frequent near daily deadly attacks.
In pictures: The rise of Isis

Show all 74
Troops backed by Shia militias and US-led air strikes have stopped Isis advancing but have been unable to push it back.
Prime Minister Haider al-Abadi declared in a televised speech at a military ceremony on Wednesday that Baghdad was "safe and the vicious terrorists can't and will not reach it".
"Our brave security forces have managed to secure Baghdad and its perimeter," he added.
Additional reporting by agencies
Join our new commenting forum
Join thought-provoking conversations, follow other Independent readers and see their replies