Iraq crisis: Only fear and uncertainty left on Mosul's empty streets
In the first report from the Iraqi city since it fell to militant fighters, Mohammed Umar al-Kaysi describes his home town's growing isolation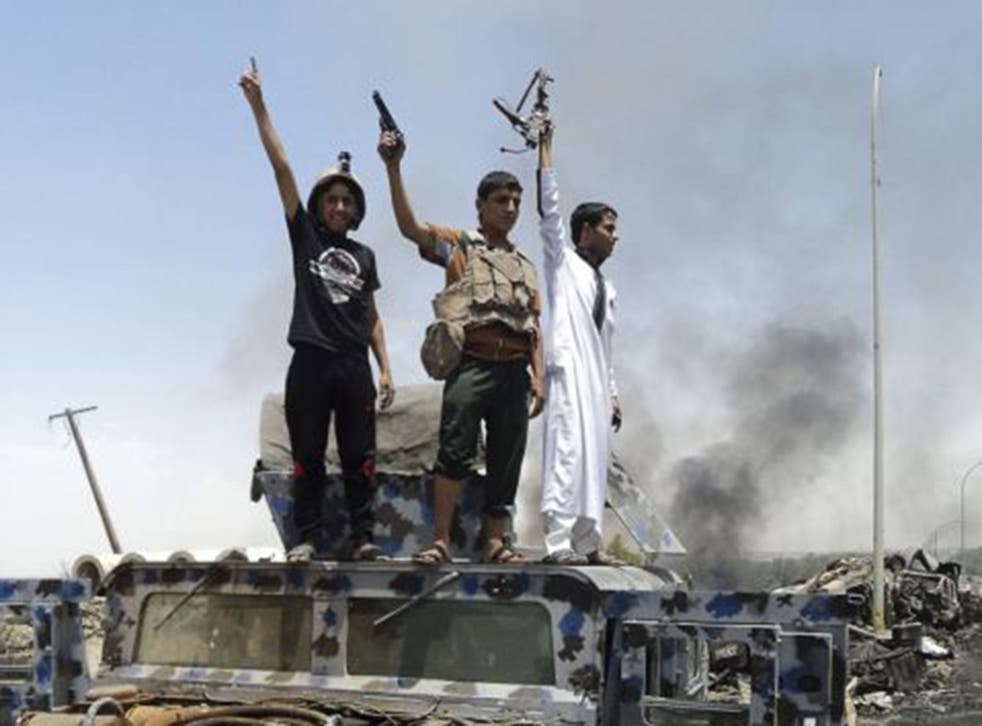 There was fighting on the first day. Army helicopters launching attacks against those fighting for control of a bridge. The city is now very different. There are burnt-out vehicles, and some still on fire, but no people. The streets are deserted, the cars gone. Mosul is empty.
The militants use the mosques to talk to the people, messages being broadcast from the minarets. Everyone was uncertain but the messages are not angry. They seem to be focused on helping people: telling residents where humanitarian help is needed, which family requires transport.
Many people fled; they did not know what was going to happen next and were worried. Everyone was frightened by what the government in Baghdad would do to regain control of lost towns and cities.
They feared a bombardment which could lead to many more innocent people being killed. On Friday night there were two explosions in a military camp on the edge of Mosul. Their cause is unknown, but many speculate that there could have been a drone strike.
Slowly people have started coming out of their homes and returning to the streets. But fear of retaliatory attacks by the Iraqi government means many venture out only to buy essentials or to visit the hospital.
At least half the shops are closed. There is only a limited supply of bread or fresh food. On the roads is perhaps 20 per cent of the normal volume of traffic. Only a few petrol stations are open and there is a limited supply. Fuel used to come from Baiji, where there is the country's largest refinery, and from the Kurdistan region but the fighting means the supply is interrupted.
The militants have taken over all the government buildings and police stations. There are no police on the streets. Instead, the militiamen are in control. They have established checkpoints, but fewer than there used to be.
Last week's fighting and the seizure of Mosul have been coming for a long time. The city has a history of bombings and assassinations. People were, and are, frightened.
Residents have long complained of the government's very bad treatment. People were being arrested by police or being assaulted by the army. Sunnis, like me, were made to feel like criminals.
So when the militants arrived and with a speed that shocked the world conquered Mosul, many of its residents were pleased. It is the government they fear and the events felt like liberation. Those who are leaving, and a reported 500,000 have done so, left because they feared what the prime minister, Nuri Kamal al-Maliki, would do to Mosul, and the destruction it would cause.
When they first came into the city on Monday, many of the militants were wearing uniforms. Now they are mostly wearing civilian clothes but retain their weapons. In some places they have rocket-propelled grenades and heavy weaponry. The majority are wearing masks. Witnesses say that there are many foreigners among them – Afghans, Syrians and Chechens. Those I have seen all appear to be from here, from Mosul.
There have been reported beheadings of policemen, but I have heard of none that have occurred among civilians. The militants need the support of the people living here. Those killed in Mosul that I know about were soldiers, policemen or people caught up in the initial fighting. Those I talk to are adamant about that.
There have been rumours of women being raped or attacked. In Mosul, a conservative city, if women were being raped, nobody would accept it – they would rise up against the militants.
The question is what will happen next. The Shia in Mosul live in the Kubba area and the Turkoman in the Tal Afar district. Militiamen have demanded they give up their weapons but they are refusing.
On Friday, the militiamen started handing out flyers telling resident how the city will now be run. There are 16 articles on it. Mosul will be run by Islamic law. Things that are haram (sinful) like cigarettes, alcohol or drugs are outlawed. So too are all political parties. Many are most concerned about article 14 on the flyer, which concerns women's clothing. People are worried they could be forced to wear a niqab and cover their face. For now, women must dress "modestly" and not display their bodies. Clothing stores in the bazaars are among the few shops that still remain open.
Those living in Mosul, like me, are cut off from the rest of Iraq – we do not know what is happening elsewhere. Local television channels and the newspapers have been closed down. There is still some mobile phone reception but the internet keeps being cut off.
If the future of Mosul is unknown, then what is increasingly certain is that Iraq as a nation state is finished. The country will divide into three regions: Sunni, Shia and Kurd.
If the Sunni are left to rule themselves, then there is hope of some peace. But if the government attempts to keep Iraq together by force, then there will be years of bloodshed.
Mohammed Umar al-Kaysi was born and lives with his family in Mosul. Formerly with Reuters, he now works for a local radio station.
Join our new commenting forum
Join thought-provoking conversations, follow other Independent readers and see their replies