Baghdad truck bomb: More than 60 dead after explosion in busy Iraqi marketplace
Attacker struck during market's busiest period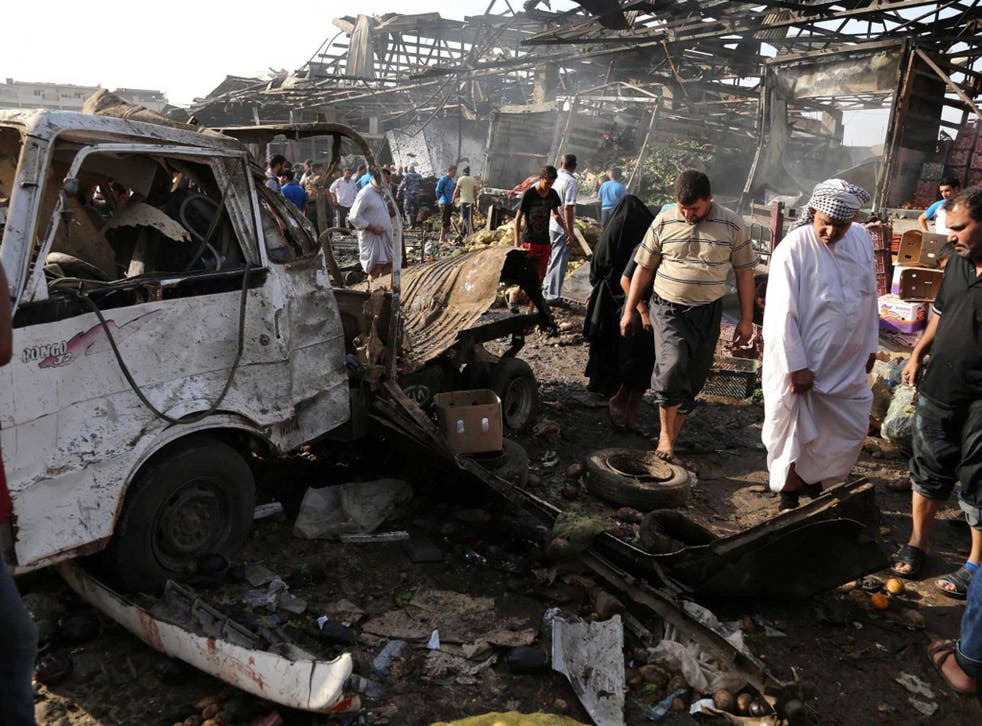 More than 60 people have been killed and over 100 injured after Isis militants detonated a truck bomb in a busy marketplace in Baghdad, Iraq.
The attack, which took place in the popular Jameela marketplace in the Sadr City district shortly after dawn on Thursday, was the largest in the capital since Haider al-Abadi became Prime Minister a year ago.
The militants' group, also known as the Islamic State, have staged similar truck bombings in the past. In a message posted on a social media account affliated with the group they promised further attacks.
Smouldering ruins and charred wooden stalls, scattered with vegetables and debris, remained on Thursday morning as residents rushed to the scene to help those who survived.
At least 62 people have been killed and 89 injured when the refrigerator truck blew up at around 6am, according to police and ambulance crews who spoke to reporters on condition of anonymity.
The death toll is expected to rise as the attack occurred during the market's busiest period – Thursday morning – as many rural Iraqis travel to the bazaar to stock up on food for the coming weekend.
"Many people were killed and body parts were thrown on top of nearby buildings," police officer Muhsin al-Saedi told Reuters.
The top 10 most dangerous countries in the world

Show all 3
Witnesses described the devastation wrought by the bomb, saying shrapnel, fruit and body parts littered the usually packed (and predominantly Shia) marketplace in the south-eastern suburb of Iraq's capital.
Iraq has been plagued by near-daily attacks since the sectarian fighting of 2006 and 2007 following the US-led invasion. But the latest atrocity marks a brutal escalation of the body count, following an attack last month in Diyala which killed more than 115 people.
Additional reporting by Associated Press
Join our new commenting forum
Join thought-provoking conversations, follow other Independent readers and see their replies