Iraq in turmoil as warrant issued for Vice President
Sectarian tensions soar after Sunni is linked with plot to assassinate Shia Prime Minister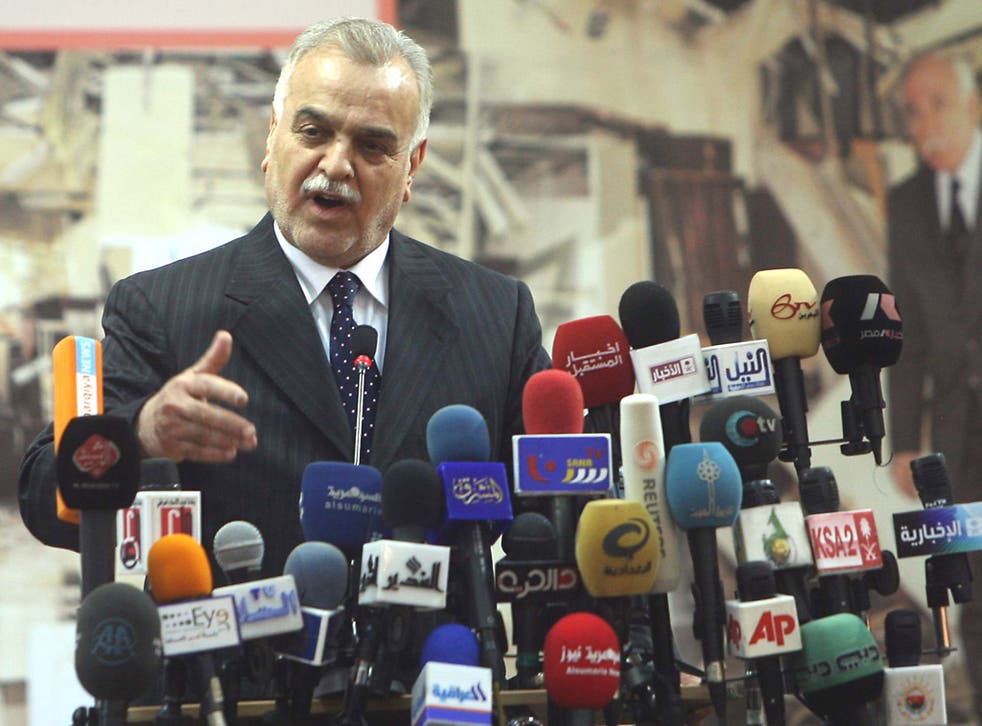 The Iraqi government has issued a warrant for the arrest of the Sunni Muslim Vice President Tareq al-Hashemi on terrorism charges in a move certain to deepen political turmoil in the country.
The authorities claim that Mr Hashemi's bodyguards confessed under interrogation that they had been involved in killings and attacks. These appear to include what the Prime Minister Nouri al-Maliki says was an attempt to assassinate him three weeks ago when a bomb blew up prematurely in the car park of the Iraqi parliament inside the Green Zone.
The issuing of the arrest warrant against a leading Sunni politician will inevitably exacerbate sectarian feeling in Iraq where the Sunni Arab minority is fearful of being further marginalised by Mr Maliki's Shia-dominated government. There have already been arrests and dismissals in recent weeks of Sunni officials and army officers accused of being former Baathists.
The timing of the issuing of the warrant immediately after the departure of the last US troops will make the Sunni more fearful that US influence will no longer be used to maintain a balance between the three main communities – the Shia Arabs, Sunni Arabs and the Kurds.
Two days ago Mr Maliki asked parliament for a vote of no confidence in the Sunni deputy prime minister Saleh al-Mutlaq for incompetence. Mr Mutlaq had accused Mr Maliki of being a dictator. Although Iraq nominally has a power-sharing government in practice it remains divided between parties and communities. All jobs are awarded through a patronage system making political leaders averse to giving up official posts.
Mr Hashemi is currently in Kurdistan where Mr Malki has no practical control, but if he is arrested then Iraq would take significant step towards disintegration. Sunni provinces are already demanding that they be ruled through a federal system that would give them more autonomy and control of their own affairs.
The accusation that Mr Hashemi was involved in killings through his bodyguards appears to be the latest outcome of an alleged plot to kill Mr Maliki that was unmasked after a bomb went off inside a vehicle outside parliament and killed two people. I saw the burned out remains of the vehicle a few hours later and it did not, by Iraqi standards, appear to be a large bomb and unlikely to harm Mr Maliki who normally travels in armoured vehicles in a well-armed convoy. Nevertheless, the government is convinced that the bomb explosion was an elaborate plan to assassinate him when he attended parliament by detonating the bomb when he went past. The confessions of Mr Hashemi's bodyguards may have been extracted under torture which is routine in Iraqi security investigations.
Though the government is meant to be sharing power Mr Maliki personally controls the security ministries such as Defence and Interior. All army divisional commanders are "acting commanders" appointed by the prime minister. But it is doubtful if Mr Maliki has the political and military strength to coerce both the Sunni Arabs and the Kurds, particularly as the Shia community is not united behind him.
Mr Hashemi and Mr Mutlaq are members of al-Iraqiya, the party which won a plurality in the last parliamentary election, and is largely dependent on Sunni votes. It has recently been boycotting parliament on the grounds that is has been marginalised.
Mr Maliki's administration is widely criticised in Iraq for corruption and using dictatorial methods, but his many enemies have been unable to unite against him and put forward a credible alternative leader. He is also the one Iraqi leader whom both the US and Iran can live with even if they regard him without enthusiasm
Join our new commenting forum
Join thought-provoking conversations, follow other Independent readers and see their replies