Isis raises the black flag: Islamists hail victory over Kurds as battle rages on Europe's doorstep
Kurdish forces say they repelled wide-ranging jihadist attack close to Turkey that left dozens dead on both sides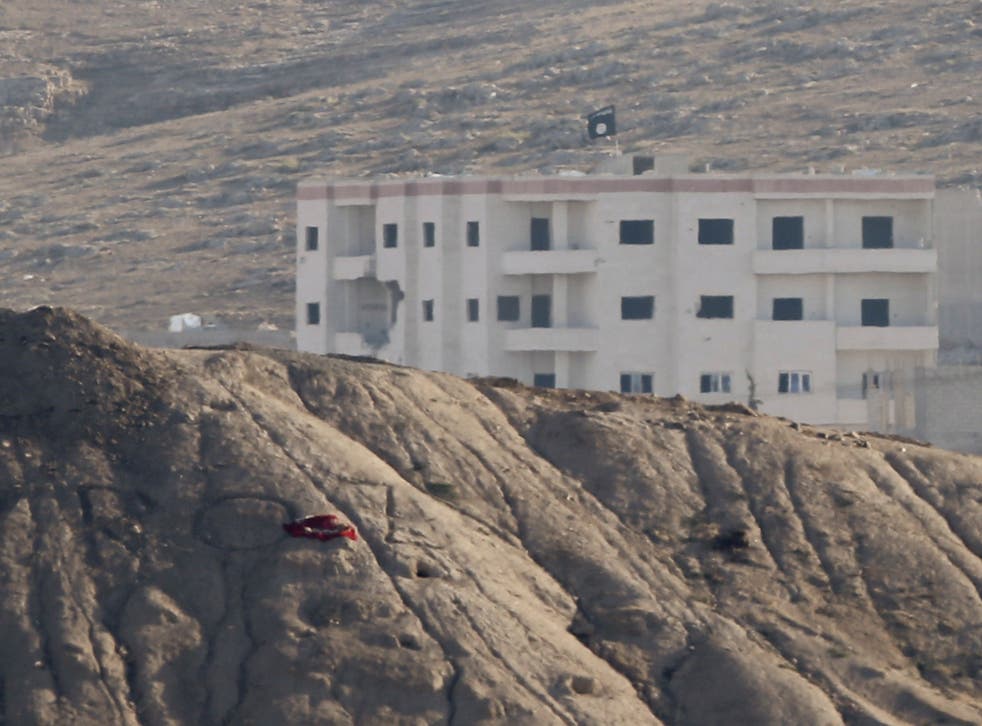 The black flag of Isis has been raised in the Syrian town of Kobani as the battle between the Islamist militants and Kurdish forces rages on the border with Europe.
While the Kurds remain in control of the town, two black banners with Arabic writing have been spotted at its eastern entrance, one raised over a building and another on a nearby hill.
Kobani and the surrounding area has been under attack since mid-September, with Islamic State militants capturing dozens of nearby Kurdish villages.
Some 160,000 Syrians have been forced to flee while Kurdish forces have struggled to push back the jihadists despite being aided by the US-led coalition airstrikes.
The British-based Syrian Observatory for Human Rights and a statement from the Kurdish force known as the People's Protection Units, or YPK, said more than 45 fighters on both sides were killed Sunday near Kobani, including a Kurdish female fighter who blew herself up, killing several jihadists.
On the Turkish side of the border, at least 14 Turkish army tanks took up positions on a hilltop near Kobani. Heavy bombardment could be heard down below as plumes of smoke rose from the town.
A house and a small grocery store in Turkey were both struck by a shell from the fighting, but no one was wounded. At least four people were injured in a similar incident on Sunday.
The Observatory, which gathers information from activists inside Syria, said 27 jihadists and 19 Kurds were killed in the battles, making it one of the deadliest days since the latest round of fighting began three weeks ago.
Syrian Kurdish forces have long been among the most effective adversaries of the Isis (also known as Islamic State and Isil), keeping it out of their enclave in northeastern Syria even as the extremists routed the armed forces of both Syria and neighbouring Iraq in recent months.
But in recent weeks the overstretched Kurds have struggled to counter the increasingly well-armed jihadists.
Isis fighters in Kobani (2014): Civilians flee as militants enter Syria-Turkey border

Show all 22
"They are using tanks, artillery and all kinds of weapons they captured in Iraq and Syria," said Nasser Haj Mansour, a defense official in Syria's Kurdish region, referring to the Isis, which has declared a caliphate in the large areas it controls in both countries.
The Observatory's director Rami Abdurrahman said Monday that one of the attacks against Isis the day earlier was carried out by a female Kurdish fighter who blew herself up, killing 10 jihadists.
Khamis was a member of a YPK branch known as the Women's Protection Units, or YPJ. The force has more than 10,000 female fighters who have played a major role in the battles against Isis, Haj Mansour said.
Haj Mansour said Kurdish fighters withdrew from a position on the strategic hill of Mashta Nour near Kobani. Khamis stayed behind, and as Isis fighters moved in she attacked them with gunfire and grenades, eventually blowing herself up. The Kurds then recaptured the position.
"If necessary, all our female and male fighters will become Arin. The attacks by mercenaries of Daesh against Kobani will not be allowed to achieve their goals," the YPK statement said, using the Arabic acronym for the Islamic State group.
Nawaf Khalil, a spokesman for Syria's Kurdish Democratic Union Party, or PYD, said: "Yesterday was a very violent day but they were neither able to enter Kobani nor Mashta Nour."
Associated Press
Join our new commenting forum
Join thought-provoking conversations, follow other Independent readers and see their replies