Isis bombings: More than 50 people killed and injured in attacks in Iraq
Recent weeks have seen frequent bombings by the so-called Islamic State as battles continue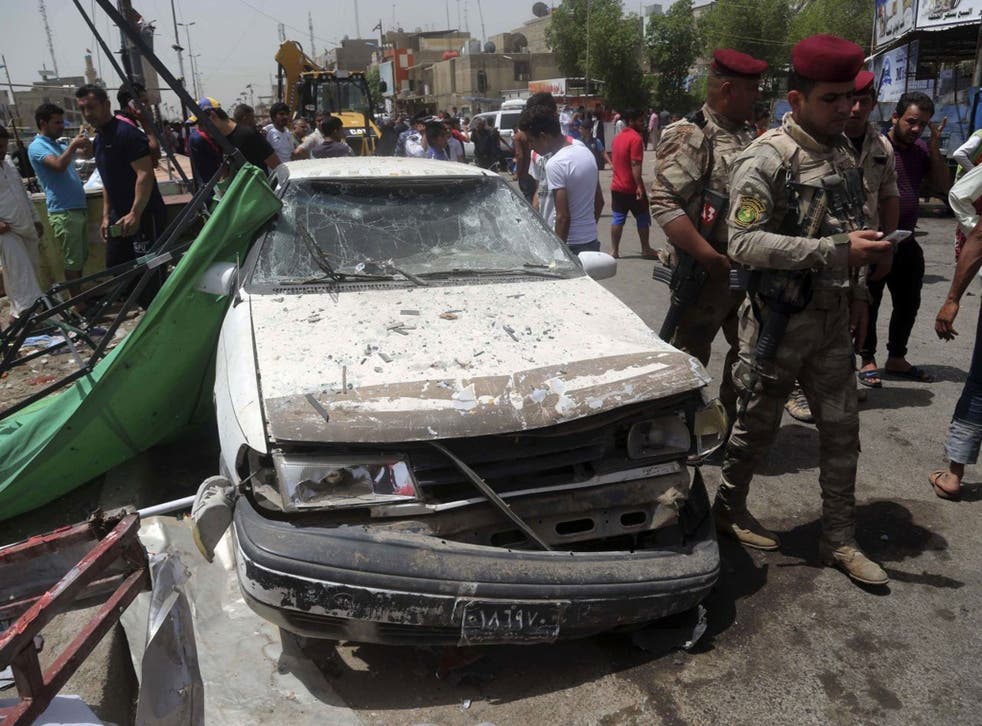 More than 50 people have been killed and injured in a series of bombings targeting a police checkpoint, restaurant and two markets in Iraq.
Isis claimed responsibility for an explosion that killed eight people and wounded 15 others at a military checkpoint in Tarmiyah, north of Baghdad.
A propaganda statement from the terrorist group said it sent a "martyrdom bomber" wearing an explosives belt to what it claimed was a gathering of Iraqi security forces.
Three of the dead were soldiers but it was unclear whether civilians were also among those killed on Saturday.
Tarmiyah once housed a uranium enrichment facility operated by Saddam Hussein's government and was controlled by Isis' predecessor, al-Qaeda in Iraq, during the Iraq War.
There was no immediate claim of responsibility for two separate attacks on markets in Baghdad that killed five people.
Another bomb targeting a restaurant left at least two people dead.
Hundreds of civilians have been killed in weeks of almost daily bombings and shooting attacks largely blamed on the so-called Islamic State in Iraq.
In pictures: Baghdad hit by 24 hours of Isis bombings

Show all 11
The frequency of atrocities has increased after territorial losses and the start of a major operation to re-take Fallujah.
Several civilians fleeing the Isis-controlled city were killed on Friday in an explosion as they passed through agricultural area.
Federal police blamed militants for the blast but it was unclear whether it was caused by a deliberate bombing or a planted IED.
Aid groups estimate that 50,000 civilians are trapped inside Fallujah as Iraqi forces and militias continue to push towards the centre.
Iraqi civilians recount horrors of battle for Fallujah
Shia civilians, police forces, soldiers and the security services are among those targeted by Isis, which has declared Shia Muslims apostates and regards the Iraqi government as allies of Western "crusaders".
The Soufan Group, a US-based intelligence firm, warned that the tempo of attacks would only increase with the approach of the holy month of Ramadan, continuing political deadlock in Iraq and military pressure Isis is facing across its territories.
Analysts described car bombings as one of the terrorist group's most tried tactics to regain momentum, aiming to inflict mass casualties, kill as many Shia as possible, provoke fear and unrest and turn all factions against the government, "allowing the group to exploit the resulting chaos".
The recent surge in violence has added to criticism of Prime Minister Haider al-Abadi, who already faces a political crisis and civil unrest over his attempts to overhaul his cabinet as part of an anti-corruption bid.
According to the United Nations at least 741 Iraqis, including more than 400 civilians, were killed and 1,374 wounded in April alone due to the ongoing violence
Join our new commenting forum
Join thought-provoking conversations, follow other Independent readers and see their replies