Isis chemical weapons: Russia says militants have developed dirty bombs as UN finds sarin evidence in Syria
The UN says blood sample tests show the use of 'sarin or a sarin-like substance' in Syria attacks reported to it by the regime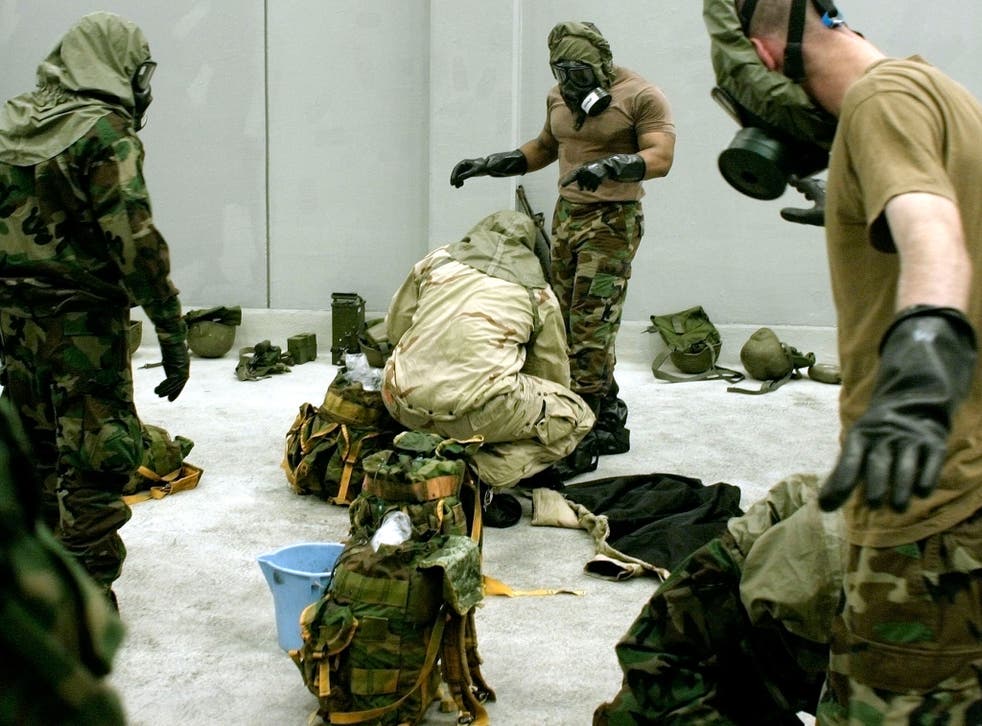 The Isis militant group is likely to be using chemical weapons against its enemies in Syria and Iraq, Russia has claimed, after evidence of exposure to deadly nerve agents was reported by the UN.
The Organisation for the Prohibition of Chemical Weapons said it was investigating 11 alleged chemical weapon attacks reported to it by the Syrian government, and that in at least one case blood samples suggested "exposure to sarin or a sarin-like substance".
The UN watchdog did not specify when or where the attacks took place, but raised the concerns in its latest monthly report.
The Syrian government, widely held responsible for the deaths of hundreds when sarin-filled rockets were fired on residential areas of a Damascus suburb in 2013, says it has handed over all its chemical weapons stockpiles. The OPCW said the last shipment of those was destroyed in a bulletin on Monday.
Russia's foreign ministry said the OPCW's findings made it a "very high" probability Isis has developed its own nerve agents, and called for an urgent investigation.
In pictures: The rise of Isis

Show all 74
The Syrian government has long blamed alleged chemical weapons attacks – including the 2013 atrocity – on rebels, despite Western claims the opposition groups lack the technology to develop them.
Isis, on the other hand, has captured former government stockpiles and laboratories and has access to the right experts to "aggressively pursue" a chemical weapons programme, Iraqi and US officials have said.
In his report, the OPCW chief Ahmet Uzumcu said the source of the sarin or sarin-like compound detected in tests was unclear, while the UN's fact-finders "did not come across evidence that would shed more light on the specific nature or source of the exposure".
"Further investigation would be necessary to determine when or under what circumstances such exposure might have occurred," he said.
Mr Uzumcu's report was attached by UN Secretary-General Ban Ki-moon in a letter dated 29 December to the 15-nation Security Council.
And in its response, Russia's minister for non-proliferation and control of weapons said it tallied with "facts of the probable use of chemical weapons by Isis militants and in a broader sense by Islamic radicals".
According to the state-owned Sputnik news outlet, Mikhail Ulyanov said: "Since facts are shown in one direction, then we believe the probability that the weapons are being used by militants is very high."
Usually converted from a colourless liquid to a gas for use in rockets, sarin is regarded as a weapon of mass destruction and was banned by the UN Chemical Weapons Convention of 1993. It is 20 times more deadly than cyanide, and can lead to death by asphyxiation within minutes.
Since the Syrian government agreed to destroy its stockpiles following the 2013 Damascus attack, the OPCW has recorded uses in Syria of more minor chemical weapons including chlorine and ammonia. Isis has previously been accused of using sulphur mustard in an attack in August that killed a baby.
And last month, online activists and opposition fighters accused the Assad regime of using chemical weapons in rocket and barrel bomb attacks on the rebel-held Damascus suburb of Muadhamiya, in which at least five people allegedly suffocated to death.
Join our new commenting forum
Join thought-provoking conversations, follow other Independent readers and see their replies