Isis driven out of Syrian town of Tal Abyad by Kurds and rebels near Turkish border
Tal Abyad has been re-captured after being held by Isis for almost a year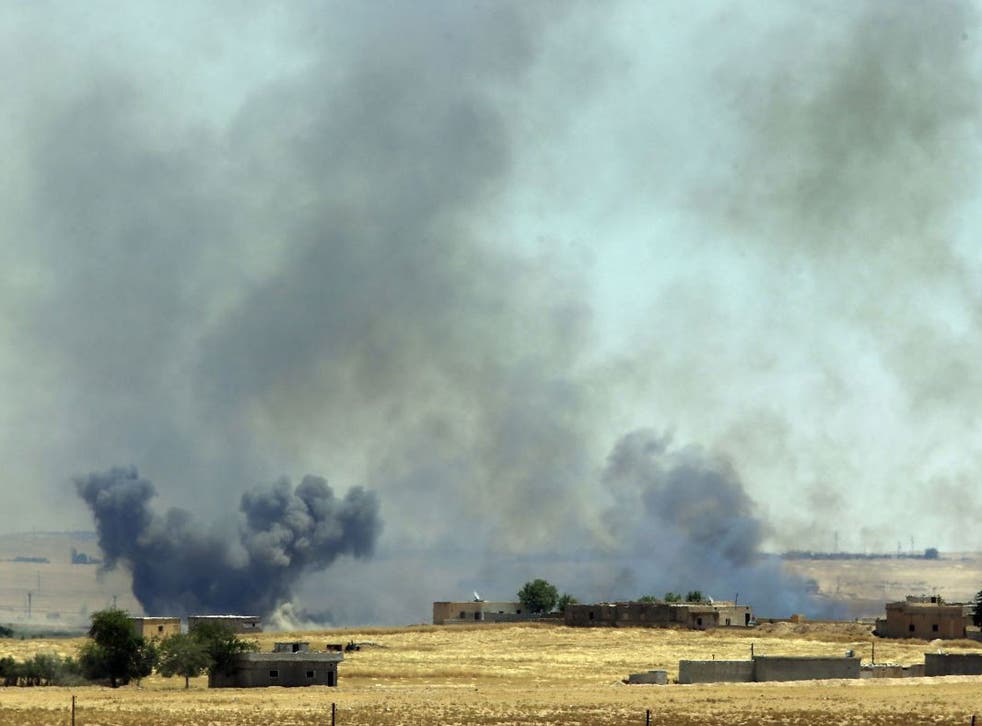 Isis has been driven out of a key Syrian town on the Turkish border by Kurdish militias after days of intense battles.
Members of the People's Defence Units (YPG) were backed by rebel battalions and air strikes by the US-led coalition to seize Tal Abyad.
Huseyin Kocher, a YPG commander, told the BBC his group had full control of the town, adding: "Our people should know that we are going to clean all the remnants of Isis in northern Syria."
Fighters were seen waving their yellow flags in victory and allies from the Free Syrian Army hoisted their own banner over the town, which was seized by Isis in June last year.
They had surrounded Tal Abyad from three sides and moved in on Thursday under the cover of shelling and international air strikes.
Official casualty figures have not been released but the UK-based Syrian Observatory for Human Rights said 40 Isis militants were killed by warplanes as they tried to flee south and the YPG said at least five of its soldiers were killed, including two women.
It is the Kurds' most significant gain since Kobani, joining up their own territories and cutting off a supply route to Isis' Syrian stronghold of Raqqa, which lies 60 miles to the south.
But the victory threatened to reignite ethnic tensions after a coalition of rebel groups accused the YPG of deliberately displacing civilians in a "ethnic cleansing campaign" against Sunni Arabs and Turkmen.
More than 16,000 people fled across the border crossing at Tal Abyad to Turkey as the Kurds advanced over the last two weeks.
Syrians flee to Turkey as Kurds storm Isis strongholds

Show all 15
Smoke could be seen rising from US-led air strikes in the background as thousands of men, women and young children were held behind barbed wire fences as they tried to escape into Akcakale.
Some had to wait for more than 24 hours after Turkish authorities temporarily closed the border to refugees on Sunday, as Deputy Prime Minister Numan Kurtulmus said "there isn't a humanitarian crisis in Tal Abyad".
In a statement released on Monday, 15 rebel groups including Islamist forces Ahrar al-Sham and Jaish al-Islam, claimed the YPG's gains in Hassakeh province was part of a plan by the linked Kurdish Democratic Party to carve out a new state.
They accused the militias of "implementing a new sectarian and ethnic cleansing campaign against Sunni Arabs and Turkmen under the cover of coalition air strikes which have contributed bombardment, terroriding civilians and forcing them to flee their villages".
The Turkish President, Recep Tayyip Erdogan, had made similar claims while suggesting complicity by Western allies and labelling the YPG members fighting Isis "terrorists".
"On our border, in Tal Abyad, the West, which is conducting aerial bombings against Arabs and Turkmen, is unfortunately positioning terrorist members of the PYD and PKK in their place," he said.
Redur Khalil, a spokesperson for the YPG, strongly refuted the claims and urged the former residents of Tal Abyad to return to their homes, pledging that the civilian administration would not be interfered with.
Since the beginning of the year, the Kurds have helped wrest back more than 500 mostly Kurdish and Christian towns in north-eastern Syria, as well as strategic mountains previously seized by Isis.
Additional reporting by AP
Join our new commenting forum
Join thought-provoking conversations, follow other Independent readers and see their replies