Isis executes three gay men by dangling them from top of 100ft building and letting go
Graphic image shows Isis continuing to push brutal propaganda message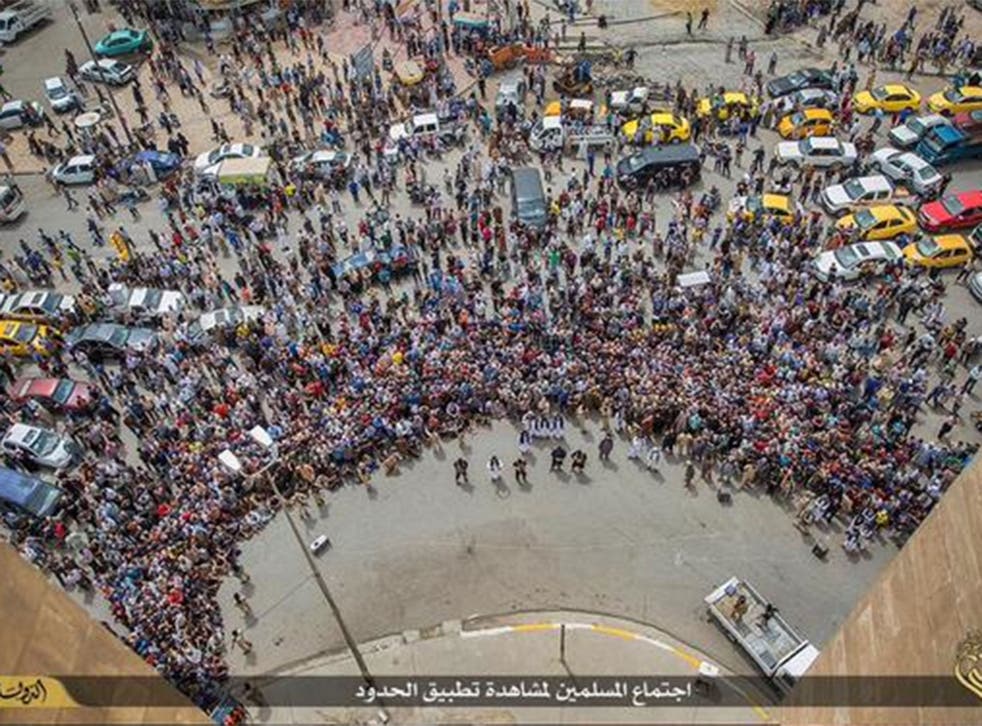 The Isis militant group has reportedly murdered three gay men in the Iraqi city of Mosul by dropping them from the top of a 100ft building.
The killings appear to have taken place in front of a large crowd marshalled by armed Isis fighters, and reports suggested those watching had been given stones to throw at the men if they survived the fall.
The photographs come as Isis continues to push for new ways to shock with its propaganda. It has used the same building before to kill men "convicted" in its courts of being gay.
On this occasion, which could not be independently verified, the victims appeared to be dangled from the top of the building by at least one Isis executioner wearing a leather jacket.
Other images showed one of the men in mid-fall, with the others seemingly already dead at the bottom.
At the end of last year, Isis published its penal code which lists amputation, stoning and crucifixion as the required punishments for certain crimes.
The most recent images were released by Isis's media wing as it also produced a video hailing its new gains in northern Aleppo.
In pictures: The rise of Isis

Show all 74
But it came as a US official attending a Paris summit said that some 10,000 Isis fighters have been killed by US-led coalition air strikes since they began last year.
"We have seen enormous losses for Daesh. More than 10,000 since the beginning of this campaign. That will end up having an effect," Deputy Secretary of State Tony Blinken told France Inter radio, using an Arabic acronym for the group.
Join our new commenting forum
Join thought-provoking conversations, follow other Independent readers and see their replies