Isis propaganda video shows British four-year-old Isa Dare 'blowing up car' with prisoners inside in Syria
The boy, thought to be the four-year-old son of Grace Dare, is shown with his hand on the detonator before shouting 'Allahu Akbar' next to a burnt wreckage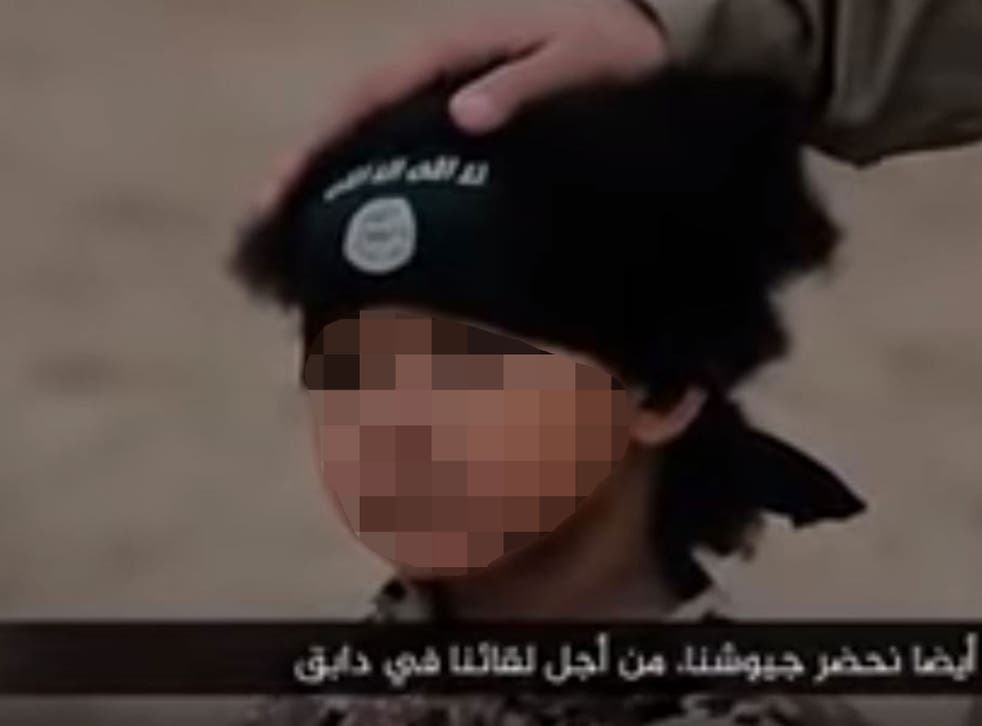 Isis has used the four-year-old son of a "jihadi bride" from London in a propaganda video showing three men being strapped into a car and blown up.
Isa Dare, who was taken to Syria by his mother Grace "Khadija" Dare, is seen wearing combat fatigues and black headband in the disturbing footage.
He was accompanied by a young man believed to be a previously unknown British teenager, who addressed the UK with a scarf covering his face.
"You will never fight us except behind fortified fortresses or behind walls," he said.
"Firstly, when you sent your spies to Syria and when you authorised for your men, thousands of miles away, to push a button to kill our brothers who lived in the West.
"So today, we're going to kill your spies the same way they helped you kill our brothers.
"So prepare your army and gather your nations for we too are preparing our army."
The video opens with "confessions" by the three captives being killed, who are shown wearing orange boiler suits while talking to the camera, before they are forced inside the car and handcuffed to the inside.
The three men, who identified themselves as Syrians aged between 22 and 33, claimed they had been recruited by anti-Isis resistance fighters and British intelligence services to help the "Crusader coalition".
Their statements, describing being paid hundreds of dollars and given equipment to photograph and track militants, were made under duress and could not be independently verified.
One of the men was shown telling the "apostates who recruited to me" to stop resisting the so-called Islamic State and vowed "retribution" moments before he was killed.
Footage showed Isa making an "ok" hand symbol before appearing to press the detonator blowing up the car, which exploded in a huge fireball recorded from the air in the desert.
It ends with the child shouting "Allahu Akbar" with his arm raised next to the burnt wreckage.
Raqqa is Being Slaughtered Silently, a collective of citizen journalists and activists exposing Isis atrocities in its Syrian stronghold said the young man in the footage was believed to be a teenager.
The footage is believed to have been filmed in Raqqa province at least a month ago or possibly last year.
Isa was seen gesturing towards what appeared to be the same car, while wearing the same outfit, in a warped trailer for footage in a previous execution video released last month.
"We will kill the kuffars (infidels) over there," he said before a short clip of the three men being forced inside the car was shown, suggesting the two videos were filmed at the same time.
Last month's video, entitled "A Message to David Cameron", saw a British militant believed to be Siddhartha Dhar threaten the UK for bombing the terrorist group before five hostages were killed.
Isa was identified by his grandfather, Henry Dare, who has accused Isis of using the boy as a "pawn" and human shield.
"They are pure evil for doing this to that child — pure evil. I burst into tears when I saw it was him. He doesn't like it there," he said.
Isis grandfather speaks out
"I spoke to him on the phone and he just said, 'Grandad, come and get me'."
The boy's mother, Grace "Khadijah" Dare, was brought up as a Christian but converted to Islam and travelled to Syria from her home in Lewisham in 2012, taking Isa with her as a baby.
She married Swedish Islamist fighter Abu Bakr, who is believed to have since been killed.
The pair featured in Channel 4 documentary in 2013, when Dare was reported to be pregnant with their first child, shown brandishing guns and playing with young Isa.
She used Twitter to call for more British Muslims to join her in Syria, vowing to be the first UK woman to kill a British or American hostage following the beheading of James Foley.
Isis has used children several times to murder hostages in propaganda videos and has boasted of its "cubs" jihadist training camps in its territories.
Timeline: The emergence of Isis

Show all 40
Charlie Winter, a counter-terrorism expert and senior research associate at Georgia State University, previously told The Independent that the sickening tactic is a continuation of its propaganda strategy.
"It's horrifying and abhorrent but it doesn't surprise me," he said. "They are perpetually exploring new depths of depravity in their efforts to shock."
More than 30 British children had been made the subject of family court orders over radicalisation fears, Scotland Yard said in August.
At that time, judges had considered cases involving 12 different families.
Assistant Commissioner Mark Rowley, the country's most senior terrorism officer, said in some instances the children were "almost babes in arms", with ages ranging from two or three up to 16 or 17.
Additional reporting by PA
Join our new commenting forum
Join thought-provoking conversations, follow other Independent readers and see their replies