Isis in Fallujah: 'Human catastrophe' unfolding in city as civilians used as human shields for Iraqi assault
There have been reports of starvation inside the city, where Isis is killing civilians attempting to escape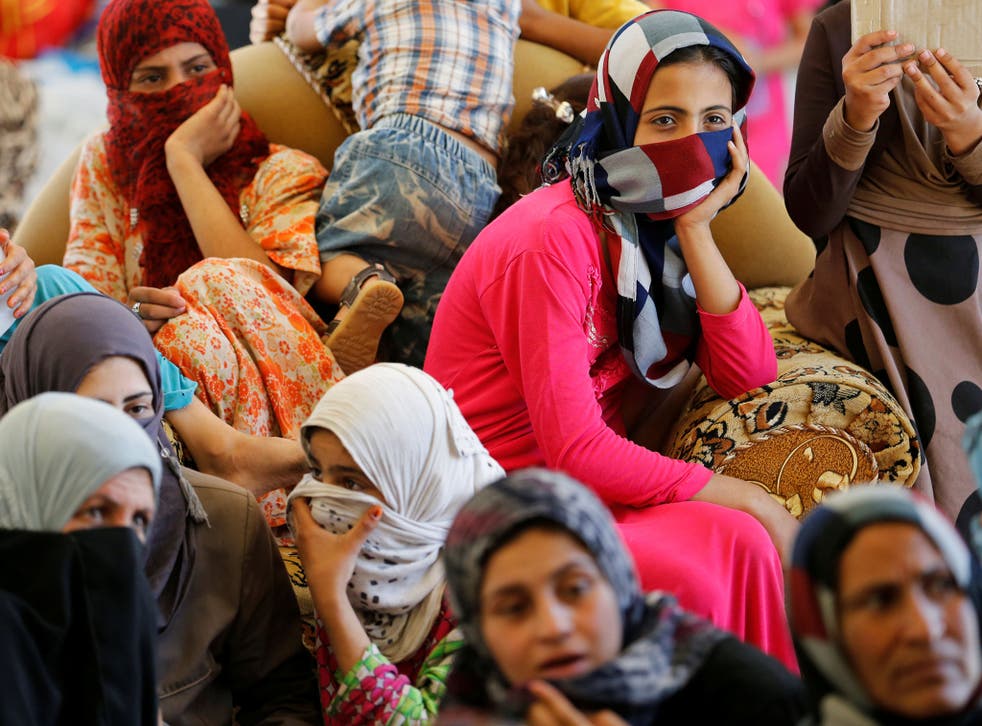 A "human catastrophe" is looming in Fallujah as up to 50,000 civilians remain trapped in the Isis-held Iraqi city during a continuing government assault.
Families who have managed to escape said fighters from the so-called Islamic State had sealed exit points and shot anyone attempting to flee since the start of Operation Breaking Terrorism last week.
As well as using the trapped civilians as human shields against approaching Iraqi forces, Shia militias and coalition air strikes, there were reports of militants forcing families to move with Isis forces from one location to another.
Sir Jeremy Greenstock, who was the UK Special Envoy for Iraq from 2003 to 2004, told Radio 4's Today programme that "renegades" from Saddam Hussein's Ba'ath Party and Sunni tribes were also present in Fallujah and would resist the government's offensive.
Iraqi army advances in Fallujah while ISIL launches suicide attacks
"It's bound to be a very destructive campaign," he said. "There's no way of re-taking Fallujah by the Iraqi security forces without serious harm to the civilian population."
Iraqi counter-terror forces started moving into the city in the early hours of Monday morning, mortar fire and with air support from the US-led coalition.
There have been no confirmed casualty figures, with both sides claiming to have killed dozens of enemy fighters but no official mention of civilian deaths.
Isis media channels have been sharing footage of destruction in residential areas, claiming to show children among those injured by US air strikes, while Iraqi television has shown images of families being evacuated by troops.
The Norwegian Refugee Council (NRC), which is working in displacement camps at Amiryiat Al Fallujah, has warned that there are few safe routes for evacuations as the city is attacked from three directions.
"A human catastrophe is unfolding in Fallujah. Families are caught in the crossfire with no safe way out," said general secretary Jan Egeland.
"Warring parties must guarantee civilians safe exit now, before it's too late and more lives are lost."
Suad, who fled from a village on the outskirts of the city with her husband and her six children, told the NRC Isis militants had used them in battles.
"When the attack on Fallujah started, Isis forced us to leave our homes and kept moving us from one damaged, deserted house to another," she said.
"All the time we were exposed to the exchange of fire. On our last day the fighting became too fierce - they were shooting above our heads."
Families have trekked for hours under the cover of darkness, moving through fields and hiding in disused irrigation pipes, but women and children are among many believed to have been killed or flogged for attempting to escape.
Conditions for those left inside Fallujah were described as "dire", with a severe lack of food, clean drinking water and medicine, while relief supplies in Amiryiat Al Fallujah are also limited despite efforts by the United Nations, Muslim Aid and other organisations.
Caroline Gluck, from the UN refugee agency (UNHCR) said several hundred families made their way out of Fallujah on Monday, while almost 3,200 people had already reached government displacement camps.
But it was a fraction of up to 50,000 civilians feared to remain trapped, with routes out of the city barred for civilians since December.
She said that stories of extreme desperation were emerging, with rocketing food prices of more than $40 for a kilo of flour forcing people to search rubbish and eat rotten food.
"Since December, food has been in short supply, people are relying on expired rice and dried dates, and several starvation-related deaths have been reported," UNHCR spokesperson Melissa Fleming said.
"The number of families who've escaped is still very small, given the tens of thousands of people still trapped in Fallujah."
World news in pictures

Show all 50
Save the Children said the price of a single can of infant milk had hit £35 at times during the siege and that potatoes and sugar cost between ten to fifteen times more than normal, forcing families to eat soup made from grass or a handful of seeds.
Some residents have reportedly killed themselves, while parents are said to have drowned their children in the river or abandoned them because they could not feed them.
The UNHCR has also received reports of a dramatic increase in of executions of men and boys for refusing to fight for Isis and "many" people dying in air strikes or buried alive under the rubble of their homes.
Fallujah, lying around 40 miles west of Baghdad, was the first Iraqi city to be taken by Isis in its January 2014 offensive and is the group's largest stronghold in Iraq after Mosul.
The Sunni majority city has long been a centre of resistance against the Shia government and was bombed by Coalition forces during the Gulf War and invaded by American troops in 2003, becoming a focus for the ensuing resistance and insurgency.
Battles continued on Tuesday morning as Iraqi forces repelled a four-hour attack by Isis in the southern Nuaimiya district.
Hundreds of militants have prepared for the assault with a warren of underground tunnels and are using snipers, vehicle bombs, IEDs and booby traps, while the group launches a string of suicide bombings aiming to sow discord and lower morality in Baghdad.
The Ministry of Defence says the RAF is assisting the Fallujah offensive with air strikes, hitting weapons stockpiles, tunnels and a mortar team last week.
The most recent air strikes documented by the US-led coalition included strikes on Isis tactical units, fighting positions, vehicles and bridges on Sunday.
The UN High Commissioner for Human Rights is urging the Iraqi and government and its partners to make the protection of civilians "paramount" in operations to retake Fallujah.
A statement said: "We call on all parties to the conflict to adhere strictly to international humanitarian law, including the principles of distinction, proportionality and precaution in the conduct of hostilities, and to ensure that civilians are permitted to leave areas where fighting may be taking place in dignity and safety, and that they can access humanitarian assistance."
Join our new commenting forum
Join thought-provoking conversations, follow other Independent readers and see their replies