Isis in Iraq: Baghdad hails the retaking of the Baiji oil refinery as the start of the long fightback against the Islamist militants
But it may not be quite so simple, especially for the civilians caught up in the crossfire, says Patrick Cockburn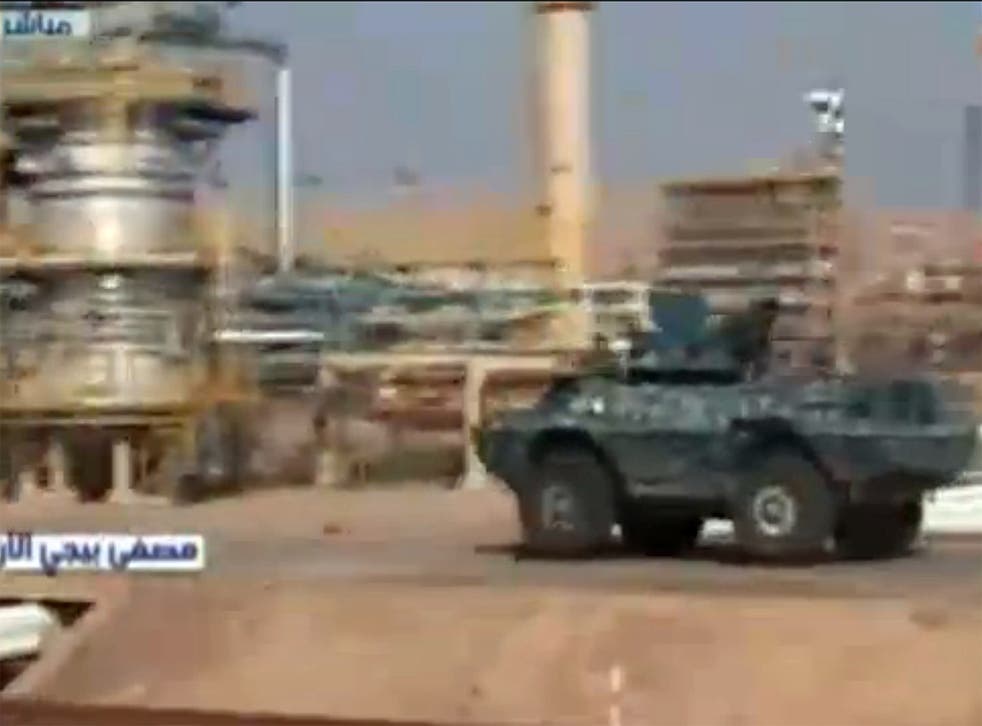 Iraqi security forces have re-entered the country's biggest oil refinery at Baiji, the recapture of which would be the Baghdad government's most important military success since Isis seized most of northern and western Iraq during the summer.
Iraqi state television has shown troops driving through the refinery after capturing the town of Baiji a week ago.
"The first Iraqi force, the anti-terrorism force called Mosul Battalion, entered Baiji refinery for the first time in five months," police Colonel Saleh Jaber of the Baiji refinery protection force told one news agency. For five months a small garrison of government troops and Shia militia had held on to parts of the refinery, even though they were often so short of food they were reduced to living off tomato paste.
Isis fighters are reported by other sources to have now withdrawn east across the river Tigris to towns and villages that they still control.
Isis has left many mine and booby traps in the refinery, which had been producing 75,000 barrels of oil a day when it was shut down. These devices are being removed by the police while some militants are still fighting to the north west of the refinery complex.
Iraqi state television flashed news of the advance and broadcast footage that it said was of the security forces entering the refinery's gate. The commander of the provincial security operations, Abdel Wahab al-Saadi, told the television station that "in this area, terrorists were stationed to the left and right".
He said: "If God is willing, Baiji will be the main key to liberating each span of Iraq."
This is probably over-optimistic but, if the Iraqi army captures Baiji, this will cut off the city of Tikrit further south and the government will have gone a long way to recapturing most of Salahudin province.
However, as always, there is a price paid by civilians caught up in the fighting. The government offensive has created a wave of displaced Sunni Arabs who have lost their homes and dare not go back, but will not be welcome in Shia or Kurdish held territory either.
Meanwhile, the Iraqi air force is said, by aid workers, to be using barrel bombs extensively, dropped randomly on Isis-held areas.
In places where it is advancing, the Iraqi army and the Shia militias have treated all Sunni Arabs as likely supporters of Isis, an attitude that is often self-fulfilling. At the same time Kurds and Yazidis who were forced to flee at the time of Isis's offensive in August say that they were horrified by the speed with which their Arab neighbours turned against them and took over their houses and land.
Many places where Arab and Kurd, Sunni and Shia had lived together in peace will in future be dominated by whichever community comes out on top in the present battles.
Isis fighters retreating from Baiji have taken over the village of Al-Alam, about 10 miles from Tikrit, where they have seized between 150 and 170 members of the Jubouri tribe as hostages and are demanding a ransom.
This followed an incident earlier in the month when young men in Al-Alam took down the black Isis flag one night and replaced it with the Iraqi flag. In retaliation, Isis is demanding that members of the Jubouri tribe leave the area. Militants used loudspeakers to tell people they had just hours to get out.
Isis is under pressure on different fronts in both Syria and Iraq but it is still largely successful in preventing or immediately quelling any uprising against its rule by inflicting extreme punishment on any opponents.
Some 581 members of the Albu-Nimr tribe have been executed by Isis since 29 October. In places such as Baiji and Tikrit, most civilians have left to avoid the bombardment from artillery and from the air, but Sunni Arabs have nowhere safe to go.
People leaving their homes Baiji are mostly heading in the direction of Kirkuk.
Wherever displaced Sunni Arabs go, in flight from the government or Isis, they get caught up in other local struggles for power. Some of the Jubouri forced out of Al-Alam have moved south towards Duluiyah, but it has seen fighting between Sunni and Shia and between Isis, the government and local tribesmen.
The Iraqi air force has dropped some 30 to 35 barrel bombs on Aziz Balad, an Isis-held town east of Sammara which has long been surrounded and is short of gasoline and medical supplies.
On 1 September, one such bomb fell on a school in Al-Alam which was being used to house displaced people. It killed 31, including 24 children.
US air strikes and the successes of the Shia militias have helped restore Shia morale. There are also signs that Isis, fighting battles over a great swathe of territory, has become over-extended and can no longer switch its forces between fronts as it did in the summer for fear its convoys will fall prey to US air power.
Register for free to continue reading
Registration is a free and easy way to support our truly independent journalism
By registering, you will also enjoy limited access to Premium articles, exclusive newsletters, commenting, and virtual events with our leading journalists
Already have an account? sign in
Register for free to continue reading
Registration is a free and easy way to support our truly independent journalism
By registering, you will also enjoy limited access to Premium articles, exclusive newsletters, commenting, and virtual events with our leading journalists
Already have an account? sign in
Join our new commenting forum
Join thought-provoking conversations, follow other Independent readers and see their replies