Isis Japanese hostages: Japan 'reiterates it will not pay ransom' as 72-hour $200m deadline to save two men draws close
Isis militants have demanded $200m from the Government by Friday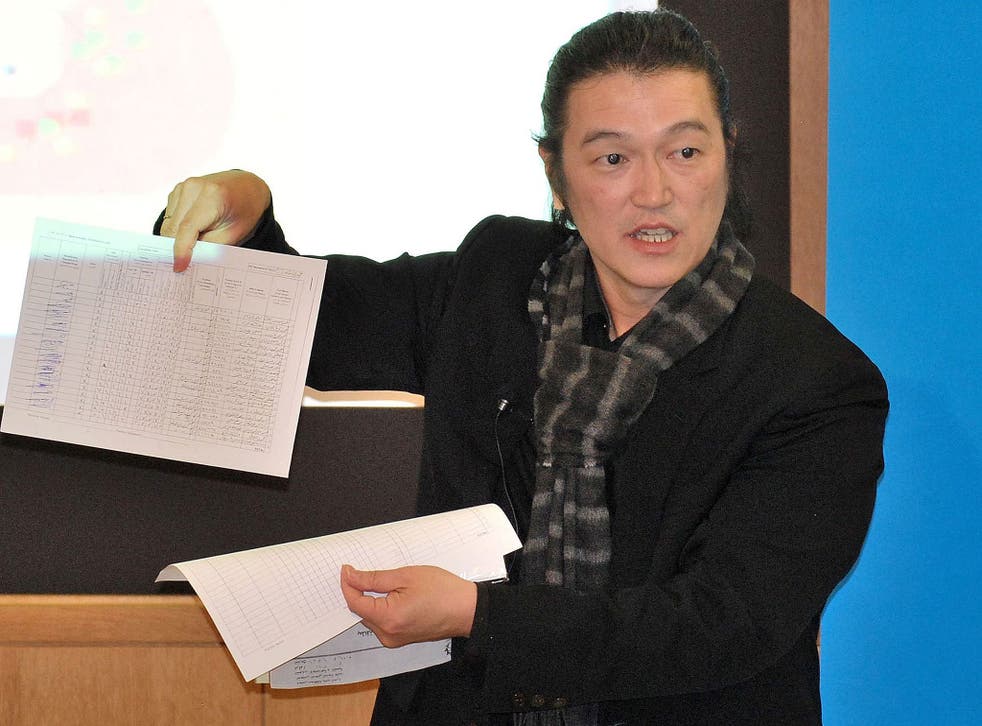 The Japanese Prime Minister has "reiterated his country's commitment" to not paying ransoms to terrorists during a phone call with David Cameron, as a deadline to save the lives of two hostages draws closer.
Isis released a video on Tuesday demanding $200 million (£132m) within 72 hours from the Japanese government to save the lives of freelance journalist Kenji Goto, and Haruna Yukawa.
The Japanese PM Shinzo Abe and other Japanese officials have not directly confirmed whether Japan would pay a ransom to free both men.
However, when asked whether the British Prime Minister had urged Mr Abe to resist pressure to hand over a ransom to the kidnappers, a spokeswoman for Downing Street said: "The Japanese signed up at our G8 summit in Lough Erne to the policy of not paying ransoms to terrorists for kidnap and they stand by that and it was reiterated."
It comes as a former official for the Japanese Embassy pleaded with Isis militants for more time to save the hostages' lives.
Appearing at the Foreign Correspondents Club of Japan, Ko Nakata, a former Islamic specialist at the Japanese Embassy in Saudi Arabia, read a message in Japanese and Arabic.
Timeline: The emergence of Isis

Show all 40
Directly addressing the group, he said: "Seventy-two hours is just too short. Please wait just a bit longer, and do not try to take action immediately. If there is room to talk, I'm ready to go and negotiate."
He urged Isis to "explain the group's plan to the Japanese government, and wait for a counter proposal from our side".
On Thursday, government spokesman Yoshihide Suga said Japan was trying all possible ways to contact militants. Japan has not had any contact with Isis since the release of the video, he said.
Reports also surfaced overnight claiming Mr Goto had spoken of returning to look for Mr Yukawa being after he was captured by Isis in Syria.
Reuters reported that Mr Yukawa first met Mr Goto in Syria in April and asked him to take him to Iraq. The pair then travelled to the country in June.
"He was hapless and didn't know what he was doing. He needed someone with experience to help him," Mr Goto said.
Mr Yukawa then returned to Syria in July on his own and Mr Goto returned to Japan.
In August, a video emerged showing Yukawa in the hands of Isis militants. Reuters reports that the footage haunted Mr Goto, who said he felt he had to do something to help the man.
"I need to go there at least once and see my fixers and ask them what the current situation is. I need to talk to them face to face. I think that's necessary," he was quoted by the agency as saying.
Friends say he travelled from Tokyo to Istanbul and travelled from there to Syria, sending a message on 25 October that he had crossed the border and was safe. There was no further contact from him after this.
Additional reporting by agencies
Join our new commenting forum
Join thought-provoking conversations, follow other Independent readers and see their replies