Isis fighters warn West in new YouTube video: 'We are waiting for you. We will chop off your heads'
US-led coalition steps up air strikes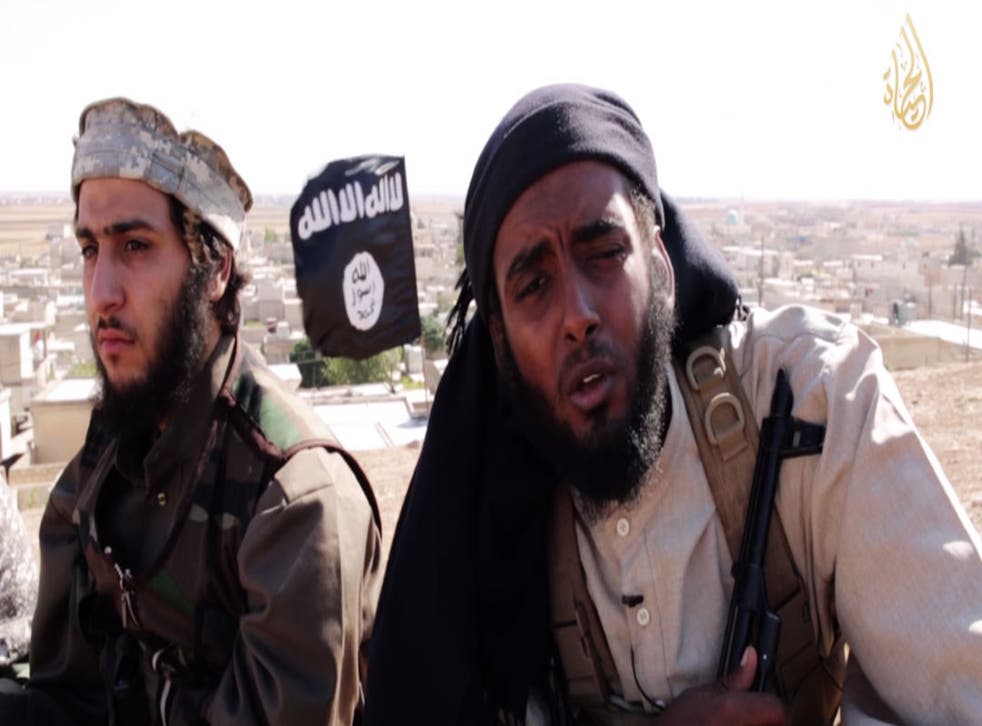 British, German and French Isis fighters have called for the West to send in ground troops to Iraq so they can be defeated, according to an intelligence company.
In a video posted yesterday, an apparently British man said they would "chop off the heads of whoever you may bring" in a grim echo of the executions of several Western hostages.
The challenge came amid fierce fighting around the city of Kobani on the Syrian-Turkish border where Isis, also known as Islamic State, has been besieging Kurdish fighters. Asya Abdullah, a Syrian Kurdish leader, said they had made a number of small advances against Isis, partly because the US-led coalition had stepped up air strikes against the extreme Islamist group's forces.
In pictures: The rise of Isis

Show all 74
The US military said it believed it had killed several hundred Isis fighters in the area, but warned Kobani could still fall. General John Allen, the US special envoy responsible for building the coalition against Isis, said: "Clearly ... given the circumstances associated with the defence of that town, there was a need for additional fire support to go in to try to relieve the defenders and to buy some space for reorganisation on the ground."
Some in the West have questioned whether air strikes are enough to reverse significant gains made by Isis over the last year, with some calling for "boots on the ground".
The Site monitoring service published a transcript of the Isis video in which a man calling himself "Abu Abdullah al-Britani" and two others, said to be French and German, taunted the West.
"We are waiting for you in Iraq, so bring your coalition of unbelievers, because unbelievers will not help you," Britani says.
"We will take their weaponry as booty and these people will die … You cannot come into Iraq and think that you will take it. No way. We are willing to lay down our blood on this soil. So try, try to come and we will kill every single soldier, Allah permitting. We will chop off the heads of the Americans, chop off the heads of the French, chop off the heads of whoever you may bring."
Speaking in German, Abu Dauoud al-Almani urged Muslims to come to Syria to fight for Isis, while Abdul Wadoud al-Firansi warned the French President François Hollande that they would "take revenge for every drop of blood spilt as a result of your actions".
Mr Hollande said yesterday that France would "do everything to help" those fighting against Isis and would keep delivering arms to Kurdish forces.
The Paris-based International Energy Agency said in a report that US-led air strikes have significantly weakened Isis's ability to operate oil fields and smuggle oil – a major source of income for the group. In its monthly report released on Tuesday, the agency said the aerial bombardment has brought production down to around 20,000 barrels per day from a high of about 70,000 in the summer.
Additional reporting AP
Join our new commenting forum
Join thought-provoking conversations, follow other Independent readers and see their replies