Isis leader Abu Bakr al-Baghdadi 'incapacitated by spinal injuries after US air strike in Iraq'
The Pentagon has not confirmed reports that he was wounded in March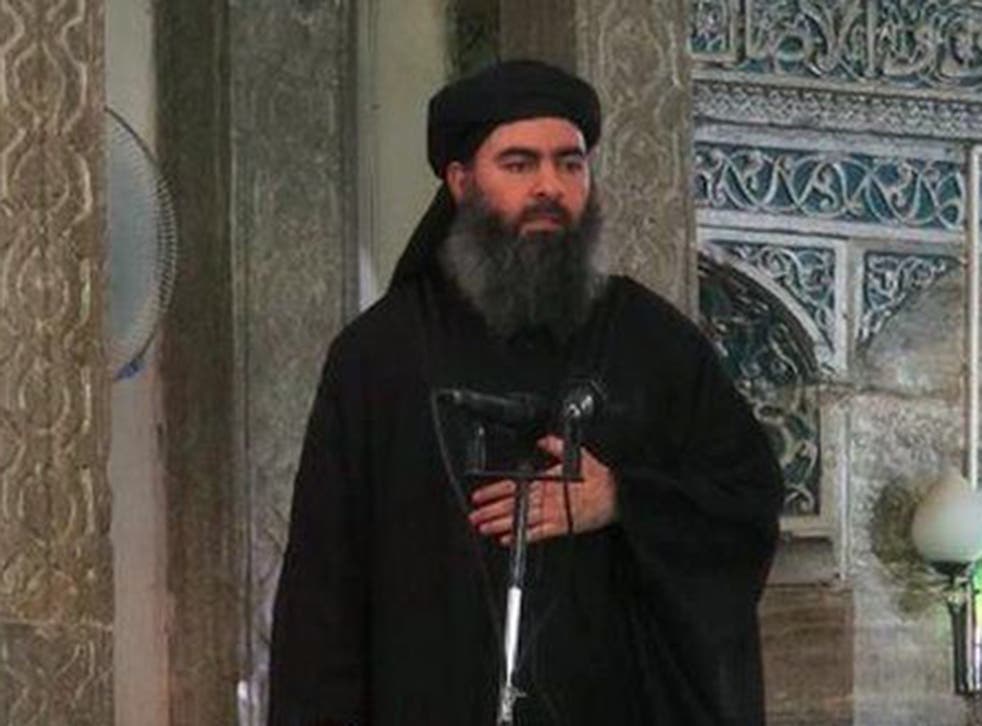 The leader of Isis has been "incapacitated" by a spinal injuries sustained in a US air strike in Iraq, a report has claimed.
Abu Bakr al-Baghdadi is rarely seen in public and initial reports that he was wounded on 18 March have been disputed.
Sources said to be close to the so-called Islamic State have now told the Guardian that his injuries mean he will not be able to resume leadership of the group
That post has reportedly been passed to Abu Alaa Afri, although he has not been named "caliph".
The Guardian reports that al-Baghdadi is being treated in a hideout by two doctors from Isis' stronghold of Mosul who are said to be "strong ideological supporters of the group".
When claims of al-Baghadadi's injury emerged last month, the US Department of Defence said it had no intelligence that he had been hit.
"There's nothing to indicate that there's been a change," Pentagon spokesman Colonel Steve Warren said.
Officials in Washington told The Independent they had "nothing to confirm" regarding the latest claims but were aware of reports.
Isis continues to fight rival Islamist and rebel groups as well as the armies of Syria and Iraq as it seeks to expand its control in the region.
Militants loyal to the group have also claimed responsibility for attacks and massacres in Libya, Afghanistan and other countries.
One of its fighters captured by Kurdish forces on the banks of the river Tigris told how he joined the group to avenge his brothers who were killed by American forces while fighting for Isis predecessor al-Qaeda in Iraq.
Timeline: The emergence of Isis

Show all 40
Mohanad, 30, told Reuters he wished he had been "martyred" rather than imprisoned and vowed that Isis "will continue to fight until it advances".
He reverently praised al-Baghdadi, who he has only ever seen him on television, and said he was on "the path of the righteous".
Additional reporting by Reuters
Join our new commenting forum
Join thought-provoking conversations, follow other Independent readers and see their replies